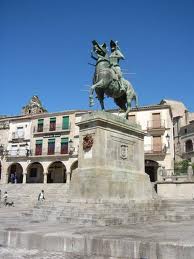 A statue in the Plaza Mayor or main square of Trujillo, Spain, a well-preserved old town of 10,000 inhabitants, is dedicated to its most illustrious citizen, the conquistador Francisco Pizarro, conqueror of Peru.
The Pizarro family built a handsome mansion in the Plaza Mayor about 1560. Its facade is decorated with carved images of the conquistador, his Inca lover and other relatives.
Eighteen years before Pizarro first set sail for the New World, a group of locals took another kind of perilous journey into the unknown. Trujillo's Jews, like their counterparts throughout the country, were obliged to convert or leave Spain, according to Queen Isabella's expulsion order of 1492.
The former Jewish quarter is just off the Plaza Mayor, centered along the graciously curved Tiendas Street. Jose Solis-Alvarez, a pharmacist and municipal councillor whose Farmacia is at 14 Tiendas Street, is one of several residents who have uncovered evidence of the former Jewish presence in recent years.
Solis-Alvarez leads a group of foreign visitors through the basement of his tiny shop to a narrow hall where an old stone doorway is set into the white plaster wall. Uncovered during renovations, the doorway bears a row of carved Hebrew characters. A few are clearly legible but most have been dulled by time.
Still working to decipher the inscription, archaeologists have determined that the doorway was the entrance to a synagogue that was in use until the early 1400s, when the Inquisition made Jewish worship an offense punishable by death.
Around the corner, the elderly landlady of a commercial building along the Plaza Mayor eagerly shows off more details of what was apparently the same medieval synagogue. Maria-Theresa Perez-Zubizarreta takes the visitors into the art gallery in the large basement and points out a stone arch that has been tentatively identified as a women's entrance. A row of smaller arches set into a wall might have been the barrier separating the men's and women's sections of the synagogue.
"I was born in this house and as a young girl I remember that they lowered the ceiling to make a new floor," she explains through an interpreter. "I remember seeing a sort of balcony up there." She points to some thick wooden beams that traverse the plaster ceiling.
"In the time of Isabel this building was given to the nuns and it became a convent known as the Convent of Isabel. That was commonly done with Jewish property back then."
Venturing outside, she indicates a small depression in the side of a stone doorpost where a mezuzah might once have been placed.
Such discoveries have been surfacing all over Spain in recent years as locals, no longer content to sweep all things Jewish under the carpet, are proudly showing off fragments of the once-hidden Jewish past. Wherever one travels in Spain, one hears of a mikveh being found here, a synagogue there, and imagined mezuzahs almost everywhere.
In Toledo, where two historic synagogues are already major tourist sites, the relics of a third synagogue was uncovered three years ago beneath a mechanic's garage. In Valencia, excavators enlarging a department store basement found an old  burial ground with 61 Jewish graves, all of which were subsequently moved to a cemetery in Madrid. In Segovia, Israeli archaeologists recently identified another set of Jewish tombs.
"You must realize that, in Spain, part of our history was not told for many years," says Assumpcio Hosta, an official helping to restore Girona's Jewish past. "Generations have grown up without any awareness of the Jewish past. Now we're trying to fill that gap." ♦
© 2000