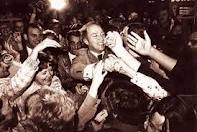 Note: This obituary appeared in the London Jewish Chronicle shortly after Trudeau's passing on September 28, 2000.
Former Canadian Prime Minister Pierre Elliott Trudeau, who died last week at the age of 80, is being remembered as a staunch defender of minority rights and a friend of the Jewish community.
Trudeau served as prime minister between 1969 and 1984. He was the Parliamentary representative of the largely Jewish riding of Mount Royal in central Montreal. As such, he kept a number of Jewish advisors around him and "always made himself accessible to the Jewish community," said Moshe Ronen, national president of Canadian Jewish Congress, who extended condolences to the Trudeau family on behalf of the Jewish community.
Celebrated for his intelligence and charisma, Trudeau had a profound impact on the country and played a leading role in shaping Canadians' sense of values and identity. Among other accomplishments, he promoted bilingualism and multiculturalism as official state policy, repatriated the Canadian constitution from Britain, enshrined a Canadian Charter of Rights and Freedoms, and strengthened Canada's role as a peacekeeper on the international stage.
He also encouraged immigration, and helped the Liberals build a strong base of support among many immigrant communities, including the Jewish community. "He's recognized as someone who was concerned with the welfare of minorities, and he always promoted social tolerance and acceptance of minorities, something that we in the Jewish community consider very important in our leadership," Ronen said.
Trudeau promoted numerous Jewish MPs to cabinet posts, and was the first prime minister to appoint a Jew to the Canadian Supreme Court. "He dealt with people on the basis of their talents, not their background," said Deputy Prime Minister Herb Gray, who became the first Jewish member of the federal cabinet under Trudeau in 1969. "He was interested in building an inclusive society and fostering multiculturalism, which he entrenched in the Constitution. He was a giant."
But Trudeau's record in regard to Nazi war criminals living in Canada was lacklustre. At a time when the Jewish community here had not yet begun pushing for prosecution of former Nazi war criminals, the attitude of the Trudeau cabinet was that to do so would stir up a hornet's-nest of inter-ethnic tensions.
He could so sensitively articulate the historic struggle of the Jews, and so eloquently defend Israel's right to exist, that he inspired standing ovations from Jewish audiences. But his government's relations with Israel were not always smooth.
In a 1993 memoir, Trudeau recalled a meeting in 1978 with former Israeli Prime Minister Menachem Begin, whom he disappointed by refusing to consider moving the Canadian Embassy from Tel Aviv to Jerusalem.
"Begin became rather nasty about it and said, 'I'm going to tell your voters in Toronto that you're not supporting Israel on this,'" Trudeau wrote. "I told him: 'They already know. You can tell them what you want but I don't think it would be very courteous and I don't think it would be very effective.'"
Trudeau "was a strong supporter of Israel but realized there had to be some balance with the Palestinians," said Barney Danson, who served in the late prime minister's cabinet beginning in 1974. However, the late prime minister was "deeply, deeply incensed" by the Arab economic boycott of Israel and its secondary boycott of companies that deigned to conduct trade with Israel.
In his memoirs, Trudeau recalls a trip through the Middle East in 1948 during which, having violated a curfew in Jerusalem, he was arrested by Arab soldiers and imprisoned as a Jewish spy. He was freed only after the British Embassy in Amman came to his aid. ♦
© 2000