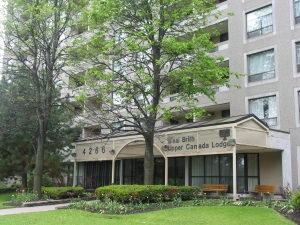 Since 1946, the members of B'nai Brith's Upper Canada Lodge have performed numerous services for the Jewish and general communities.
As the lodge celebrates its 60th year (in 2006), it can look back on its outstanding accomplishments and selfless dedication from its first president and founding father, former Toronto mayor Phil Givens (1946-47), to its newly elected 36-year-old president, Franklin Switzer (2006-08).
The Upper Canada Lodge (UCL) has lived up to its motto, "People helping people," through such volunteer projects as visiting the sick, outings for seniors and adults with disabilities, Meals on Wheels deliveries, Chanukah and Passover parcel deliveries. Clowns-on-the-Town, hospital projects, participation in the League of Human Rights, and the list goes on and on.
The UCL is well known for building and maintaining the Upper Canada Lodge seniors housing complex at 4266 Bathurst Street. The residence helps many seniors and people with disabilities live affordably and well. The lodge's day-to-day involvement with the building's operation and with its social and educational programming have become a model for community living.
One of the lodge's strengths is how it integrates its senior and more youthful members.
Switzer, 36, said that when he returned to Toronto from university in 1995, he wanted to play sports. "Someone put me in contact with Steve Lubek, who was then the commissioner of basketball for B'nai Brith. He got me involved in the sports program."
Switzer, who operates a law enforcement outerwear manufacturing plant, says Lubek, a past lodge president, exposed him to UCL, and he became active in the lodge and in B'nai Brith Canada.
"In 1996, when Steve Lubek became president, he asked me to join the executive, and I became the third vice-president of UCL, and I just moved my way up."
He adds that his grandfather and father were in B'nai Brith's lodge system.
The younger members and the more senior members get along very well, Switzer says. "We all work well together — some of our members are in their 90s."
Switzer is proud of the UCL's legacy.
"Once I became active in the lodge, I was very impressed with their services and I want to insure that it is carried on into the future. I am delighted that I and some of the younger members are working along with the senior members. It makes us stronger."
Established as a men's group, the lodge has since opened its membership to women, and it installed its first female president, Judy Gordon, in 1992.
Albert Waisglass, a World War II veteran and a founding lodge member who is currently second vice-president, said that along with its many other services to the community, the lodge is proud of its Sabbath and holiday services that are held in the chapel of its housing complex and at the Harold and Grace Baker Centre retirement home in the former city of York.
"But above all," says Waisglass, "I have enjoyed the camaraderie and the friendships that I have made and the colleagues I have worked with over the years. I have not only contributed to the community, but I have personally gained so much."
Upper Canada Lodge's year of celebrations will culminate on Sunday, October 20 (2006) at a gala dinner and dance at Paradise Banquet & Convention Centre.
The senior executive of B'nai Brith's Upper Canada Lodge consists of first vice-president Sid Isenberg, president, Franklin Switzer, second vice-president Albert Waisglass, chaplain, immediate past president Marc Mittleman, and third vice-president Irv Hochman. ♦
This article appeared originally in the Canadian Jewish News and appears here courtesy of the author. © 2006 by Cynthia Gasner. 
◊ Photo: The 130-unit B'nai Brith Upper Canada Lodge Apartment, 4226 Bathurst Street, Toronto, was the first building sponsored by B'nai Brith Canada Upper Canada Lodge.