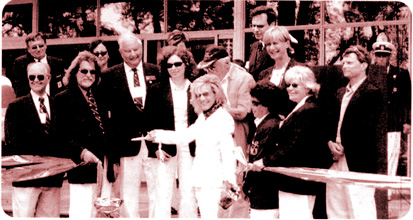 It was a festive afternoon as 300 members, guests, politicians and representatives of other local yacht clubs came to Mugg's Island for the official ribbon cutting of the Island Yacht Club's new clubhouse.
Father's Day, June 18 (2006), marked the second anniversary of the late-afternoon fire on Father's Day in 2004 that destroyed the club's historic clubhouse and its precious memorabilia collection.
"That fateful tragedy in 2004 marked the beginning of a new era in the history of the Island Yacht Club, now celebrating its 55th year of existence," said Cynthia Amsterdam, commodore of the Island Yacht Club (IYC).
The IYC was founded in 1951 by a small group of Jewish sailing enthusiasts at a time when Jews were denied membership in other Toronto yacht clubs. As elsewhere, the social climate in Toronto of the 1950s was less than welcoming to Jews.
Amsterdam, a partner in the law firm, Heenan Blaikie, has been sailing since she was 11 years old and spent many summers teaching at the club. She has competed locally, provincially and nationally.
"It is our collective love of our island retreat, the ambience, our beautiful grounds and our deep-rooted friendships — that's what makes the IYC a summer home and a close-knit community," Amsterdam said.
"That was the core of what has kept the IYC going over these past two difficult years."
In her remarks at the ribbon cutting ceremony, standing on the steps of the new steel and glass clubhouse, she made special mention of vice-commodore Ron Kobrick, whom, she said, "personally oversaw the entire planning and rebuilding of the new clubhouse, from the inception right through to the last nail being hammered into the deck."
The clubhouse's open concept blends dining, social and recreational spaces with an open area for lounging and quiet contemplation.
Several commodores from other yacht clubs spoke and presented memorabilia to the IYC to help the club start a new collection.
There was also an official flag-raising ceremony, and a miniature cannon, presented to the IYC by the Royal Canadian Yacht Club, was fired.
"We are overwhelmed by the outpouring of support from everyone here today," said Amsterdam, adding that "it is one of the high points in making our official opening such a success." ♦
This article appeared originally in the Canadian Jewish News and appears here courtesy of the author. © 2006 by Cynthia Gasner.  
◊ Photo: Commodore Cynthia Amsterdam, front in white, surrounded by the Island Yacht Club's board of directors, cuts a ribbon at the dedication ceremony of the new clubhouse.