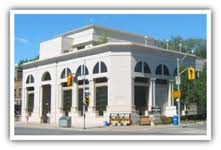 The Village Shul and Aish HaTorah Learning Centre is celebrating its bar mitzvah, and the community is invited.
On the weekend of March 8 and 9, the shul will be holding a shabbat celebration and tribute dinner.
During the Shabbat service, there will be classes by Rabbi Yaacov Palatnik, the former rabbi of the Village Shul who is presently in Denver, Colo. The Toronto Men's Choir, led by Harvey Erlich, will participate in the Shabbat service, which will be followed by a community kiddush.
On Saturday evening, the shul, located at at 1072 Eglinton Ave. W., will present a melaveh malka at 8 p.m. featuring New York comedian Marc Weiner. The event is open to the community.
The highlight of the weekend celebration, says shul president Richard Posluns, will be a tribute dinner Sunday night honouring three men who spearheaded the building of the Village Shul: Leslie Dan, Peter Friedmann, and Allen Berg.
"Over the past 13 years, the growth that the Village Shul has experienced and its effect on Toronto has been remarkable," said Nancy Weisbrod, the shul's first president.
"Organizations throughout North America have used the Village Shul as a model of learning, prayer and bringing people together. Just as a bar/bat mitzvah celebrates the potential of the individual, may our community, our beloved Village Shul, merit to continue to be a source of strength, wisdom and kindness."
Some 15 years ago, a handful of families met in each other's homes before holding services at the Beth Lida Synagogue. In 1990, they rented a store on Eglinton Ave.
"Through the efforts of the three honorees and many others, the beautiful shul was built of Jerusalem stone," Weisbrod said. "Our emphasis was, and is, study for all ages and creating a warm and welcoming environment."
Dan was born in Budapest, Hungary and came to Canada in 1947 as a young war refugee. A graduate of both the University of Toronto's school of pharmacy and a MBA program, he went on to build a successful pharmaceutical business. Along with his many philanthropic activities, he has been a strong supporter of Aish HaTorah.
Friedmann was born in Kosice, Czechoslovakia, and came to Canada with his family in 1968. He graduated in chemical engineering from the University of Western Ontario (UWO) and developed major businesses in North America and Europe.
He supports many religious and educational organizations in Canada, Israel and Europe and is a past president of the Village Shul.
Berg, who is the current chairman of the shul's board of directors, was born in a displaced persons camp in Ginsberg, Germany. His family came to Canada and settled in London, Ont., when he was a baby.
He graduated from UWO with a B.Sc. in applied mathematics and received a master's in engineering from U of T. He taught at York University and went on to build Computer Methods International Corporation.
"Thank God, we are building a community whose purpose and mission is beyond thinking about ourselves. In our mission statement, our ultimate goal of making an impact is clearly stated," said Rabbi Ahron Hoch, the shul's spiritual leader.
"Our programming reflects this through initiatives that serve to strengthen communities in addition to our own, such as the [shul's] Jewish Family Institute and an amazing array of classes. These are open to everyone."
Weisbrod added that the classes, seminars and home study groups are what make the Village Shul successful. "It makes Torah come alive for today's thinking Jews."
For more information about the Village Shul, please visit the web site villageshul.com. ♦
This article first appeared in the Canadian Jewish News, and appears here courtesy of the author. © 2003 by Cynthia Gasner.