Problem: you know your Jewish ancestors or relatives lived in Toronto in 1911 — you even know their street address — yet you can't find them in the 1911 census. No matter how many times you search, they do not show up in Ancestry.com's database of the 1911 census. Frequently the problem occurs because a family name is terribly misspelled in the index due to  messy handwriting, or due to a faded, smeared or otherwise illegible census page. And yes, in some cases the enumerators missed people.
Solution? Search the 1911 census by address. Use the index below to determine what Ward, subdistrict and sheet the family will be on, depending on where they lived. If you subscribe to Ancestry, you may easily do the search on Ancestry. It is not complicated and it works. You may also do the same search on the Library and Archives Canada website, on which researchers may search by location but not by name (it's free — no subscription necessary). Below are the basic instructions for conducting the search on Ancestry; if you try it on the Library and Archives Canada website, enter the same selections there.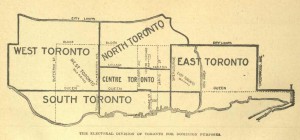 When you search the 1911 census in Ancestry, note the "Browse this collection" window to the right of the main search window. Choose "Ontario" as the province. Immediately below, you will have a drop-down menu showing many districts; including these five  Toronto-area Districts: Toronto Centre, Toronto East, Toronto West, Toronto South, Toronto North. (Ancestry may also offer "in-situ" drop-down menus.) So you must choose a District. For your reference, a map of Toronto Centre in 1911 appears above; at right is a map of the city's electoral districts in 1904. As the city was expanding rapidly in that era, the boundaries changed several times, but the maps give a good indication of the electoral districts.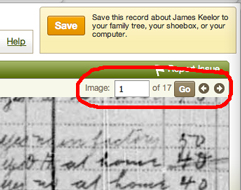 Next, choose the sub-district (the corresponding Ward is shown as well), then click on the link. Ancestry will take you to the first in a series of sheets for that sub-district. Go the Images box at upper right (see diagram), key in the number of the sheet you wish to examine, then press Go. If you have calculated correctly, you will quickly find your relatives on the census page that appears. (If not, check that the addresses on the sheet are as expected.)
Note that the District names  correspond to District numbers; for example Toronto Centre is the same as District 124. In 1911 most of the city's Jews lived in Ward Three, which was also known as St. John's Ward; the cluttered and populous section inhabited mostly by Jews, Italians, Portuguese and other immigrants came to be known as just "the Ward." But there were also a large population of Jews to the west in Wards Four and Five, and smaller pockets in Eastern Toronto's Wards 1 and 2, and in the West Toronto Junction.
The chart below offers a street index of the main Jewish residential areas in Toronto according to the census of 1911. Within the Jewish areas of the city, each sheet of the census is assessed and annotated to give some idea as to the number of Jewish families listed. In some cases actual family surnames found on the page are shown. The symbols are as follows:
nJ = no Jewish families
1JF – one Jewish family
J – indicates presence of several Jewish families (may use words like "few" or "many" or "all.")
Street names are often initially spelled out once and then subsequently abbreviated; i.e, "Cen" means Centre, "Vic" means Victoria, "Bath" means — well, you get it. But they are usually spelled correctly at least once in each section, so if you're looking for a particular street, it's a good idea to do a search for that street using its full name. Note that census pages were only selectively or intermittently scanned in areas not known as strongly Jewish and where low numbers of Jewish residents were found (as in 124-12/W2 in the George Street and Jarvis neighbourhood).
Please also note that for inexplicable technical reasons lines on the chart may not always display properly (the "line breaks" may disappear). I apologize for any confusion that may result. Please let me know if you find a previously elusive family in the 1911 census by using this chart. Good luck! ♦
Article and chart, Copyright © 2012. 
dist/subdist / W= ward
Sheet Number – Street name (some surnames shown)
no. of sheets
124-2 / W2
 1 – Queen-Jarvis nJ        /20 – George – Wilton nJ
x30
124-4/W3
 1 – 86 Wilton nJ          /5 – 184 Jarvis nJ
124-5 /W3
 1 – Victoria 1JF          /2 – " & Gould nJ5 – Bond St nJ10 – 310 Church nJ15 – 281 Ch" nJ

20- Church – Bond nJ

x21
124-6/W3
 1 – 115 Elm many          /2 – 120 Elm – University – few3 – Univer" – Edward many4 – Edward – Center some5 – Center – Edward – Chestnut some

6 – Chestnut Center nJ

7 – 156 Chest" some

8  – Ches" some

9 – Ches" – Elm 1JF

10 – 103 Elm – 117 Edward many

11 – 107 Elm nJ

12 – Elm – Edward few

13 – 72 Center some

14 – Cen" Agnes many

15 – 128 Agnes – 153 Univ" – Edward many

16 – 151 Univ" – 139 Agnes – 64 Center many

17 – 62 Center – 194 Agnes – Edward most

18 – Agnes – Center – Bond – Beverley some

x18
124-7/W3
 1 – 170 Elizabeth & Elm J        /2 – 92 Elm – 165 Chestnut – some3 – 167 Chest" all4 – Elizabeth – Chest" – 165 Eliz. most5 – Walton J

6 – 95 Walton all

7 – 93 Wal" – 173 Teraulay most

8 – Ter" – Walton many

9 – 57 Elm many

10 – Elm 70 J

11 – 76 Elm – 98 Walton some

12 – 98 Walton, J

13 – 88 Wal" ALL

14- 74 Wal" – 176 Teraulay most

15 – 176 Teraulay – Gerrard W.  J

16 – 65 Gerrard W – 181 Eliz" some

17 – Eliz nJ

x17
124-8/W3
 1 – Univ 254 – nJ           /2 – 239 University some3 – Univ" 209 – nJ4 – Univ' 193 – Elm 134 many5 – Elm 128 – Centre 108 – some

6 – Centre 124 most

7 – Cen" 126 all

8 – Cen" 136 all

9 – Cen" 152 many

10 – Cen" 156 many

11 – Cen" 166 nJ

12 – Elm 122 – Cen "

114 – some

13 – Cen" 121 1JF

14 – Cen" 127 some

15 – Cen" 139 most

16 – Cen" 153 – Christopher 15 – some

17 – Chris" 11 – Cen" 163 nJ

18 – Cen" 167 – Chestnut 224 – some

19 – Chestnut 216 many

20 – Ches" 206 some

21 – Ches" 200 – many

22 – Che" 190 – most

23 – Ches" 180 – many

24 – Ches" 170 some

25 – Elm 110 – Cen" 140 – Univ" some

26 – Univ 207 – Cen" 169 – Ches" 218 – some

27 – Cen" 131 1J

28 – Cen" 123 nJ (end)

x28
124-9/W3
 1 – Victoria 181 – Shuter 31 nJ          /2 – Bond – Shuter – Victoria – hospital nJ3 – Bond – hosp"4 – Bond St. hospital nurses5 – Bond – Victoria – nj

6 – B" Vic" Yonge nj

7 – Yonge Victoria Bond nJ

x7
124-10/W3
 1- Chestnut 41 – many           /2 – Ch" 51 many3 – Ch" 71 all (Rachmiel Rubinoff)4 – Ch" 89 all5 Ch" 107 all

6 Ch" 120 some

7 Ch" 106 some

8 – Ch" 98 many

9 – Ch" 74 – Armory many (Eisenstat)

10 – Armory – Univ" – many

11 – Univ" 77-109 some

12 – Univ" 117 many

13 – Univ" 120 – Chestnut 27 – Agnes 135 many

14 – Centre 58 many

15 – Cen" 58 – most

16 – Cen" 24 – most

17 – Cen" 14 most (Longert)

18 – Cen" 10 – Univ" 111 – Agnes 139 – many

19 – Agnes 133 – Cen" 32 – Cen1 many

20 – Cen" 9 most

21 – Cen" 19 – most

22 – Cen" 37 most

23 – Agnes 113 – all

24 – Cen" 53 – most

25 – Cen 56 – some

26 – Cen" 97 – nJ

x26
124-11/W3
 1 – Gerrard St W some             /2 – Ger" 1JF3 – Ger" some4- Ger" many5 – Ger" – Yonge – some

6 – Ger" – Yon" some

7 – Ger" – Hayter nJ

8 – Ger" – Yng – Hay" – College – few

9 – Coll" – Buchanan – Hay" nJ

10 – Yng – Buch" – Hay" few

11 – Yng – Buch" nJ

12 – Buch" – Teraulay – Hay" many

13 – Hay" – 2JF

14 – Hay" many

15 – Hay" – Buch" nJ

16 – Buch " – Terly" Yng – nJ

x16
124-12/W2
 1 – Jarvis 289 nJ                /10 – George St 2JF Rudolph Zimmerman20 – Jarvis 349 nJ
x22
124-13W3
 1 – Agnes St             /2 – Agnes 36 nJ           /3 – 2601 Agnes – some4 – Agnes 17 some

5- 8 Edward – many

6 – 25 Edward – Agnes some

7 – 8 Agnes – 35 Edward

8 – Edward 43 – some

9 – 55 Edward – some

10 – Agnes – Edward 54 some

11 – 59 Edward – most

12 – Edward 48 most

13 – 38 Ed" most

14 – Ed" 26 most

15 – 14 Ed" – Yng some

16 – Yonge 322 – Elm 1 – few

17 – 3 Elm some

18 – Elm 19 nJ

19 – 27 Elm – 16 Edward 1JF

20 – Elm 33 – some

21 – 47 Elm – 59 Ed. = 5 Elm some

22 – Elm – Edward – Agnes – few

124-14/W5
 1 – Palmerston 279         /2 – 273 Palmerston nJ         /3 – Palm" 253 nJ4 – 235 Palm" nJ5 – Palm" 213 nJ

6 – 191 Palm" nJ

7 – 167 Palm – 48 Arthur Rd nJ

8 – 42 Arthur nJ

9 – 20 Arthur – 156 Markham 1JF

10 – Palm" 148 nJ

11 – 188 Markham nJ

12 – 224 Mark" nJ

13 – 240 Mark" nJ

14 – 258 Mark" nJ

15 – Palm" 284 1JF

16 – 501 College – 270 Mark" nJ

x16
124-15/W4
 1 – 8 St Patrick nJ            /2 – 20 St. Pat" some3 – 46 StP" – 133 Beverley nJ4 – 137 Bev" nJ

5 – Darcy some

6 – Beverley – Darcy nJ

7 – 9 Darcy some

8 – 6 Darcy some

9 – 26 Darcy some

10 – 44 Darcy -149 Beverley some

11 – 153 Bev" some

12 – 163 Bev" 1JF

13 – 158 Bev" – 64 Darcy many

14 – 86 Darcy 1J

15 – 98 Darcy nJ

16 – 116 Darcy – 108 Baldwin – Huron some

17 – 97 Baldwin some

18 – Baldwin – Huron – some

19 – 51 Bald" some

20 – 41 Baldwin some

21 – 47 Bald" some

22 – 11 Bald" – 176 Bevrly nJ

x22
124-16/W4
 1 – McCaul 261 nj                      /2 – 243 McCaul – 19 Orde nJ3 – Mc" 233 1JF4 – 221 McC" nJ

5 – Mc" 205 3-4JF

6 – 191 McC' 1JF

7 – 250 McC" some

8 – Mc" 240 3-4JF

9 – 250 – 212 McC nJ

10 – Mc" 212 1JF

11 – 202 McCL' – 17 Orde nJ

12 – Murray 68 – Orde – nJ

13 – 8 Orde – 64 Murray some

14 – 149 College – 70 Murray 1JF

15 – 7 Mur" 3-4 JF

16 – 59 Murray nJ

17 – 35 Murray – 178 Univsty nJ

18 – College 163 Univ – nJ

19 – 284? Univrsty nJ

20 – Univ 184?  nJ

21 – Univrsty – Orde nJ

22  – Orde 2 nJ

x22
124-17/W3
 1 – 182 Mutual – McClear nJ          /10 – Mutual – Carlton nJ18 – Mut" – Gerrard – McGill – Carlton nJ
x19
124-18/W3
 1 – Albert – Teraulay some        /2 – 48 Teraulay some3 – Teraulay 62 most4 – Ter" 62 many

5 – Ter" 76 many

6- Ter 102 many

7 Ter 116 many

8 – Ter 109 many

9 – Ter 93 – many

10 – Ter 73 many

11 – Ter 37 some

12 – Ter 103 – Louisa some

13 – Ter 52 some

14 – Ter" 52 nJ

x14
124-19/W3
 1 – Agnes – Elizabeth J           /2 – Elizabeth 136 – many3- Eliz" 143 – Edward – Chestnut many4 – Chestnut 133 – Agnes – most

5 Agnes 92 – most

6 Agnes 90 – allJ

7 – 58 Agnes allJ

8 – agnes 82 allJ

9 – Agnes 72 – Teraulay most

10 – Teraulay 130 – Edward J

11 – Edward 78 J

12 – E" J

13 – Ed" – Elizbeth J

14 – Ed" – Teraulay J

15 – Ter" J

16 – Ter" – Elm J

17 – Elm – Elizabeth – Barnaby Place J

18 – Barn" – Elm J

19 – Eliz" – Chesnut – Edward J

20 – Elm 20 – inmates nJ

21 – Elm – inmates nJ

22 – E" inm"

23 – Teraulay – Eliz" J

x23
124-20/W3 
 1 – Queen st W. manyJ            /2 – Chestnut many3 – Chestnut 19 many4 – Elizabeth someJ

5 –     "    "

6 -Teraulay – Elizabeth – Queen someJ

7 – Teraulay Elizabeth – Queen fewJ

x7
124-21/W3
 1 – Gould st. nJ2 – G" nJ4 – G" nJ5 – Dalhousie? 168, 3JF6 – D" nJ8 – D" -2-3JF

10 – Gould – Gerrard E nJ

15 – Jarvis 248 nJ

20 – Jarvis nJ25 – Mutual nJ

30 – M" nJ

35 – M" nJ

x36
124-22/W3
 1- 45? Elm nJ2 – 56 E" – Dudley Place? J3 – Walton 6 J4 – Walton 24- 38 J

5 – W" 54 etc J

6 – W" J

7 – W" Teraulay J

8 – T" 173 – Walton J

9 – Walton 60 J

10 W" 59

11 – Walton 45 J

12 – W" 31-15 J

13 – W" 18 1JF

14 – W" – 39 Gerrard 2-3JF

16 – Gerrard St 11 – J

18 – Elm 18, 376 Yonge 1JF

20 – 60 Walton nJ

x21
124-23/W3
 1 – 41 (51) Agnes J       /3 – 17 Agnes Yonge J4 – Agnes, Alice J5 – Alice

6 – 34 Alice J

7 – 48 "8 – 60 "

9 – Alice – Downey's Lane J

10 – Alice St

11 – 43 Alice J

13 – Alice, Yonge J

14 – 78 Trinity? J

15 – "Trevitz St. " – Yonge

16 – Ynge

x16
124-24/W4
 1 – Cecil Baldwin nJ            /2 – 22 – 34 Baldwin some3 – 38 Bald" – 187 Bevrly 1JF4 – 207 Bev" – 36 Bald" some

5 – 211 Bev" – 20 Bald" some

6 – 227 Bev" – 14 Bald" some

7 – 231 Bev" – 14 Bald" many

8 – 16 Bald" – 2 Henry some

9 – 61-41 Henry – 239 Bev" – nJ

10 – 241 Bev" – 6 Henry nJ

11 – 21-39 Henry some

12 – 39 -23 Henry nJ

13 – 23-11 Henry nJ

14 – 9-3 Henry – 12 Baldwin some

15 – 34-48 Henry nJ

16 – 50-62 Henry nJ

17 – 64-75 Henry – 201 College nJ

18 – 195-179 College some

19 – 177 College nJ

20 – Bevrly College Henry some

20 – Beverely College Henry

x20
124-25/W3
 1 – Wilton nJ          /5 – Church Victoria
e of Yonge
124-26/W3
 1- Shuter nJ3 – Sh" 70 nJ            /5 – Sh" – Jarvis ' nJ10 – Mutual nJ15 – Dalhousie nJ19
124-27/W3
 1- Elizabeth J                 //2 – El" 1JF                 /3 – Eliz" – College – Teraulay 2JF4 – 240 Ter" – Eliz" many

5 – Teraulay J

6 – 204 Ter" few

7 – Ter" – Gerrard J

8 – 76 Gerrard – Ter" some

9 – Ger" – Hayter – many

10 – Hayter 80%J

11 – 66-84 Hay" – all

12 – Hay" – Laplante some J

13 – 47 Laplante – most

14 – Laplante many

15 – Hay " – Laplante someJ

16 – Hayter – LaPlante Ave

x16
124-28/W4
 1 – Pullan Ave. J/2 – 22 William some3 – 46 Will" many4 – 62 Will" many

5 – William St.

6 – 86 W" some

7 – 114 Wm some

8 – 144 Wm some

9 – 144 W" – 39 Anderson some

10 – Anderson nJ?

11 – McCaul – Will" – And" some

12 – 19 McC" – Will" – And" some

13 – McC" – Will" some

14 – 99 McC" nJ

15 – McCaul 121

16 – 115 McC" nJ

17 – 101-91 McCaul few

18 – 91 McC" nJ

19 – 65 McCaul – 8 Wm – 202 Quen W nJ

20 -198 Quen – McC" nJ

x20
124-29 /W2
 1 – Queen St E nJ
sic x19
124-30/W4
 1 – John – 226 Qun W – McCaul            /5 – Stephanie – McCaul – Quen W  nJ?10 – " – John  nJ15 – " – John nJ
124-31/W4
 1 – 8 Ross – 38 Cecil nJ            /2 – 18 Ross nJ3 – 7 Ross – 24 Cecil some4 – 20 Cecil – 210 Bevrly few

5 – College – 30 Cecil some

6 – 25 Cecil – 283 College – 189 Huron nJ

7 – 125-155 Huron – many

8 – 155 Huron – 31 Cecil some

9 – 29 Cecil – 204 Bvrly some

10 – 195 Bevrly – 70 Baldwin nJ

11 – 76 Bald" 1JF12 – 96 Baldwin – 49 Cecil nJ

13 – 43 Cecil – 93 Bald" – 117 Huron nJ

14 – nJ

x14
124-32 W4
1 – Kensington some J              /2 – Ken" some3- K" some4 – K" some

5 – K" J

6 – K" most J

7 – K " 1JF

8 – Augusta n

9 – Aug" nJ

10 – Aug" 2JF

11- 199 Augusta nJ

12 – Aug" 1JF

13 – 192 Augusta some

14 – Aug" 2JF

15 – 206 Augusta – 187 Bald" – 180 St Pat" some

16 – St Patrick 168 nJ

124-33/W4
 1 – 66 Nassau nJ            /2 – 71 Bellevue nJ3 – 79 Bell" – 89 Oxford 1JF4 – 77 Oxford nJ

5 – 72 Oxford nJ

6 – 70 Bellevue nJ

7 – 86 Bell" nJ

8 – 108 Belle" nJ

9 – 353 College – 238 Augusta some

10 – 250 Augusta 1JF

11 – 260 Aug" few

12 – 280 Augusta etc – 52 Kensington few

x12
124-34/W4
 1 – Sullivan nJ             /2 – 35 Sullivan nJ4 – 5 Sullivan – 55 Bvrly 1JF6 – 35 Bvrly nJ

8 – 7/70 Bvrly 1JF

10 – Beverley nJ

12 – 294 Queen W – 3 Soho nJ

14 – 2 Soho – 6 Phoebe some

15 – 14-24 Phoebe some

16 – Beverley – Sullivan

124-35/W4
 1 – Grange 100 nj               /2 – G" someJ3 – G" sJ4 – G" sJ

5- G" nJ

6 – Augusta nJ

7 A" nJ

8 – A" – Whites Lane – St. Patrick nJ

9 – St. Pat" – Napnee? – nJ

10 – Aug" – Napenee? – St. P" – IJF

11 – St. P" – nJ

12 – St. P' – J

13 StP" – Spadina – Broadway nJ

14 – Broadway nJ

15 St Pat" – Spadina – Broadway nJ

16 – Broadway nJ

x16
124-36/W4
 1 – Sullivan St              /2 – 58 Sullivan nJ3 – 79 Sull" some4 – 67 Sull" some

5 – " – Huron

6 – 37 Huron some

7 – 55 Huron some

8 – 67 Huron some

9 – 44 Huron – 56 Grange some

10 – Grange 69 …

11 – 63 Grange 1JF

12 – 80 Grange – 95 St Pat" some

13 – 103 St Pat" some

14 – 123 St Pat – 275 Spadina – some

15 – Spadina 277

16 – 255 Spadina – 1JF

17 – 247 Spad" – 25 Larch – few

18 – 7 Larch nJ

124-37/W4
 1 – Nassau 71 – Bellevue 47 nJ          /2 – 56 – 2 Bell" nJ3 – 4-24 Bell" 1JF4 – 26-50 Bell" nJ

5 – Bellevue 32 – Denison Ave. nJ

6 – 28-1 Denison 1JF

7 – 12-21 Den" some

8 – 21-49 Bell" some

9 – 51-77 Bell" nJ

10 – Bellevue 38 – Denison 138 nJ

11 – 142-149 Denison nJ

12 – 149 Den" – 184 St Pat" 1JF

13 – 26 Den" – 192 St Pat – 2 Hickory nJ

14 – Hickory – St Pat" – Cossimer nJ

15 – Cossimir 7 – St. Patrick 248 nJ

16 – St Pat – Denison – Belevue – some

17 – St Pat – Bellevue Cossimer nJ

x17
124-38/W4
 1 – Grange nJ            /2 – G" nJ3 – 175-200 Grange some4 – 198 -184 Grange – 58 Ryerson some

5 – Ryerson nJ

6 – 79-85 Ryerson nJ

7 – 87-115 Ryerson some

8 – Ryerson – St Patrick nJ

9 – 209 St Pat – 125 Den" nJ

10 – Denison 1JF

11 – 164 Grange – 101 Denison nJ

12 – Denison 81 nJ

13 – 65-53 Denison nJ

14 – 47-60 Den" nJ

15 – Den" nJ

16 – Den" 90 2-3JF

17 Den" 0- 2JF

18 Den" 104 nJ

19 – 120 Den" nJ

x19
124-39/W4
 1 – St Patrick 66 – 1JF          /2 – 86 St Pat nJ3 – St. Pat" 112 – Huron 75 nJ4 – 77 Huron nJ

5 – Huron 119 – Darcy 67 2JF

6 – 86 Darcy some

7 – 97 Darcy many

8 – Darcy 109 2JF

9 – 123 Darcy nJ

10 – Darcy 132 – 3-4JF

11 – 118 Darcy – 76 Huron – 317 Spadina nJ

12 – Spadina 325 – St Pat" 70 few

13 – 307 Spadina – St Pat – 1JF

14 – 122 St Pat – 166 Baldwin some

15 – Baldwin – St Pat" – Huron Spadina 1JF

16 – Baldwin- Huron – St Pat nJ

x16
124-40/W4
 1 – 380 Queen St W – 59 Bulwer – 181 Bathurst?              /2-3JF2 – Bulwer – 167 Spadna – Queen few3 – 55 Bulwer -some4 – Bulwer – some

5 – Bulwer some illeg.

6 – Bul/Bak – Phoebe some

7 – 48 Phb" some

8 – 38 Phoebe some

9 – Spadina – Phoebe

10 – Phoebe 29 – Huron –

11 – 31 Pho" some

12 – 31 Pho" – Spadina 199 – some

13 – Spadina – Huron – Soho 1jF

14 – Soho nJ

15 – Soho – Quen W – 2-3JF

16 Quen W 1JF

17 = 0

x17
124-41/W4
 1 – Spadina – Nassau nJ            /2 – 29 Nassau 1JF3 – Nassau – 253 Augusta some4 – 247 Augusta – 195 Bladwin some

5 – Nassau – Baldwin 23JF

6 – Aug" – Bald" many

7 – 198 Bald" many

8 – Baldwin – 2JF

9 – 376 Spadina – 10 Nassau nJ

10 – Nassau 2JF

11 – 18 Nassau – some

12 – 46 Nassau nJ

13 – Nas" – Augusta nJ

14 – 267 Augusta nJ

15 – Augusta – 402 Spadina nJ

16 – Spadina – Baldwin nJ

16sheets
124-42/W4
 1 – 89 Nassau – 60 Leonard nJ           /2 – 50 leonard nJ3 -46 Leon" – Rosebery – 93 Nassau 2JF4 – Leonard – 2JF

5 – – Leon" – Bellevue 1JF

6 – Leon" nJ

7 – Bell" – Carlyle – Nassau nJ

8 – Bell" – Carlyle – Leonard nJ

9  – 57 Bell" – 317 Bathurst – – St Pat some

10 – 381 Bath" nJ Nurses etc

11 – St pat 358 Bathu" – Leonard Carlyle 1JF

12 – Leon" – Carlyle – Bathurst – Roseberry few

13 – Roseberry – Bath" – Leonard few

14 – Rose" – Bath" – Leon" – Bellevue many

15 – Bath" – Roseberry – Belle" – Leon" Nass" some

16 – Bath" – Leon" – Carl" few

17 – 57 Leon" – 1JF

18 – Leon" – Bell" – Bathurst – Spadina some

19 – 37 Leon" nJ

x19
124-43/W4
 1 – Carr Howell someJ5 – C"h" – Simcoe 1JF10 – University – Anderson 2-3JF13 – William some

15 – McCaul nJ?

17sheets
124-44/W4
 1 – 147 Baldwin nJ4 – 32 St. Andrews some5 – 10 St Andrews nJ6 – 23 St Andrews – 55 Kensington some

7 – 49 Kens" some

8 – 33 Kens" many

9 – 23 Kens" some

10 – 5 Kensington some

12 – 140 St Patrick – 290 Spadina nJ

15 – 356 Spadina – 2 Glen Baillie 1JF

16 – 2 Glen Baillie most

17 – Glen B" most

18 – Glen B" – Spadina some

x18
124-45/W4
 1 – 166 Spadina nJ5 – 242 Spad" – 77 Grange nJ6 – 95 Grange – 62 Cameron some7 – 1 Cameron many

8 – 21 Cameron – many

9 – 17 Cameron most

10 – 57 Cam" – illeg? many

11 – 2 Cameron some

12 – 16 Cameron most

13 – 13 Cam" most

14 – 42 Cam" all

15 – 52 Cam" – 590 Quen W most

16 – 390 Quen W. nJ

x16
124-46/W4
 1 – Anderson – William very J      /2 – William 11-41 most3 – William 40 – most4 – Will" 45 many

– Wm. 85 many

6 – Wm. 93-105 most

7 Wm. 127-105 many

8 – Wm. 127-151 many

9 – Wm. 155 – Pullan some

10 – 166 Qun St W – Pullan – Simcoe

12 – Simcoe 192 nJ

15 – Simcoe 226 some

18 – Sim" 254 most

20 – Simcoe 172-76 nJ (boarding house?)

22 – Univ" 68 – 176 Queen w few

25 – Simcoe 181 nJ

30 – Simcoe 243 2JF32 – missing

33 – Simcoe 229 nJ

34 – 29 Simcoe St nJ?

x34
124-47-W4
 1 – 46 Carr – Queen W nJ2 – Quen – Carr- 5 Eden Pl nJ3 – 5-27 Eden " – 249 Bathurst nJ4 – Eden" nJ

5 – 16 Eden Place – 249 Bathurst NJ

6 – 247 Bathurst nJ

8 – 55 Wolseley nJ

10 – Wolseley – Bathurst nJ

12 – Wolseley nJ

x13
124-48/W4
 1 – McCaul nJ5 – McC" – St. Patrick nJ10 – St. P" some J (Organ)11 – Grange someJ

12 – Grange someJ

13 – Gr" sJ

14 Gr" 1JF

15 – G" sJ

16 – Gr" sJ

17 Gr" – Beverley sJ (RASMINSKY)

18 – (didn't load)

19 – St. Patrick – Beverley – Grange lJF

20 – Gr" – Sullivan sJ

21 – Sull" nJ

22 – Sull" sJ

23 – Sul" – Bevrly – Grange  some

25- Gr" – Sull" – Bev" nJ

26 – Gr" – St. Pat" nJ

26 sheets
124-49/W4
 1 – Lippincott 2 nJ5 – Lipp" 33 – nJ10 – Oxford 86 – some J12 – College – Lipp" – Oxford nJ

14 – Oxf" – Lipp" – Bathurst – Nassau nJ

x15
124-50-W4
 1 – Vanaulay nJ2 – 3JF2 – Van" 31 – nJ3 – Van" 77 many4 Van" 83 – some

6 – Van" 32 most J

7 – Van'ly 49 someJ5 – "

8 Van" 71 1-2JF

9 – Van'ly 80 -someJ

10 -illeg- Queen – some (Magder)

12 – Cameron – Vanaulay J (Gelber)

11 – Queen W 420 – Thomson Pl – 1JF

x12
124-52/W4
 1 – Ryerson St             /14 – 484-510 Qun St W. – Denison 915 – 512 Qun St W -2 Denison Av
124-53/W4-5
 1 – Baldwin nJ5 – Huron – Cecil 1-2JF8 – College – Huron – Cecil – Glasgow nJ10 – Glasgow nJ

15 – Spadina J

18 – Concord – Beverley – City – Spdna – Ulster etc nJ

(random streets shown on last 12 sheets)

x30
124-54/W5
 1 – 650 -632 Qun St W5 – Bathurst St nJ10 – Robinson St Hay's Lane nJ16 – Willis – Markham – 15 Palmerston
124-55/W5
 1 – 220 Bathurst nJ5 – 300 Bath" nJ8 – Arthur9 – Markham 155 nJ10 – M" 111 1JF

12 – M" 85 nJ

14 – Bath" 344 nJ

x14
124-56/W5
 1 – 46 Markham St nJ       /10 – 165-120 Palmerston nJ11 – 111 Palmerston etc – (Cook family)12 – "16 –
124-57/W5
 1 – Markham 301 nJ              /2 – M" 293 nJ4 – M" 241 nJ6 – M" 197 nJ

10 – Bathurst 376 1JF

11 – Bath" 418 nJ

12 – College – Bathurst nJ

x12
124-58/W3
 1 – Agnes J                       /2 – A" J3 – A" J (Weinrib)4 – Elizabeth – Cuttell Pl – Agnes allJ

5 – Eliz" J

6 Foster Pl. J (Schwadron)

7 – Fos" – Eliz" – Hagerman J

8 Hag" – Eliz" J

9 – Eliz" – Louisa J

10 – Louisa 72-60 J

11 – Lou" J

12 – Lou" Eilz" J

13 – Eliz" J

14 – Hagerman – Albert J

15 Albert allJ

16 Hagerman – Eliz" allJ

17 – Louisa – Eliz" J

18 – Eliz" J

19 – Eliz" J

20 – Eliz" J

21 – Eliz"J

22 – Agnes – Eliz – Hagerman – Albert J

x22
 
 125 – Toronto East W1 & W2
125-6/W2
 1 – 132 Sumach – 119 st David 1JF         /2 – 132 Sum" – St David nJ10 – Sumach – Wilton nJ
x56 / 1 Boldowitch
125-8/W2
 1 – 218 Sackville nJ                /30 – Sydenham – Patterson 1JF Goldstein50 – ? – Chestnut Park – Langley College Dunbar nJ
x56
 
 
 
 
 
 
125-13/W2
 1 – 377 Wellesley St E nJ             /20 – 28 Sackville nJ
x26
125-14/W2
 1 – 560 Parliament nJ                 /20 – Rose Ave nJ
x40
125-16/W2
 1 – 631 Sherbourne nJ              /20 – 54 Darling? – 224 Bleecker nJ
x30
125-20/W2
 1 – 290 Ontario nJ
x25
125-29/W2
 1 – 150 Queen St E – George nJ
x19
 
 
 
 
 
 
 
 District 126
126-1/W3
 
x25
126-4/W3
 1 – Scollard nJ
x14
 
 
126-10/W4
 1 – Kendal some            /5 – 199 Howland nJ10 – Brunswick nJ15 – various – Mjr – Wards Island – Charles -Isabella nJ
x17
126-12/W4
 1 – 8 Bedford nJ         /5 – 195 St George nJ10 -66 Lowther – 1 Admiral nJ

14 – Admiral – 1J Simpson

x15
 
 
126-18/W5
 1 – 723 Palmerston nJ              /4 – 25 Olive nJ8 – 728 And–?? nJ12 – 24 Follis Ave nJ
x14
126-20/W5
 1 – 182 Harbord some           /5 – illeg ?? nJ
x8
126-21/W3
 1 – Grosvenor nJ              /5 – Gros" nJ10 – Yng – St Albans nJ

15 – Breadalbane nJ20 – St. Vincent – Bread" nJ

24 – St Joseph Court nJ

x25
 
 
126-30/W3
 1 – Cumberland nJ          /5 – Cum" nJ10 – Yorkville? 1JF

15 – 834 Yonge nJ

x17
 
 
 
 
 
 
 
 
126-40-W4
 1 – 286 Brunswick nJ           /5 – Bruns: – Borden nJ10 – Sussex – Borden – Bloor nJ
x11
126-41/W4
 1 – 6 Major St some              /5 – 87 Brunswick nJ10 – Bruns" nJ

12 – College – Bruns" – Major nJ

x13
126-44/W2
 1 = 2 Bloor E nJ
x11 Toronto North
126-48-W3
 1 – 2 St Joseph nJ
x17
126-50/W5
 1 – 1000 Bathurst N nJ
x14
126-60/W4
 1 – Harbord st. nJ
x10
 
 
 
 District 127 
127-4/W2
 1 – 247 King E JF           /2 – 231 King E some3 197 King E 1J

4 – 183 King – Jarvis nJ

5 -Jarvis nJ

6 – Jarvis – 94 Front nJ

7 – 100 Front – George nJ

8 – George – Esplanade – Front – Jarvis – Frederick nJ

9 – 59 Frederick nJ

10 Frederick nJ

x10
127-5/W2
 1 – 249 King E some            /2 – 261 King E some3 – 355 King E – Toronto st nJ

5 – Erin – Trinity – King E nJ

10 – 376 Front E – 77 Trinity nJ

15 – Front Berkeley Trinity nJ

x16 Tor South
127-6/W2
 1 – 433 King E – Pemberton 1JF       /2 – 455 King E – Gilead some3 – 347 Gilead some

4 – 459 King E – Sackville nJ

5 – Sackville nJ6 – Sackville – King E nJ

7 – Sack" – Pemberton nJ

10 – Virgins Pl – King E – nJ

15 – Eastern – Cherry nJ

x22
127-7/W2
 1 – 55 Jarvis nJ                 /5 – 190 King E – George 1JF6 – George – 1JF

8 – George St 2JF

10 – Queen – Jarvis- Dutchess  -Duke nJ

x10 Tor south
127-8/W2
 1 – Duchess 79 1JF               /2 – 57 Duch" nJ3 – Duch" – Sherbourne nJ

4 – Sher' – Brittain 1J

5 – Sher" 120 – Duch" 2JF

6 – 104 Sher" nJ

7 – 74 Sher" nJ

8 – 64 Sher" – 49 Duke nJ

9 – 51 Duke – 1JF

10 – 61 Duke nJ

11 – 62 Duke nJ

12 – 28 Duke – 217 Queen E – some

13 – 205 Quen E some

14 – 179 Quen E 1JF

x14
127-9/W2
 1 – 81 Duke some                /2 – 101 Duke 3 Whites – Princess 1JF3 – 64 Princess – Duke – Ontario 1JF

4 – 14 Ont" – few

5 – 17 Ont" Duke" Whites – Princess nJ

6 – Duke – 300 King E some

7 – 288 King E nJ

8 – 276 King E nJ

9 – 284 King E some

10 – 162 King E – 111 Duke – some

11 – 248 Duke – some

12 – 236 Duke nJ

x12
127-10/W2
 1 – 140 Duke some2 – Duke nJ3 – Duke – Sherbourne nJ

4 – Sherbourne nJ

5 – Sherbourne many

6 – Sher" – some

7 – Sher" – McFarrow – Queen E some

8 – Quen E – Duchess 1JF

9 – Duchess some

10 – Duch" – Quen nJ

11 – Duch" – Quen – 1JF

12 – Duch" some

13 – Duch" some

14 – Quen E nJ

x14
127-11/W2
 1 – Duke – Ontario nJ2 – Ont" 1JF3 – Ont" nJ

4 – Ont" few

5 – Ont 1JF

6 – Ont few

7 – Ont- Berkeley nJ

8 – Berk" nJ

9 – Berk" nJ

10-  Ont – Berk" nJ

11 – Berk" – Queen E some

12 – 303 Quen E some

13 – 289 Quen E – Duchess nJ

14 – 178 Duch" – Berk" – Ont 1JF

15 – Duch" nJ

16 –

x16
127-12/W2
 1 – Berk" nJ2 – Berk" nJ3 – Berk" nJ

4 – Berk" nJ

5 – Berk" – 331 Queen E – some

6 – Qn – Berk" – Parliament nJ

7 – Duchess nJ

8 – Duch" – Parlment some

9 – Parlment – Qun E nJ

10 – Parl" some

11 – Parl" = Duke – King E 1JF

12 – 326 King E – Parl" – Duch"

13 – Parl" – Duch" Berk" nJ

14 – Qun E – Berk" – Parl" – Duke nJ

15 – Duke – Berk" – King E nJ

x15
127-13/W2
 1 – 418 King E nJ2 – Wilkins nJ5 – Wilkins nJ

10 Rowland – Power – King few

11 – Power Parliament

12 – Parliament Toronto

13 – 131 parliament, 10 Sumach

15 – Parlment nJ

18 – 38 Power nJ

20 – Power nJ

25 – Power" nJ

30 – Power nJ (inmates)

x31
127-14/W2
 1 – Sackville nJ (inmates hospital)6 – 97 Sackville, 425 Queen E nJ10 – St Paul St nj

12- 457 Queen E nJ

16 – 27 Bright nJ

18 – Sumach – 472 King E nJ

20 – 422 King E nJ

x20
127-15/W3
 1- 114 Yonge St. – 13 Adld W – 121-103 Bay St nJ2 – Church Queen nJ
x2
127-16/W3
 1 – Church St
e of Yonge
127-17/W3
 1- Yonge & Wellington (one sheet only)
x2
127-18/W3
 1 – 61 Queen St W2 – 95 " (Warshafsky)3 – 111 " J

4 – 129 " J5 – Bay – Richmond

x5
127-19/W3
 1 – Yonge nJ2 – Richmond – Victoria nJ
x2
127-20/W3
 1 – 168 King W.             /2 – King W 190 – Pearl – Simcoe manyJ3 – Pearl – Simcoe – Adelaide 1JF

4 – Adelaide – York 1JF

5 – York St many Jews

6 – York nJ

7 – York – Adelaide – King W 160 nJ

x7
127-21/W3
 1 – Esplanade = Wellington nJ
x1
127-22/W3
 1- Queen St. E 67 nJ (1of3)
127-24/W3
 1 – 67 King E – nJ2 – 92 King E nj3 – 37 King E nj (hotel)

4 – Yonge nJ

x4
127-25/W3
 1 – 143 York St most2 – 163 York many3 – 167 York many

4 – 209 York nJ

5 – 182 York many

6 – 168 York many

7 – 162 York some

8 – 156 York some

9 – 150 York – 137 Queen W some

10 – 161 Quen W some

11 – 183 Qu" – 165 Simcoe some

12 – 159 Simcoe nJ

13 – 149 Sim" nJ

14 – 141 Sim" – NJ

15 – 133 Sim" nJ

16 -188 Adelaide some

17 – 172 Ade" nJ

18 – 134 Adld – 160 Rich" nJ

19 – 166 Rich" some

20 – 143 Rich" nJ

21 – 153 Rich" 1J

x21
127-26/W3
 1- Yonge Wellington Scott nJ2 – Yonge & King nJ3 – 5 Jordan – 565 Yonge nJ
x3
127-27/W3
 1 – 141 King W – Bay – Pearl nJ2 – Pearl nJ
x2
127-28/W3
 1 – 24 Adelaide E nJ (1/3)2 – 116 Church – Richmond -Victoria nJ3 – Rich" – Bay – 49 Quen W 1JF
127-29/W3
 1 – Church – Adelaide – Jarvis nJ2 – 52 Jarvis Ad" = Francis nJ3 – 142 King E nJ

4 – 31 Colborne – Church nJ

x4
127-30/W3
 1- 107 King E2 -129 King E – West Market nJ3 – 22 West market nJ
e of Yonge
127-31/W3
 1 – 77 King W 1J2 – 13 King W nJ3 – Front – Yonge – Wellington nJ

4 – Well" – Melinda nJ

x4 Tor South
127-32/W3
 1 – 130 Adelaide W. – 7 Sheppard – 39 Richmond  nJ2 – 166 Richmond – Bagot nJ
x2
127-33/W3
 1 – King St W – Court St – Adelaide2 – 65 Adelaide – 16 Toronto nJ3 – 28 Toronto nJ

4 – 2 King St E

5 – Adelaide – Victoria nJ

e of Yonge
127-34/W3
 Center Island, 1 family
127-35/W4
 1 – 70 Portland to 14? nJ2- " 2, Front?3 – ?? Front? nJ4 – 543 " St W – Maplewood?

5 – Maplewood 4-186 – "

7 – " – Niagara

8 – Niagara

9 – " – Stewart

10 – Stewart

11 – "

12 – "

13 – " – Wellington

14 – W" 520

15 – W" – Bathurst – King

16 – King St W. 615

17 – Bathurst

127-36/W4
 1 – Lakeside Home2 – LH"3 – LH" – Hanlans nJ

4- Hanlan's – Bay – Front nJ

5 – Hanlans Point nJ

6 – HP" nJ

8 – HP " nJ

18 – Lakeshore – St Andres nJ

24 – Lake shore 290 nJ

28 – Iroquois nJ

32 Iroquois nJ

 
 127-37 not available
127-38 /W4
 1 – Clarence Sqr2 – "3 – " nJ4 – 12 Clarence Sq nJ

5 – "

6 – 20 " nJ

7 – 24 " nJ

8 – "

9 – 53 Peter nJ

10 – 45 Peter St.

11 – 13 Peter nJ

12 – Peter St

13 – 56 Peter – King W nj

14 – 363 King W nJ

15 – 369 King W nJ

16 – 377 King w nJ

17 – 385 King w nJ

18 – 395 "

19 – 411 King w nJ

20 – 368 Front St w nJ

no 36 or 37
127-39 /W4
 1 – 11 Charlotte St nJ2 – 355 Adelaide3- 370 Adelaide – Spadina – J

4 – 337 Adelaide

5- 330-380 " few J

6 – 380-370 " nJ

7 – " " nJ

8 – 362 " nJ

9 – 340 " nJ

10 – 338 " J

11 – 326 " 74, J

12 – 20 Widmer

13 – 6 Widmer J

14 – Widmer

15 – " Peter nJ

16 – Peter

17 – Peter IJF

18 – 180-372 King W nJ

19 ca 400 " – Spadina nJ

20 end – 110 Spadina – Oxley

127-40 /W4
 1 – Spadina – Front J2 – Front – Portland nJ3 – 15-27 P" nJ

4 – 51 ", 517 Wellington – Front

5 – Wellington nJ

6 – Wellington nJ

7 – " J

8 – " 508 nJ

9 – 1 Draper J

10 – 11? Draper

11 – 25 " J

12 – Draper J

13 – 10-26 " J

14 – 28 " & Lane nJ

15 – Wellington nJ?

16 – 403 Wellington (school)

17 – "                   "

18 – "

19 – Draper & Portland & Wellington nJ

127-41 /W4
 1 – 36-48 Spadina2 – Queen W – Spadina nJ3 – 443 King W nJ

4 – 5 Brant nJ

5 – Brant ?

6 – " nJ

7 – " – 535 King W nJ

8 – 541 King W. 2JF

9 – 515 " 2JF

10 – 529 King St W – 80-73 Portland 1JF snow

11 – Portland – King W nJ

x11
127-42 /W4
 1 – Richmond 493-467              /2 – 467 Richmond (EDSON etc)3 – 403 Richmond – Spadina J

4 – Spadina

5 – Camden? Cameron? – Spadna – Rchmnd

6 – Camden – 402 Adelaide?

7 – Camden 1JF

8 – Camden some

9 – Camden

10 – Camden – Spdna

11 – 112 Spadina – Adelaide 392

12 – Queen St W – Spadina – Adld

13 – 426-36 Adld Richmond

14 – Richmond – Camden Spadina Adld

15 – Adelaide 425 -to 404

16 – King St W – Adeld 399

17 – Adld St W 394-400

18 – " J

19 – " 370 some

127-43 /W4
 1 – ca 310 Adld2 – 292-270 Adld J3 – 270-228 "

4 – 224-200 " nJ?

5 – 293 Adelaide – 1JF

6 – John St nonJ

7 – John St

8 – " , King nJ

9 – 342 King W J

10 – 350 King St W

11 – Adelaide J

127-44 /W4
 1 – Nelson Ave J2 – 50 Nelson 100% J3 – "

4- " J

5 – Richmond 212-228

6 – 240 Phoebe – Nelson – 261 Qun W – Richmnd 1JF

7 – 179 Richmond etc. j

8 – Richmond 191-1999 – 199 " – Simcoe J

10 – Richmond – Duncan – Simcoe – Qun St W

11 – 273 Queen W 1JF

12 – 248 Qun St W

13 – 229 " , J

14 – 215 Richmond nJ , & 79 Duncan

127-45 /W4
 1 – John St nJ2 – 144 John nJ – Rchmnd3- 154 " – 253 Richmond J

4 – (Polakoff)

5 – John St. 1JF6 – John

7 – 111 John – 57 Widmer 1/2J

8 – Widmer 559 " – Nelson – Queen – J

10 – Nelson J

11 – 68 Nelson – 239 Richmd J

12 – Rchmnd W

13 – 250 Richmond someJ

14 – 266-304 Richmond

15 – Richmond 304-322

16 – 322 Richmond 1JF

17 – Richmond 340 – Peter

18 – Peter – 359 Qun St W

19 – Queen St W 345-273

20 – Quen St W ca 300 J

21 – John – Nelson – Duncan- Richmond

127-46 /W4
 1 – Rchmond 4402 – 44 Richmond J3 – 452 " some J

4 – 474 " J

5 – Richmond 482-530

6 – 530-548 " nJ

7 – 548 " – 575 Queen W. fewJ

8 – 463 Queen W. J

9 – 483 " 1/3J

10 – Quen St W 511-527

11 – 527 " some J

12 – Quen St W – 547 – 571 – Augusta

13 McDougall Lane , very J

127-47 /W4
 1 – Peter J2 – 115 Peter St. 1/2J3 – 104 " J

4 – 108 " someJ

5 – Peter – Richmond

6 – 357 Richmond 90%J

7 – 140 Peter – 366 Richmond – Peter 1/3J

8 – 124 ", 362 Richmond, 4JF

9 – 271 Richmond – Widmer 1/4J

10 – Widmer

11 – 44 Widmer 1JF

12 – 9 Drummond – 2/3 J

13 – 13Drummond 2/3J

14 – 2 " – 257 Richmond 1JF

15 – Peter -Spadina

16 – 129 Spadina – 273 Rchmnd 0

17 – 127 " – 399 Qun W 1JF

18 – 121 Spadna – 405 QnW 0

19 – 395 Qn W – RUBs

20 – ca 381 Quen St W – Peter

21 – 363 " 1JF

127-48 /W4
 1 – Morrison nJ2- " – Maud3 – Maud

4 – Maude Adelaide (Rubinoff)

5 – Adelaide 461 – Portland

6 – Portland – Adld ca 500-480

7 – Portland

8 – " (Naftolin)

9 – Brant – King St. W – Adld J

10 – Brant J (RUBIN)

11 – Brant

12 – Brant – King St W –

13 – King St W – Portland (NAFTs)

14 – Portland – Maude (Naftolin)

15 – Brant – Morrison – Adld – 38-40 Maude

127-49 /W4
 1 – Bathurst St 131 1JF2 – "3 – Bathurst 161 – Richmond 575 many

4 – Bathurst Richmond

5 – Richmond Portland ca 150

6 – Portland 148-132 nJ

7 – " 132-124

8 – Portland – Richmond

9 – Richmond W – nJ?

10 – Richmond – Portland – Qun St W

11 – Queen W – Bathurst

12 – Bathurst – Rchmnd Bathurst

127-50 /W4
 1 – Adld W 556 J2 – " 5303 – " 528-509

4 – "  509-499, 512-514

5 – "

6 – 100 Portland – Adelaide Bathurst 1JF

7 – 19 Bathurst J

8 – A "

9 – Adeld – King W 0

10 – King St W. – Waterloo? nJ

11 – 9 Adld – 101 Portland – 103 Bathurst 3-4JF

12 – " nJ

127-51 /W4
 1 – Robertson Mercer2 – illeg nJ Mercer3- Mercer nJ

4 – Windsor? Wellington nJ

5 – Washington? Wethington?

6 -370 Wellington 1JF

7 – 189 W" nJ

8 – 255 King W. nJ

9 – 320? King W nJ

10 – King St W – Wethington?

11  – Mercer – John nJ

12 – Peter- John – Dorset J

x12
127-52 /W5
 1-740 King W., 94 Tecumseth nJ2- Tecumseth someJ3 – 46 Tecm" 1Jf

4 – Recm" – Well" nJ

5 – Well" – Tecm" nJ

6 – Well" – nJ

7 – Well" – Niagara"- King nJ

8 – 761 King W. 2JF

9 – 767 King W. J

10 – 801 King W 1JF

11 – 865 King – Walnut – Palmerston nJ

12 – 170 Niagara some

13 – Walnut – King nJ

14 – Niagara NJ

15 – 183 Niag" few

16 – Niagara nJ

17 – Niag" – Walnut – King nJ

18 – King – Niag" nJ

19 – Niagara nJ

20 – Walnut – Well" – Niag" nJ

21 – 931 Quen W nJ

x21
127-53 /W5
 1 – 770 King W2 – King W – Niagara3 – Niagara Defoe

4 – Defoe 37-23, Niagara – ca 225

5 – Niagara 221, Defoe 21-11

6 – 11 Defoe, 116 Tecumseth 78

7 – ca 90 Tecumseth, ca 219 Niagara

8 – Tecumseth – Turner 6 – 18

9 – Turner to 32

10 – Turner ca 30

11 – Turner 15-37

12 – Turner 13-3

13 – Turner – 45 Defoe

127-54 /W5
 1 – Tecumseth – Richmond 2JF     /2 – 640 Richmond J3 – 642 " – J

4 – 623 " nJ

5 – 633 Richmond 2JF

6 – 651 R" J

7 – 663 R " nJ

8 – Rchmnd QueenW nJ

9 – R" – Qn – J

10 – 701 Quen W – some

11 – 719 Queen 1JF

12 – 103-95 Tecumseth nJ

13 – Tecumseth King nJ

14 – Tecumseth – King 712, 1 Defoe, McDonald nJ

15 – 141 McDonald – Bathurst nJ

16 – Bathurst – Richmond nJ

17 – McDonald Bathurst nJ

127-55/W5
 1 – Queen W 736 0 1-2J2 – Qun W" 793 some J3 – 791 Qn W" some

4 – Qun W" 827 – Richmond J?

5 – Rich" 766 – nJ?

6 – Rich" 732 some

7  – Rich" 750 nJ?

8 – Rich" 706 nJ

9 – 690 Richmond nJ

10 Rich" 693 – nJ

11 – 719 – Rich" nJ

12 – Rich" 745 nJ

13 – 708 Rich" – Niag" nJ

14 – Niagara 269 – nJ

15 – 261 – Niag" nJ

16 – Richmond – Niagara 1-2JF

17 – 256 – Niag" – Tecum" nJ

18 – Rich" Niag" nJ ?

x18
127-56 /W5
 1 – ca 240 Niagara – 84 Defoe2 – Defoe 84-663 – Defoe 60-40

4 – Defoe -46

5 – Defoe 52, 1 Mitchell

6 – Mitchell ave to 45 nJ

7 – Mitchell 23-69?

8 – 69 Mitchell nJ

9 – 92 Mit" nJ

10 – Mitchell 82

11 – 66 Mit" 1JF

12 – Mitchell

13 – 77-62 Mit" 2JF

x13
127-57 /W5
 1 – Stafford nJ2 – Stafford nJ3 – Stafford nJ

4 – Staff" – Defoe – King nJ

5 – Defoe nJ

6 – King W – Quen W nJ

7 – King W – Quen W – Strachan nJ

8 – Str" NJ

10 – Strachan

12 – Str" nJ

15 – Str" nJ

x18
127-58/W5
 1 – King W 667 – Bathurst 88 nJ2 – Bathurst 80 – Pear? nJ3 – Bathurst Niagara nJ

4 – Bathurst – Niagara 1JF karloff

5 – Niagara 65 1JF

6 – N" 58 2JF

7 – N" 78-102 nJ

8 – Niag – Tecumseth – Wellington nJ

9 – Wellington 601 – nJ

10 – Well" 595 nJ

11 – Tecm" – Niag" Well" nJ

12 – Well" 536 nJ

13 – Well" 592 – nJ

14 – Well " 614 – Tecumseth nJ

15 – 59 Tecm" – 691 King W nJ

16 – King W 691 – nJ

17 – 707 King W – 73 Tecm" nJ

18 – King W 743 – nJ

19 – 727 King W – 1 Tecm" 1JF

20 – Niag 87 – nJ

x20
127-59/W6
 1 – Melbourne nJ5 – Queen W 1275 – Cowan nJ10 – Dunn nJ
x14
127-60/W5
 1 – Queen W 931 – nJ2 – Qun W 897 – Clifford nJ3 – Clifford – Queen nJ

4 – Clifford – Queen nJ

5 – Clifford – Stafford -Defoe – Stanley nJ

6 – Cliff" – Walnut – Queen – Defoe nJ

7 – Defoe – Stanley – Walnut nJ

8 – Defoe – Stanley nJ

9 – Stanley – Stafford – King nJ

10 – King W 836 – Defoe – nJ

11 – King W 918 – nJ

12 – King W – Stafford nJ

13 – Stafford nJ

x13
127-61/W5
 1 – 999 Queen – asylum nJ2 – "" 2J5 – "" 1J

8 – "" nJ

12 – "" nJ

16 – "" nJ

20 – "" nJ

22 – Massey nJ

25 – Massey nJ

28 – Crawford nJ

30 – 105 Crawford nJ

32 – Shaw nJ

35 – Dovercourt – Shaw – Queen nJ

x36
127-62/W5
 1 – Strachan nJ5 – 29 Strachan – prisoners – 1J person10 – Stafford nJ

15 – Stanley Barracks – Strachan – Massey Harris soldiers

x16
 
 128
128-1 /W5
 1 – Bloor Dovercrt nJ         /2 – Dovercourt 775 – Northumberland nJ3 – Dovercourt

4 – Dovercourt

5 – Stanley – Dovercourt 887 – nJ

6 – Dover" 885 – 1JF

7 – Dover" nJ

8 – Dover" – Stanley nJ

9 – Stanley – Dovercourt – Hallam nJ

10 – Hallam Dovercourt nJ

12 – Delaware nJ

14 – Del" nJ

15 – Hall" Dover" etc

18 – Euclid – Havelock – Hawthorne etc (list) 1JF

20 – Fenn 9 Rushhlm – Dvrcrt – Dundas etc

Tor West
128-2 /W5
 1 – Montrose            /3 – Montros 446 nJ6 – Mont" 370 nJ

8 – 345 Montrose nJ

9 – 421 Montrose nJ

10 – Montrose 3JF

11- Mont" nJ

12 – Mont" – Bloor nJ

x12
128-3 /W5
 1 – Lond nJ5 – Manning Barton Palmerston nJ10 Euclid nJ
128-4/W5
 1 – Shaw 755 nJ4 – Shaw 827 – Crawford 724 nJ8 – Crawford 780 – Shaw nj

12 – Thorn 16 – Pendrith 21 – nJ

x14
128-5 /W5
 1 – Crawford nJ
128-6/W5
 1 – Grace nJ5 – 250 Grace nJ10 – 251 Beatrice 1JF

13 – College – Beatrice -Grace nJ

x14
128-7/W5
 1 – Batner? nJ5 – Ratner? nJ10 – Ratner? nJ
x13
128-8/W5
 1 – illeg st. – nJ5 – ditto previous nJ10 – " " nJ
x12
128-10/W5
 1 – Ossington 459 – nJ5 – Oss" 673 – 2 Leeds st nJ10 – 998 Shaw – 41 Manchester nJ

12 – – Manch" 13 nJ

14 – 16 Manchester – 830 Bloor nJ

15 – 852 Blor – some

16 – 860 Bl" nJ

x16
128-12/W5
 1 – 52 Clinton nJ5 – Clinton 1JF10- 286 Clin" nJ

12 – 1 Jersey Ave nJ

15 – 93 Jersey nJ

x17
128-16/W5
 1 – 122 Dundas – nJ5 – 70 Foxley nJ10 -124 Argyle nJ

13 – Argyle – Dovercourt nJ

x14
128-20 /W5
 1 – Arthur – College – Montrose nJ
128-24/W5
 1 – 158 Dundas ? – 162 Quen W nJ5 – illeg – Bobject? ? nJ10 – Grove nJ

15 – 243-227 Dovercourt nJ

x15
128-30/W5
 1 – 864 Beatrice nJ
x12
128-40-W5
 1- 13 Humbert – Bradfield  nj
x12
128-80 /W6
 1 – Sorenson ? nJ?
 
 
128-100 /W6
 1 – MacMillan? nJ10 – Wright – Sorenson mJ
128-146/W6
 1 – Howard Park – Indian Grove nJ
x10 (last in 128 series)
 
 138
138-1
 1 – York T.P. nJ20 – York T.P. nJ
x 38, York South
138-5 York
 1 – rural? (concession roads)
x9
138-7 /W6
 1 – Dovercourt 1125 nJ2 – 1143 Dovr" nJ4 – Dvr" – Delaware nJ

8 – Geary – Delaware nJ

10 – Geary Davenport nJ

12 – 20 Somerset nJ

16 – Somer" Ossington nJ

18 – Ossing" nJ

20 – 825 Ossington nJ

22 – Ossing" nJ

138-8 /W7
 1 – 850 Keele nJ10 – 130 Annette – Morely? nJ15 – 1667 Dundas

20 – Rountree Annette Woodville nJ

25 Western Dundas Annette

29 – Woodville

138-9 /W7
 1 – York, city of Tor nJ5 – York St nJ
York South
138-24
 1 – Snowdon – illeg – nJ5 – Bowoods – Ranleigh
x8 North Toronto"York South"
138-25/W7
 1 – 382 Quebec Av nj5 – 447 Clendeman nJ10 – 71 Laws – 288 Annette nJ

15- 303 Evelyn nJ

20 – 111 St Johns Rd nJ

25 – St. J" Rd nJ

30 – Dundas W – Foskin – St J" Rd nJ

35 – 55 Barber – Maher etc nJ

40 – 437 Runnymede – 506 Annette nJ

x43
138-26 /W7
 1 – Clendman nJ3 – " nJ5 – Quebec " – Clendman? nJ

7 – " nJ

10 – McMurray nJ

12 – McMurray nJ

15 – Dundas Quebec McMurray 1JF

16 – 2000 Dundas St W – 4JF

17 – Dundas W 2-3JF

18 " 2JF

19 – Dundas = Maria 303 nJ

20 – Maria – Dundas Jwsh

21 – Maria – Jewish

22 – Maria ""100% Jewish

23 – Maria – Gilmore J

24 – 202 Maria J (Hymie Naftolin) J

25 – Maria – many Jews

26 – Maria some Jews

27 – Maria a few

28 – Maria – some  J

29 – Maria – "

30 – Maria IJF

31 – Maria 2-3JF

32 – Maria ' some

33 – Maria some

34 – Maria – Dundas – 4 names nJ

x34
138-27 /W3
 1 – ca 427 Avenue Rd. nJ10  – Balmoral – Lampan? nJ
138-33 /W4
 1 – 1160 Bathurst St.          /5 – 312 Albany nJ10 – Dentrell? – Kendall – Spadina nJ

15 – Nina – St Clair – Davenport nJ

20 – 98-50 Forest Hill nJ

25 – Lynnwood – Poplar Plains – Balmoral nJ

30 – 249 Russell Hill Rd nJ

138-34
 1 – Dundas w – Keele nJ3 – 1800 Dundas – 437 Pacific – 79 Vine nJ5 – 31 Vine – nJ

8 – 159 Vine nJ

Wes Toronto x11
138-35
 1 – 1652 Yonge nJ10 – 102 Baker – 10 Lonsdale nJ
Toronto x17York South
138-37/ W7
 1 – 349 Pacific nJ         /10 – 130 Midland nJ20 – Indian Rd – Brighton Pl nJ

30 – Keele – Indian – Central Av nJ

36 – 230 Pacific – High Park – Annette nJ

40 – Quebec av nJ

42 – 230 high Park – Quebec – Annette nJ

45- Jennings – Clendeman – ? – nJ

48 – Evelyn – Woodhouse?? – NJ

50 – Quebec – ? – Annette nJ

x58
138-38.W6
 1 – 1116 Davenport nJ10 – Westmoreland 406 nJ
x31
138-40-W6
 1 – 352 Christie? nJ         /10 – 32 Gardner? nJ
x24
138-49 /W1
 1 – Arhoale? – Coxwell?        /5 – Coxwell – Ashbridge