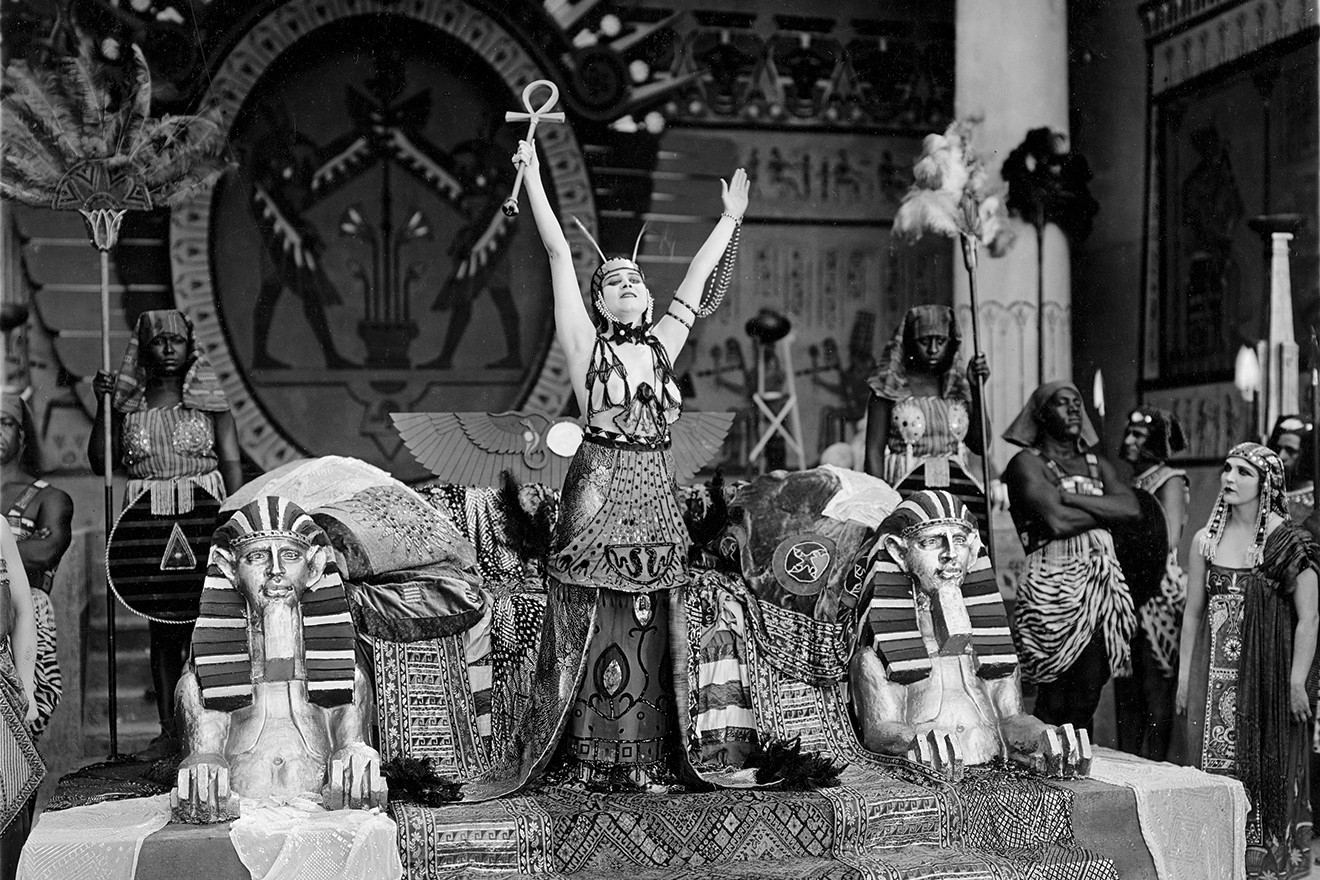 Review of The Man Who Made the Movies: The Meteoric Rise and Tragic Fall of William Fox, by Vanda Krefft
Theda Bara (nicknamed 'The Vamp'), one of Fox's biggest stars, in a lavish 1917 production of Cleopatra. No known copy of the film survives.
From the Canadian Jewish News, 2019
Although his surname appears in titanic letters at the start of countless American movies, the American movie mogul William Fox has largely been forgotten by time. A contemporary of Jack Warner, Carl Laemmle, Samuel Goldwyn and other Jewish legends of the cinema, Fox soared to the heights of fame and power in the 1910s and 1920s, then plummeted to irrelevancy just as the Talkies were gaining popularity and permanence.
That was ironic because it was William Fox who pioneered Movietone, an early innovative system for putting sound onto film, and outfitted many theatres with the equipment needed for talking pictures. That wasn't unusual for Fox. As Vanda Krefft exhaustively documents in this large and impressive biography, this nearly forgotten mogul helped shape the movie business from its inception, and took the lead in many important industry battles.
Thomas Alva Edison established the Motion Picture Patent Company to control who could use the motion picture camera and projector that he invented. Fox, an early tycoon of nickelodeons and silent movie theatres, sued the MPPC in 1911, arguing that it violated antitrust laws because it sought to establish a monopoly; he won a major victory. (Krefft noted that while Edison was not venomously antisemitic like his friend Henry Ford, he still disliked Jews, whom he regarded as "strange . . . in their isolation from all the rest of mankind"; he felt they possessed "almost supernatural business instincts" and used them to unfair advantage.)
Fox also discovered Theodosia Goodman, a "middle-class Jewish tailor's daughter from Cincinnati, Ohio," whom he transformed into the legendary cinematic vamp, Theda Bara. Unlike sweet, sympathetic stars like Mary Pickford and Lillian Gish, Bara was riveting as a highly-sexualized temptress; however, she was quite bland in non-vamp roles. A superstar of the silent era who rivalled Chaplin at the box office, she didn't survive the transition to the Talkies.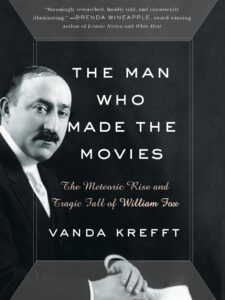 Back in 1915, Fox scored his greatest hit with a film whose title can't even be repeated today because it features the tabooistic N-word. Although it was as controversial (because of its title) as it was popular, the silent feature was not derogatory towards African Americans; Fox insisted it was meant to promote racial harmony (unlike, say, D. W. Griffith's Birth of A Nation) and even the NAACP described it as "sympathetic to the colored man." Its star was William Farnum, another Fox-exclusive actor who became a legend of the silent screen.
Early on, Fox understood he needed a vast theatre chain so people could buy tickets to the movies his studio made. Driven by grandiose ambitions to build an empire, he spent vast sums acquiring and revamping theatres; like Marcus Loew, he built scores of movie palaces from the ground up, many in Manhattan where he was based, even after most of his competitors had gone to Hollywood.
One industry paper championed him as "Fighting Bill Fox" and said: "Bill Fox won't let anybody hog the show. There will be a Fox theatre in every big city in this country if the need exists." Fox Films expanded exponentially, opening sales offices all across the United States, even in Montreal and Toronto and eventually in South America and Europe. To help fill the theatres, Fox innovated weekly "Fox News" newsreels to report on current events. The public came in droves.
His studio churned out a parade of inexpensive B pictures and remakes, but Fox eventually realized that they didn't make money. Blockbusters such as Over the Hill filled theatres to capacity for many weeks.
One of the Fox studio's greatest films was The Iron Horse, a 1923 epic of the building of the transcontinental railroad in the 1860s. The first film of director John Ford, it is masterful in its expansion of film vocabulary and narrative techniques. (Youtube offers a restored, tinted print of the film, which is highly watchable, even today.) Fox also commissioned German director F W Murnau to direct Sunrise, a story of marital infidelity that, although hailed by critics, was too European in its outlet to lure American audiences; Murnau, it turned out, couldn't adapt his style to suit American moral sensibilities.
Krefft seemingly conducted exhaustive research for this 762-page narrative, which also features an additional 140 pages in footnotes. She uncovered many peripheral but fascinating episodes of Fox's life. Visiting Buffalo in 1901, for instance, Fox witnessed the assassination of US President William McKinley. He also encountered and provided financial assistance to an impoverished Leon Trotsky in New York in January 1917.
The book seems to spend an inordinate time outlining Fox's business and financial dealings. Krefft writes with a historian's precision even when the same up-down business cycles seem to repeat endlessly. As a result, the "third act" of the story seems to take forever to unravel; as in the movies, perhaps some of the smaller details might have been left on the cutting-room floor.
What was the "Tragic Fall" alluded to in the title? Turns out Fox was affected by two crashes as well as a initially brilliant but ultimately disastrous business decision.
Months after he suffered injuries in a severe automobile accident, he experienced devastating losses in the stock market crash of 1929, after which he tried desperately but vainly to preserve his empire. He had also made a bid to purchase Marcus Loew's vast theatre chain, a complex deal that he pursued through many hurdles but which the government eventually decided was an illegal antitrust measure. Sadly, though he was generally as a man of impeccable morals and integrity, Fox pulled some financial moves that resulted in a few months of jail time.
Amplifying Fox's fall and his erasure from public memory is the sad fact that at least 90 per cent of his studio's cinematic output has crumbled to dust or been destroyed by fire. As just one example of what has been lost, the American Film Institute has listed Fox's extraordinary 1917 epic masterpiece Cleopatra, starring Theda Bara, as one of its nine "Most Wanted Lost Films." ♦