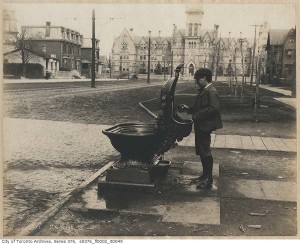 Towards the end of the 19th century, as Jewish multitudes left the Old World for the promising shores of the New, the Toronto neighbourhood of St. John's Ward became a densely populated Jewish ghetto.
Toronto's population was counted as 86,415 in the 1881 census, with an average of 19 persons per acre. On Elizabeth, Chestnut, Centre and other streets of the Ward, however, the density was 41 persons per acre, more than twice the city average.
Impoverished Irish, Italian and other immigrants also lived on these streets. The houses were small and shanty-like: most lacked running water. Residents depended on wells, cisterns and backyard privies. Empty lots became garbage dumps. Poverty, hunger and illness were rampant.
One of numerous concerned charitable associations, the Hope Street Soup Kitchen was feeding upwards of 700 people daily in the spring of 1884. The local House of Industry took in thousands of destitute souls each year, and also gave out bread, coal and soap to many families and distributed tea, sugar, oatmeal and rice to the sick.
Having seen a footnote reference that described the House of Industry's detailed ledger books as a sort of "mini-census," I visited the Toronto City Archives, keen on inspecting this potentially useful genealogical source.
Beginning in 1875 and continuing for more than 40 years, House of Industry admissions were recorded by hand in two huge volumes. The following entry is typical: "Adelaide Allen. Aged 40. Deserted 12 years by husband John Allen who is an inmate of this house . . . . 4 children B 3 sons and daughter. Children are away in the United States and Canada . . . . "
Many entries actually name the children and give cities of residence. For better or for worse, however, Jews rarely crossed the institution's doorstep.
Generally speaking, such unique archival sources may offer valuable complementary information to the censuses of 1881 and 1901. City directories also provide a good glimpse into the house-by-house composition of the Ward of a century ago. The following sample listing of one block of Chestnut Street (house numbers in brackets) in 1899 clearly demonstrates its pervasive Jewish character:
Moses Bomensour gro (59); Vacant (61); Joseph Bested (63); David Zipper (65); Julius Breslin (67); Israel Greisman (69); David Papernick (71); Jacob Besvinick, gro (73); Benjamin Rotkin (75); Mrs. Mary Barchard, Samuel Moore (77); Louis Rubin (79); Mrs. Mary Townley (81); Charles Grosser (83); Hyman Breslin (85); Jacob Cohen tlr (87); Isaac Rabinowitch (89); Joseph Solway (91); Simon Glazier (93); Albert C Jackson (95); Frances Townley (97); John Kelly (99); Charles Newman (101); Harry Topp (103); Charles Nalborough (105); and Charles Sharp (107). (Across a lane stood Mission Hall, which soon afterwards became the Chestnut Street synagogue.)
Accessible through major libraries, city directories can be as valuable to the genealogist as census, passenger manifests and citizenship records.
My mother's grandparents and dozens of their Rubinoff-Naftolin family cousins began leaving Belarussia about 1905. Most settled in Toronto. City directories provide evidence as to the order in which they arrived and how they survived once they got here.
Landing about 1905, my great-grandfather Meyer Feivel Naftolin is later shown living on Defoe St. (later Adelaide) and working as a tinsmith for Soren Brothers. The directory's business section contains a large advertisement for Soren Brothers, with an illustration of its modern, five-storey plant and a full description of its product line.
Canadians recently welcomed news that the government is preparing legislation to lift privacy restrictions around all post-1901 censuses. Until such censuses become publicly available, city directories provide a useful, alternate glimpse into the streets our ancestors walked and the lives they lived. ♦
© 2003
CENSUS NOTE
The National Archives of Canada has quietly placed the 1901 Canadian Census online. I say "quietly," as there was very little advance fanfare. The census pages simply appeared on the Archives' website a few days ago. I suspect the Canadian authorities studied the recent debacle of the 1901 U.K. census online effort and also noted the huge server workloads incurred when the Ellis Island database and the Mormons' databases first appeared online. My guess is that the Canadians wanted to avoid system load problems created by the all the advance publicity. In fact, the pages that appeared are called the PROTOTYPE of the Census of Canada, 1901.
Whatever the reasoning, the 1901 Canadian Census images are online and working well. I used them this week and never saw a single "server busy" message.
Census returns are the official enumeration or counting of the population, recording such details as name, age, province or country of birth, ethnic origin, and religious denomination for every single person residing in the country at the time of the census. The 1901 Census was conducted by 8,800 enumerators, who went door to door on 31 March 1901, using predetermined sets of questions to be asked to the head of each household and each business establishment.
At the time of this census, Canada was made up of seven provinces: British Columbia, Manitoba, Ontario, Quebec, New Brunswick, Nova Scotia, and Prince Edward Island; two territories: Yukon Territory and North West Territories; and the District of Keewatin. It is important to note that the North West Territories was much different in 1901 from what it is today. Also, Newfoundland and Labrador were not part of Canada in 1901.
The online 1901 Canadian Census records are images of the original records as written by the enumerators. Each page is available, and the ones that I looked at all seemed to be very clear and easily readable. Obviously I didn=t see each of the several million pages; I am sure there had to be some difficult to read pages someplace. However, the ones that I looked at certainly were clear and well scanned. The quality of the handwriting varied, of course.
There is no name index of the 1901 Canadian Census. You must browse the census images page by page in order to find your ancestors. You certainly will need to know the town or city where they lived before you start your online search. ♦