From the Star Weekly, February 3, 1912
Toronto boasts the largest Dickens society in the world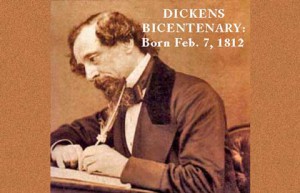 Centenary of Famous Novelist Will Be Celebrated with Much Feeling Next Wednesday — Over 1,000 Members in Dickens Fellowship
Next Wednesday (February 7, 1912), the centenary of the birth of Charles Dickens, will be celebrated throughout the English-speaking world and nowhere, probably, will it be celebrated with more feeling than in Toronto, where Dickens' admirers are very numerous and most devoted to their favourite author.
No city — not even Lodon — can claim a pre-eminent interest in the novelist who is so universally beloved, but the Dickens' cult in Toronto is not without its unique features.
The local branch of the Dickens' Fellowship — the purpose of which is to bring the huge body of lovers of the novelist together in friendship — is the largest in the world, having over a thousand members. And some of the most interesting Dickens' volumes and relics in existence are owned by Torontonians.
Every one is more or less familiar with the name of Mr. E. S. Williamson in this connection. His organized the Dickens' Fellowship here and has been its leading spirit. He has been a collector of Dickensiana for about twenty-five years, and his library — now in Brampton, Mr. Williamson being a commuter — is one of the most interesting of its kind in the world.
It includes two volumes from Dickens' own library and End's Hill, containing the author's bookplate — the only books in canada from Dickens' library and numerous other rare volumes. Mr. Williamson also owns Dickens' first gold watch.
It was brought to Canada by the novelist's third son, Francis Jeffrey Dickens, shortly after his father's death. The young man served in the North-West Mounted Police, and returning to Toronto short of funds, he sold the watch, which came into Mr. Williamson's possession in 1891.
Artist and Stage Manager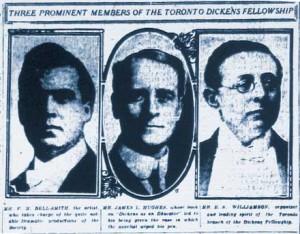 Mr. F. M. Bell-Smith, the well-known artist, is one of the most enthusiastic members of the Toronto Dickens' Fellowship and takes charge of the many quite notable dramatic productions of the society. He is also a collector of Dickensiana.
One of the most interesting Dickens' mementos in Toronto, however, is a precious possession of Mr. James L. Hughes, chief inspector of the board of education, and comparatively few people know that it is owned here. It came to Mr. Hughes under peculiarly interesting circumstances.
It may be news to many readers, of the younger generation especially, that Mr. Hughes is the author of one of the most notable books every written about Dickens. It is entitled, "Dickens as an Educator," and it so pleased the Dickens' family that five years ago, when the inspector was in England, he was given a very valuable souvenir by Miss Georgina Hogarth, Dickens' sister-in-law, who cared for the novelist's children after his wife's death, and who was with Dickens at his own deathbed.
The souvenir is the small brass vase with a brush inside in which the novelist dipped his pen to clean it. In the well-known picture of Dickens' vacant chair and his desk with all his working materials on it, the vase is shown on the right-hand corner of the desk.
Mr. Hughes says he would not exchange it for any other souvenir in existence. He also has autographs and other valuable Dickens' mementos, including some three dozen pictures of the author, which he has hung in his bedroom.
Still Most Popular Novelist
Dickens first sprang into popularity in 1836, and laid down his pen forever in 1870, when his last work, "Edwin Drood," was uncompleted. Yet, after all these years, his works are "best-sellers," and more popular at public libraries than any of the vast array of novels published either before or since his death
At the Toronto Public Library no system is employed to record the demand for individual books. At the Central Circulating Library, on Church street, however, there are 148 copies of Dickens' works, and they are all greatly worn, indicating constant use. Some, which have been on the shelves less than two years, must be replaced at once. There are from four to eight copies of each of the novels contstanly asked for, which means nearly all of them. And yet it is customary to buy only two copies of the most popular novel for this library. If more were purchased, they would be dead stock in six months, or at the most, a couple of years.
Think of this! A new, very popular novel comes out, and from three to six copies at all the various branches of the library will meet the demand for it, which is soon over. But for almost every one of the Dickens books there is a constant demand, year in and year out, for more than that number of copies. The new popular book never has to be replaced. But Librarian Locke says that he never sees a bargain in Dickens' books which he does not purchase. They are always in demand, always a good buy.
At the Reference Libaray on College street, there are three sets of Dickens, and people are constantly referring to them or reading them, or examining them, and asking for advice as to the best editions to buy. No other books at the Library are so popular as those of Dickens. Scott, Thackeray, and all the other "classic" fictionists are in no such demand at all.
Incomparable Popularity
Toronto booksellers' and publishers' agents aall tell the same story of the incomparable popularity of Dickens. At the book sstores there is a steady demand not for a few favorites, but for all his works in all kinds of bindings, up to five and six dollars each in price. The department stores sell prodigious numbers. "It is not our policy to give figures," said the manager of one book department this week. The query was then made: "You sell Dickens' books every week, though, no doubt?" "Oh, every day," said the manager, "frequently twenty times a day." He mentioned "David Copperfield," "Oliver Twist," and "Dombey and Son" as favorites.
But nearly all the booksellers, like the Library officials, give a long list of favorites, so long as to include most of the familiar titles. On the other hand only a few of the works of Scott, Thackeray, and other great novelists have anything like a steady sale.
One firm selling the works of popular authors in sets said this week that they sold more of Dickens by far than any other author. Some years they sell 1,600 sets of 24 volumes, but every year at least 1,000 sets in Ontario and Quebec, most of buyers, of course, being in this province.
No special effort is made to sell sets in Toronto, but never less than 200 Dickens' sets are placed in this city yearly. And this is only one firm. Furthermore, in every English-speaking community in the world this popularity of Dickens is duplicated relatively, according to population.
Characters Human Beings
Yet this popularity — wonderful as it is — is not difficult to understand. We are familiar with the criticisms of Dickens — that he falls into melodrama dn burlesque, that his pathos is inartistic, that he never succeeded in portraying a "gentleman." But he chose to consider his characters as human beings, not as members of a caste. And his novels will live always because they take hold of universal sentiments.
Dickens went through a hard school. From the time when as a sensitive child of nine, with an ambition to be "a learned a distinguished man," he was forced to work in a blacking factory. He never went to college, but he had the natural gift of language, and he knew life by varied experience. The indispensable mark of all great work is in his books, that which Carlyle calls veracity — the description of what the writer has himself seen, heard and felt.
Dickens was born on February 7, 1812, and in January 1842 he came to America on a lecturing tour, returning in June. It was then that he visited Canada, and in "American Notes," he gives this description of Toronto:
Toronto as He Saw It
"The country round this town, being very flat, is bare of scenic interest; but the town itself is full of life and motion, bustle, business, and improvement. The streets are well paved and lighted with gas; the houses are large and good; the shops excellent. Many of the them have a display of goods in their windows such as may be seen in thriving country towns in England; and there are some which would do no discredit to the metropolis itself. There is a good stone prison here; and there are, besides, a handsome church, a court house, public offices, many commodious private residences, and a Government Observatory for noting and recording the magnetic variations. In the College of Upper Canada, which is one of the public establishments of the city, a sound education in every department of polite learning can be had at a very moderate expense; the usual charge for the instruction of each pupil not exceeding nine pounds sterling. It has a pretty good endowment in the way of land, and is a valuable and useful institution.
"The first stone of the new college had been laid but a few days before by the Governor-General. It will be a handsome, spacious edifice, approached by a large avenue, which is planted and made available as a public walk. The town is well adapted for wholesome exercise at all seasons, for the footways in the thoroughfares which lie beyond the principal street, are planked like floors, and kept in very good and clean repair.
Politics and Bloodshed
"It is a matter of deep regret that political differences should have run high in this place, and led to most discreditable and disgraceful results. It is not long since guns were discharged from a window in this town at the successful candidates in an election, and the coachman of one of them was actually shot in the body, though not dangerously wounded. But one man was killed on the same occasion; and from the very window whence he received his death, the very flag which shielded his murderer (not only in the commission of his crime, but from its consequences), was displayed again on the occasion of the public ceremony performed by the Governor General, to which I have just adverted. Of all the colours in the rainbow, there is but one which could be so employed: I need not say that flag was orange." ♦