From the Beth Sholom Bulletin, Chanukah 2009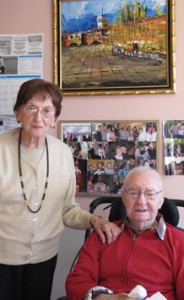 Moishe (Maurice) and Gert Kerbel joined Beth Sholom 40 years ago, a couple of years before their son Jeffrey was to be bar-mitzvahed, and have remained active members to this day.
Moishe Kerbel was for many years ritual chairman of the shul. He handed out the "aliyot" and co-ordinated other religious activities. He was also the synagogue's property chairman — keeping track of the congregation's section in Mount Sinai Cemetery and assigning burial plots as necessary.
As Moishe and Gert recalled during an interview on a bright fall morning recently, Moishe was also on the selection committees that hired new rabbis and cantors. The list includes Rabbi Aaron Flanzraich and Cantors David Bagley and Eric Moses.
Moishe is now 89 years old. He was born in Ostrowiec, Poland and came to Canada with his large family in 1934. He had his bar mitzvah on the boat crossing the Atlantic. Unfortunately, a serious medical condition that began about 20 years ago forced him to give up many things — but not his involvement with Beth Sholom.
"He still went to shul every day," Gert says. "He went by taxi because he had to give up driving." Although the last eight years have been harder for him — he must now use a wheelchair — he still attends services on Shabbat and on holidays. "Everyone is so nice to him and makes him feel so good. There's a very warm comradeship at Beth Sholom. People come out and greet him in his wheelchair."
Beth Sholomites Dr. Norm Talsky and Barry Lerner are among the regular visitors to his North York hospital room. "They're good friends," he says.
Originally from Montreal, Gert moved to Toronto when she married Moishe. The couple lived on Coldstream Avenue at a time when the only congregation in the neighbourhood was Eitz Chaim on Viewmount. "That was too religious for us. So we went to the nearest Conservative synagogue, which happened to be Beth Sholom."
As property chairman, Moishe was involved in discussions around construction of the reception building near the entrance of Mount Sinai Cemetery, in part because he felt it was important to provide washroom facilities for visitors. He also redesigned Beth Sholom's cemetery section, removing a traffic circle and maximizing the space available for burial plots.
He recalls working with past presidents and other executive members. Names come up from the past like Fred Grossman, Sammy Zale, Irving Ungerman, Murray Rothblatt, Alex Serota and Irving Frisch. "They were strong personalities," he says.
Moishe's own name was on the slate in the shul's executive elections of 1984. A central issue of that election was the timing and manner of Rabbi David Monson's retirement. The congregation was divided and the election drew a huge turnout of voters. Still, despite the heat of the battle "everybody stayed friends," Moishe recalls.
The Kerbels have three children — Jeffrey, Donna and Bonnie, who lives in Israel, and whom they have visited in Israel about 40 times. They have seven grandchildren and two great-grandchildren "with more on the way," Gert says.
During synagogue renovations the economy turned bad and many members were having difficulties paying their pledges. Moishe, through his soft methods of persuasion, is credited along with Irving Ungerman with helping to keep the necessary funds flowing so the renovation could continue.
Through all of his activities at Beth Sholom, whether assigning the "aliyot" on Shabbos or selling tickets for the draw, Moishe says he enjoyed getting to know so many members of the congregation. "The people I worked with were very nice," he says. "We had a good time." ♦
© 2012