From Beth Sholom Bulletin, Spring 2009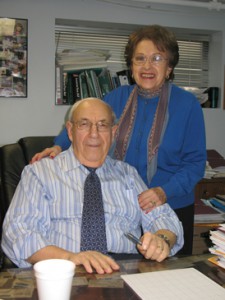 Alex Serota was a founding member of the Shaarei Tefillah Congregation on north Bathurst Street in the late 1950s, but left to join Beth Sholom about 1963 because of the latter's "magnificent USY movement" that was so important for his two sons.
I met recently with Alex and his wife Belle in the offices of his large accounting firm on Yonge Street near Finch. The couple have been married for almost 64 years and both have been involved at Beth Sholom for much of the past half-century.
"Beth Sholom was an active congregation when I arrived," he said. "They had a fantastic youth program under youth director Sid Moranis and a very active brotherhood. I became the youth commission chairman and my wife became president of the sisterhood for three terms." Alex also served as brotherhood president and was a frequent speaker.
Alex's friend Norman Shapiro made the move with him from Shaarei Tefillah and subsequently became president of Beth Sholom. Alex, too, began the climb up the political ladder at Beth Sholom and served as first vice-president. However, since he was (and still is) auditor of the shul's books, the Institute of Chartered Accountants suggested he would be in a conflict of interest if he ran for president. He withdrew from shul politics but remained deeply involved in both the congregation and Toronto's Jewish community for the last four decades.
Alex made the first of numerous memorable trips to Israel in 1966 and was there again just after the Six Day War. Because of his activism on behalf of Israel, he was given the credentials of a press correspondent and traveled into Egypt and Syria during the Yom Kippur War. During the Lebanon war of 1982 he ended up with the army at the airport in Beirut.
On his return from some of these engagements, Rabbi Monson turned over his Shabbos pulpit to him and he spoke about his experiences to the congregation. He also spoke to many other groups and became speaker's bureau chairman for landsmanschaft organizations on behalf of the United Jewish Appeal.
As part of his activities in support of Israel, Alex helped to raise funds at Beth Sholom to purchase an ambulance for a kibbutz near Haifa, the first time such a gift was arranged in Toronto outside of Magen David Adom. He subsequently became the first chairman of MDA's Toronto chapter. "We started the sale of ambulances all over," he said, referring to the precedent set by Beth Sholom members.
In 1983, during his stint as vice-president, Alex helped to negotiate Rabbi Monson's retirement package, and he has remained strongly involved in all aspects of the congregation's activities in support of Israel. For Israel's 60th anniversary last year, for example, he organized and spoke at an anniversary breakfast attended by more than 120 people.
A former parnas-gabbai of the congregation, he is proud of his role as a "pro tem rabbi" who often led services at Yizkor for the overflow attendees in the chapel. He has davened ma'ariv on Yom Kippur and p'sukei d'zimra on the High Holidays for many years.
"At one time we used to have overflow services during the High Holidays because of the crowd that couldn't fit into the sanctuary," he said. "Today, we have empty seats in the sanctuary. The old timers are there, but their children have not become members of the synagogue. Many of them have joined new ones that have opened up elsewhere. The newcomers that come in today are there for a bar mitzvah or a cemetery plot. They don't show up even on a Shabbos unless there's an affair for them."
A hearty 85, he speaks with great pride of the succession of great cantors at Beth Sholom, such as Cantor Bagley who once sang a Selichos service that he said he will never forget. The shul's collection of stained-glass windows, both in the sanctuary and the chapel, he considers "one of the best in the country." He is also proud of Beth Sholom's strong involvement in the Israel Bonds movement. Once, in the 1980s, the congregation made $600,000 in interest on loans made to the state of Israel; the money went to renovate the bimah and Aron Kodesh.
Alex was active in the campaign to free Soviet Jewry and helped to bring over his own aunt and cousins. He was also president of the Toronto-based Opatow Society for 10 years. But whatever external activities he's been involved with, he credits Beth Sholom as the fulcrum, the focal point, for all such activities for both himself and his wife. "Beth Sholom was the raison d'etre for our growth in the city and the community," he said.
We wish Alex and Belle Serota many more years of good health and productive involvement at Beth Sholom! ♦
© 2012