The Ward Uncovered: The Archaeology of Everyday Life, edited by Holly Martelle, Michael McClelland, Tatum Taylor, and John Lorinc. (Coach House Books, 2018)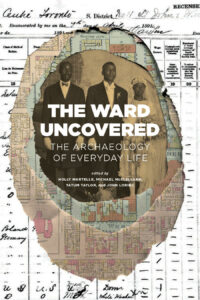 In recent years the history of the old "Ward" neighbourhood of downtown Toronto has been reclaimed and remembered in books, museum exhibits, and, most significantly, a vast archaeological dig behind City Hall that uncovered a trove of some 300,000 to 500,000 artifacts. This dig is the subject of The Ward Uncovered, a collection of short pieces by numerous contributors on aspects of this important endeavour as well as related tangential matters.
Part of the larger St. John's Ward, the area called The Ward was bounded by College Street to the north, Queen Street to the south, University Avenue to the west, and Yonge Street to the east. The archaeological excavation covered just one small part of this territory, a 1.6-acre parking lot bounded by Centre Avenue, Chestnut Street and Armoury Street.
Partly because it was close to the train station and the city docks, the Ward became a landing ground for a spectrum of immigrant groups, including Blacks, Chinese, Italians, Portuguese, Ukrainians — and Jews, who, about a century ago, grew in number to the tens of thousands and were by far the largest ethnic group in The Ward.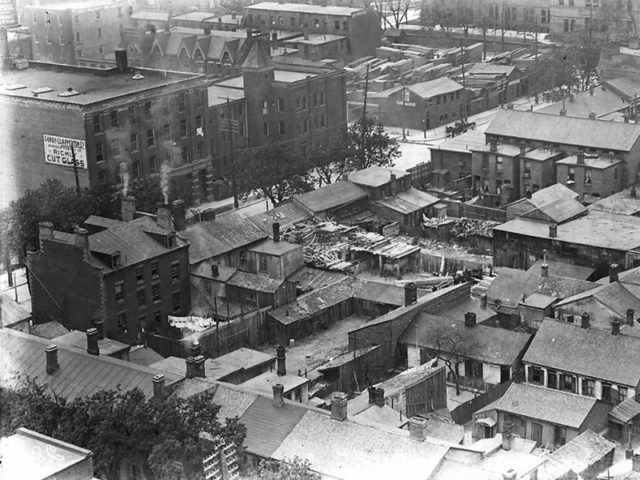 After 1900, as the immigrants poured into the Ward, the long-established British white anglo-saxon residential communities shifted elsewhere; the densely-populated inner city was sometimes referred to in the press as Toronto's "foreign quarter." Many shtiebls and synagogues popped up, including the "Russian" congregation Shaarei Tzedec, which remodeled and moved into a former foundry on Centre Street that lay within the zone of the archaeological dig. Right behind it, on Chestnut Street, was the stately British Methodist Episcopal Church, home to the city's largest Negro congregation that was associated with Wilson Ruffin Abbott, a successful Black merchant who had come to Toronto from Alabama in 1835.
The dig uncovered a wealth of intriguing artifacts pertaining to the everyday life of city residents from the 1840s onwards into the 20th century. Among the myriad of intriguing objects retrieved from the moist "night soil" of the former privies on the site was a projectile point or spearhead made from Onondaga chert, a material traced to Lake Erie. Obviously predating the modern city, this prehistoric stone-age relic was estimated to be about 2,000 years old, making it roughly contemporaneous with the Roman destruction of the Jewish Temple in Jerusalem. Archaeologists speculate it may have been found near the former residence at 76 Chestnut Street before being accidentally dropped or purposefully disposed of in the privy behind that residence.
Fish bones and coconut and oyster shells were some of the recognizable food remains that shed light on residents' eating habits. Ceramic dishes, milk and seltzer bottles, children's toys and shoes were some of the household items found that reveal telling details of everyday life. Some of these objects challenged the writers' perhaps too-narrow preconceptions of life in the Ward. For example, not all the shoes unearthed were rugged working shoes: some were fancy footwear, delicate slippers and dress shoes. Even though the district was poor, many Ward residents still possessed a good pair of shoes.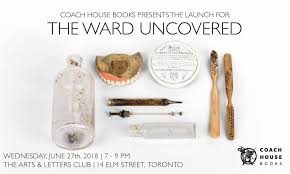 In popular opinion The Ward was a slum, but in reality the neighbourhood "was far more complex," wrote John Lorinc and Tatum Taylor. "The Armoury Street Dig uncovered a pair of silk stockings, collections of pipes and fine china, a glass bottle still crimson with nail polish — all luxury items that reflect a lesser-known side of life in The Ward. Ongoing study of the hundreds of thousands of artifacts will continue to yield new information for years to come."
Some of the seltzer bottles have been linked to various local Jewish-owned seltzer companies that operated after 1900, including Fauman Brothers, Halpern Brothers, Paris Soda Water Manufacturing Company, Union Soda Water, Toronto Soda Water, and Ontario Soda Water. A multitude of alcohol bottles and fragments of shot bottles lend credence to the repeated police assertion that Irish matron Annie Whalen, of 15 Centre Avenue, was running a bootleg operation. "The high number of alcohol bottles retrieved from the privy in Annie's backyard suggest she was less than truthful to police," writes Holly Martelle. "Not only that, but glass beer steins and other items could signify she operated a tavern or brothel from her house." For an archaeologist, of course, rich findings like these are paydirt.
Items of suspected Jewish provenance pulled from the ground were very rare but included a cup of Elijah and possible evidence of a Passover seder. An essay by Simon Patrick Rogers offers an excellent and thorough account of the history of Shaarei Tzedec Congregation, and in a separate essay editor John Lorinc traces the provenance of the building from its original incarnation as an iron foundry, through its years as a synagogue, and its long afterlife (almost forty years) as Pearl's Furniture Store before the building was demolished in the late 1970s. A piece by Ellen Scheinberg recounts the archetypal history of peddler-turned-property magnate and garment manufacturer Henry Greisman who arrived in 1888 and was part of the thriving Galitzianer community that established the Shomrai Shabbos Synagogue at 109-111 Chestnut Street. Like Shaarei Tzedec Congregation (now on Markham Street), Shomrai Shabbos still operates as a congregation and is now located on Glengrove Avenue.
All in all, The Ward Uncovered is a nicely balanced, non-technical account of a major urban archaeological dig that has received surprisingly little media coverage. Although some of the tangential matter could have been curtailed without any serious loss to the whole, the many photos and illustrations, combined with the highly readable text, make this an inviting and informative volume that is easily accessible to the layman. Torontonians, especially those of us with a love for their city's rich past, are bound to find much of interest here. ♦
◊ Bill Gladstone is a Toronto genealogist and publisher who has produced several books related to The Ward, including Only Yesterday: Collected Pieces on the Jews of Toronto, by Benjamin Kayfetz and Stephen Speisman. In August 2017 he gave the 2017 Ontario Genealogical Society Centennial Lecture on a topic related to The Ward at the City of Toronto Archives.