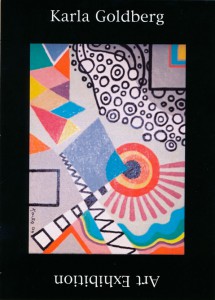 Although it usually doesn't host art exhibitions, The Baycrest Geriatric Centre has made a rare exception in the case of Karla Goldberg, an 84-year-old Toronto artist who trained herself to make art with her left hand after a stroke paralyzed the right side of her body two years ago.
The exhibition "Creative Strokes of the Brush: Karla Goldberg and Her Artistic Journey Post-Stroke," which consists of about 40 paintings and needleworks from both before and after her medical calamity, went on view in the Baycrest main lobby last week and remains until March 27 (2005).
Arranged chronologically, Goldberg's post-stroke paintings highlight her inspirational artistic progression.
The sombre colours, simple lines and limited complexity of the early works give way to the increasing colour intensity, depth and sophistication of the later pieces as the artist acquired significant fine motor control of her left, formerly non-dominant hand, and regained some of the visual-spatial perceptual acuity she had lost.
In one of her earliest post-stroke creations, Goldberg drew a squiggly line to convey her sense of mental confusion. Later she realized she had it backwards and made a second painting with the squiggly line — representing a question mark — now facing in the right direction.
Although she has found it difficult to resume her needlepoint — "It's difficult to thread the needle and to get it down and up again with one hand," she explained — she was determined to finish the last piece she was working on before the stroke.
A needlepoint of a female face, it had lain unfinished in her home studio for nearly two years. Last autumn she returned to it with a vengeance and worked on it for three days non-stop until it was done.
Today she concentrates mostly on acrylic paintings: she twists open tubes of paint by closing their caps in a drawer.
"I can paint, thank God," she said during an interview in her midtown Toronto home, which is graced with sculptures, tapestries, hooked rugs, ceramics, paintings, macrame, candlesticks and other evidence of her bounteous talent.
Her post-stroke pieces seem to rise fully to the quality of her previous work even as they convey the message, "If there's a will, there's a way."
Born in Germany in 1920, the former Karla Baer fled Germany with her family after Kristallnacht in November 1938 and was interred with her mother in Gurs, a concentration camp in the French Pyrenees. In 1947 her family was reunited in Paris and she married David Goldberg, a Canadian ex-serviceman working in Europe with the Joint Distribution Committee. The couple settled in Toronto in 1948 and had sons Marty, Gary and Robby.
"It's appropriate for this show to be at the Baycrest because it can give an incentive to others who have had a stroke," said the artist's husband, David Goldberg.
Karla Goldberg does not sell her work and has never seriously contemplated a commercial exhibition. She has designed ark curtains for Toronto-area synagogues Shaar Shalom, Beth Tzedec and Beth Torah as well as a menorah weaving for the Ohel Moishe Synagogue in Shanghai, China. Another of her pieces hangs in the office of a member of the Israeli Knesset; many others are found in the homes of friends and family members.
Comic and tragic masks are a recurring theme in her work; so are clowns, whose stylized faces are often represented in her abstract and colourful designs.
"I like clowns. I think we all are clowns," she said. "I have a lot of sympathy for them. They can be desperate, but they make people laugh. Ridiculous as they look sometimes, there's a human face behind the clown face."
The Baycrest Centre for Geriatric Care is at 3560 Bathurst St. Goldberg's art remains on view in the Silverman Garden Court in the main lobby thru March 27 (2005). ♦
Note: Karla Goldberg died in 2010. 
© 2005