From the Globe and Mail, October 10, 2002
◊ Jack Burghardt, broadcaster, politician, lay preacher. Born Port Colborne, Ont., on Sept. 19, 1929; died London, Ont. on Sept. 28, 2002.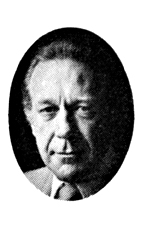 Jack Burghardt, a well-known television personality and lay preacher who became a member of Parliament for London West and then deputy mayor of London, has died in that southern Ontario city at the age of 73.
A pioneering television broadcaster who helped sign Hamilton station CHCH onto the air, Mr. Burghardt had been the leading newscaster at London station CFPL for a decade and was a familiar regional commodity when Pierre Trudeau invited him to run under the Liberal banner in a federal byelection.
A backbencher during the last three years of the Trudeau era, Mr. Burghardt helped enact legislation that protected the rights of native women on First Nation reserves. After losing his federal seat in the Mulroney landslide of 1984, he ran for a seat on London's board of control. For three consecutive elections, he consistently drew the highest number of votes of any controller, thus becoming the city's deputy mayor and budget chief. He held that office for nine years.
After narrowly losing a mayoralty race in 1994, he resumed a previous occasional calling as preacher when a minister suggested that he acquire a country parish. Soon he was preaching regularly at two rural churches north of London while taking pastoral training that eventually qualified him as a United Church minister.
He died in hospital on Sept. 28 from complications after surgery.
"He was just an ordinary person who came from very humble beginnings," said his daughter, Cathy Burghardt. "There was just no pretense in the way he grew up. Everything he did, he did from the heart."
Born in Port Colborne, Ont. in 1929, Jack Burghardt grew up in a devout Christian household. His father, a caretaker at the local Inco nickel plant, was of German origin and had to report weekly to the police during WWII. The boy never forgot how difficult that requirement had been for his father, and would later sermonize about the need for an inclusive society.
"Dad always wanted everybody to feel included and everybody to feel at home in Canada," said his son, David Burghardt. That message was the theme of one the first sermons he gave, which utilized a passage from Isaiah about "loosening the strings of your tent and broadening the tent so there's room for everyone."
Jack was 14 when his father died; he left school and took a job as office clerk at Inco. At 20, he began standing in occasionally at the pulpit of Port Colborne United Church. "He had a natural ability to preach a sermon: it came from his parents' faith," said David. "He always took time to read the Bible. That was always part of his life."
Having also worked briefly in sales for a radio station in Niagara Falls, Mr. Burghardt performed a live audition for CHCH-TV at a home show in 1954, and was hired on the spot.
Because television was such a new medium, many of his family and friends feared he was taking a foolish risk. "Everyone told him, 'If you leave, you'll be giving up your pension at the nickel plant,'" David recounted.
Both at CHCH and at CFPL, which he joined in 1971, he excelled at newscasting, election coverage, game shows, parades and other forms of live programming. "He was a great emcee in panels and inquiry situations," said Ron Laidlaw, former news director of CFPL. "He was a hell of good journalist in that regard, and he knew how to ask the right questions."
He traveled the world as a news correspondent and interviewed many world leaders, including Pierre Trudeau, with whom he developed a warm rapport. Because the broadcaster's popular profile was so high and his political leanings essentially Liberal, the prime minister courted him as a highly desirable candidate and correctly assessed he would have no trouble carrying the riding.
Later, as London's deputy mayor, Mr. Burghardt also got along well with then-mayor Tom Gosnell, who held more conservative views on most issues. "We had our disagreements, but we resolved that we would talk about them privately and try to work them out," said Mr. Gosnell. "They were never personal, they were always about issues."
When London was named the best-run city in Canada in 1992, the honour was largely due to Mr. Burghardt's competence as deputy mayor and budget chief, as well as the determination of city council to run the city as a responsible public sector corporation, Mr. Gosnell said. "He was a real gentlemen, he did his homework, he was a strong advocate for positions he believed in, and he was very principled."
In his concluding career as a preacher, Mr. Burghardt never invoked fire and brimstone, according to Cathy. "He always took the words of the Bible and used them to empower people," she said. "So rather than being preachy, he really tried to get the people listening to his words. He would base everything he said on scripture."
Mr. Burghardt's wife, Mary, died in 1975, leaving him with four children; he never remarried. He frequently took his youngsters on trips, requiring them to learn about each place they visited. "Every morning around the breakfast table we were quizzed on current events," David said.
As with his pastoral flock, he was also a gentle disciplinarian at home. Early in December, he would tell his young children he was going to paint a sign directing Santa Claus to bypass their house, then go and buy the paint and other supplies at Canadian Tire.
Later, the youngsters "would hear him banging around in the basement, working on the sign," said David. "The funniest thing is that, years later, even after we realized he wasn't really making a sign, he would still threaten to make one anyways. It was just a lot of fun."
He leaves children Anne, Jeff, David and Cathy Burghardt-Jesson, and sister Marguerite Marleau. His body was cremated and his ashes buried in London. ♦