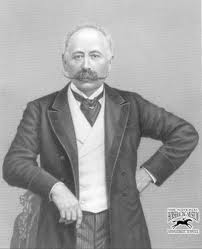 Millions of Diaspora Jews owe a huge debt of gratitude to Baron Maurice de Hirsch, the Jewish magnate, banker and philanthropist who built the Orient Express railroad from Vienna to Constantinople, for assisting our Russian ancestors to reach the United States, Canada, Argentina and other hospitable shores.
According to his biographer, Samuel J. Lee, Hirsch was "the 19th-century Moses who started the exodus of Russia's Jews to the Western world."
Born in Munich in 1831, Hirsch was well disposed towards assuming a grand, sympathetic and altogether visionary approach to the problems that acutely plagued the Jews of Russia, beginning in 1891.
From his father, Joseph, a daring speculator and cattle baron, he inherited a penchant for plunging into highly speculative deals and large-scale risky projects that often paid off handsomely. From his mother, Caroline, a descendant of the illustrious Wertheimer line, he acquired a lifelong loyalty to the Jewish people.
His wife, Clara, a daughter of the powerful Bischoffsheim banking family, gave him the habit of generous philanthropy that became paramount in their lives after the death of their only son, Lucien, in 1888.
Hirsch had grown up in an optimistic age of reason and enlightenment: an age of great financial booms and promotional schemes, such as the railway mania. Possessed of wealth, he wasn't afraid to think big and had a genius for large undertakings such as his prized railroad between Europe and Turkey, a dream-project that seemed freighted with massive political, geographic, fiduciary and other difficulties. The $100-million fortune he accrued in its completion made him one of the world's wealthiest men.
Regarding the Jews, Hirsch was essentially an assimilationist. "For him there existed only two types of Jew, the ghetto Jew — coarse, ignorant, fanatical in his religious practices — and the emancipated Jew," writes Lee in his 1970 book, The Moses of the New World. "All that was necessary was to remove Jews in large numbers from the first group into the second group and antisemitism would disappear."
While generously supporting the Alliance Israelite Universalle as it assisted the Jews in Eastern Europe, Hirsch realized it was better for the Russian Jews to leave Russia, and so, like Moses before Pharoah, he negotiated their release from the Czar.
His original aim, to establish a series of Jewish agricultural colonies in Argentina through his Jewish Colonization Association was "as magnanimous as it was mistaken, as costly as it was useless," according to Theodor Herzl, who met with Hirsch in 1895.
Having failed to persuade Hirsch of his nationalistic dream of a Jewish homeland in Palestine, Herzl began writing a treatise for his particular edification: this became The Jewish State, his influential Magna Carta of the Zionist movement.
Turning to North America, Hirsch established agricultural colonies in Woodbine, N.J., and Hirsch and Moosowin, Sask., and elsewhere. Working with the Hebrew Immigrant Aid Society, he established the Baron de Hirsch Fund to assist in resettlement activities in the United States and Canada.
"I suppose I shall spend all my money in this movement," he once mused. "But, after all, what is the use of money unless you do some good with it?"
By the time of his death in 1896 and that of his wife in 1899, much of their vast wealth had been put to the service of Jewish and other humanitarian causes.
A boon for genealogists, papers of the Baron de Hirsch Fund and related enterprises are available through the American Jewish Historical Society, the National Archives and Libraries of Canada, the Canadian Jewish Congress Archives and other institutions. ♦
© 2002