Panorama of Toronto harbour, 1910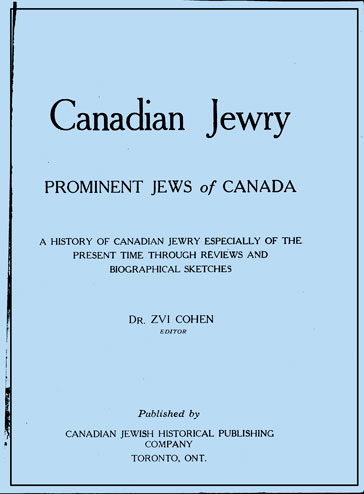 THE following book is a wonderful resource for genealogists who are researching particular families that were in Canada in the early 1930s, and anyone interested in the history of the Jewish community in Canada up to that era. Titled "Canadian Jewry: Prominent Jews of Canada," it describes itself as "A History of Canadian Jewry Especially of the Present Time through Reviews and Biographical Sketches." It was compiled by editor Dr. Zvi Cohen and published in Toronto in 1933. 
The book contains numerous articles and features roughly 700 biographical capsules with photographs of "prominent Jews" from coast to coast. Fully indexed, it is a wonderful resource for genealogists, historians and readers with a more general interest in the subject. For this edition, the contents and index pages at the back of the book have also been added at the front.
The web edition of this book is being presented courtesy of Now and Then Books of Toronto, which has reprinted a deluxe facsimile version of another classic title: THE JEW IN CANADA, edited by Arthur D. Hart and published in 1926. Please click here for further information. And enjoy browsing through Canadian Jewry: Prominent Jews of Canada, beginning with the section below. Simply click on any page to enlarge it; click the "back" button in your browser to return to this screen. Warning: the book is filled with typos. ♦
Canadian Jewry: Prominent Jews of Canada — Section A (below) (pages 1 to 59)
Canadian Jewry: Prominent Jews of Canada — Section B (pages 60 to 125)
Canadian Jewry: Prominent Jews of Canada — Section C (pages 126 to 191)
Canadian Jewry: Prominent Jews of Canada (1933) — Section D (pages 192 to 245)
Canadian Jewry: Prominent Jews of Canada (1933) — Section E  (pages 246 to 305)
Canadian Jewry: Prominent Jews of Canada — Index of names
* * *
* * * 
Canadian Jewry: Prominent Jews of Canada — Section A (above) (pages 1 to 59)
Canadian Jewry: Prominent Jews of Canada — Section B (pages 60 to 125)
Canadian Jewry: Prominent Jews of Canada — Section C (pages 126 to 191)
Canadian Jewry: Prominent Jews of Canada (1933) — Section D (pages 192 to 245)
Canadian Jewry: Prominent Jews of Canada (1933) — Section E  (pages 246 to 305)