For more than a century, Abraham (Abe) Lieff, who is known as the father of modern Canadian family law, has witnessed history unfolding in Canada and Israel.
Lieff is a walking history book. His memory reaches back into the pioneer days of the development of the organized Jewish community in Canada, particularly the Jewish community in Ottawa.
At age 102, the former justice of the Supreme Court of Ontario, who was the first Jew to hold this position, has an astonishing memory for names, events and dates. He was the first Jew to take the oath of office holding a Jerusalem Bible, and the first to wear a kippah during the ceremony.
Lieff has racked up many other firsts in his eventful life, often breaking through barriers. He was first Jew to serve. as the head of non-sectarian organizations, serving as the president of the Ottawa Kiwanis Club, and the first Jewish member of the board of the Catholic St. Vincent's Hospital.
Interviewed at Toronto's Forest Hill Place retirement residence, he displays some nine volumes of his autobiographical memoirs, titled Gathering Rosebuds, of family, his career in law, his love of music and his activities in education, politics and religious life.
Several years ago, his personal collection of photographs and memorabilia was donated to the Ottawa Jewish Archives. He lived and practised law in Ottawa until he became a superior court judge in 1963.
To demonstrate the high esteem his colleagues hold for him, the Supreme Court (now the Superior Court of Ontario) celebrated his 100th birthday at a wine and cheese reception held in the Lieff Room, hosted by former colleagues of both the High Court and members of the Court of Appeal.
In 1992, the judges' conference room was designated as the Lieff Room, in his honour.
To celebrate his lifelong commitment to Judaism, at age 100, a sefer Torah was commissioned in honour of the centenarian by his close friend Joseph Kerzner. It was donated to Toronto's Beth Tzedec Congregation, where Lieff is a member and a regular attendee. Special celebrations, siyum haTorah, were held in his honour at the synagogue to mark his 100th year.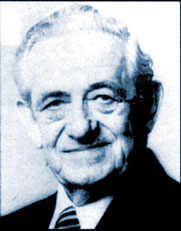 The Lieff Torah has been taken to Camp Ramah for the summer for the camp's religious services. Lieff, a supporter of camping, attends special Monday services at Camp Ramah in which he participates in the services, makes an aliyah and addresses the campers. In his speeches, the softspoken and charismatic Lieff often mentions religious writings and stories of his early years.
Lieff was raised, in poverty, in an Orthodox home during the Depression and he had to struggle for an education.
His parents came from a Polish shtetl called Antopol, in what is now known as Belarus. Esther Malca Pomerantz and Bernard Lifshitz gave birth to their first son Avraham Chaim (Abraham) on March 5, 1903.
Lieff's father fled the Polish village that year and came to Canada. Lieff arrived two years later, with his mother, when he was two years old. Lieff was one of seven children. The family settled in Ottawa's Lower Town district.
Lieff's father worked as a peddler and later, trying to avoid working on the Sabbath, he became a Hebrew teacher. Lieff was taught Torah and Psalms from an early age, as most young Jewish boys were at the turn of the century. His early exposure to religious texts had a lasting influence on him throughout his life and permeated his personal life and his career in law. When he spoke to other lawyers and clients, he often told lessons from the Bible.
As a young boy, Lieff worked as a newsboy, bellhop and soda jerk. He played the banjo and was an extra in various productions at Ottawa's old Russell Theatre. He played guitar at his high school dances.
"In 1916, my brother and I sold newspapers in downtown Ottawa. The newspaper came out at noon. It carried lists of our war casualties and people bought the paper as it was preradio and pre-TV Many people didn't even have phones and the few who did, had a party line. If we needed a phone, we went to the corner grocery store to use the phone, as we were regular customers," Lieff says.
He worked for the telegraph company when he was a teenager. "I delivered a telegram to the home of Sir Wilfred Laurier, prime minister of Canada. He invited me in for coffee and cake. We had a nice talk and I received a tip," he says.
"In 1917, when I was 14, I attended the Balfour Declaration celebrations in Ottawa. It was a parade of Ottawa Jews. We marched to a hall where the community held a very joyful dance and celebration."
As a teenager, Lieff was affiliated with the Ottawa Maccabean Circle, a co-ed youth group, and also with the YMHA.
He attended Ottawa Collegiate Institute and was called to the bar at Toronto's Osgoode Hall Law School in 1926. While studying at Osgoode, Lieff served as a leader of a Young Judea Group, which met at the Zionist Institute at Cecil and Beverly streets.
"Some of my boys at Young Judea were Sam Godfrid, Louis Rasminsky, Lewis Cohen, Harold Taube, Ben Manson, Harry and Al Pasternak, Eddie Leranbaum and many others." Lieff adds that they became well-known in the Jewish community. Lieff became the president of the Ottawa Young Judea in 1927.
While studying in Toronto at Osgoode Hall, he also taught at the Holy Blossom Temple. "I had to earn money in order to go to school," he says.
He met his wife, Sadie Lazarovitz, at a Young Judea conference in Ottawa in 1925, when they were both in law school. They were married in 1929.
Sadie was from Quebec City. She graduated from McGill Law School and became a member of the bar in Nova Scotia.
"When Sadie graduated from law school, women couldn't be called to the bar in Quebec, so she went to Nova Scotia to get her licence," Lieff said.
Lieff's first appointment as a law student was with Benjamin Goldfield, Ottawa's first and at that time, only Jewish lawyer. Lieff notes that in the 1920s, law firms did not hire Jewish law students.
"I did not get paid the first year with Goldfield and [got] $10 a month during the second year until I was called to the bar," he says. "After the establishment of the State of Israel, law firms became more acceptable of Jewish professionals."
When Lieff established his own practice, in downtown Ottawa, he took on all types of cases from real estate to criminal law.
His first involvement in community was when he was still a law student. "In 1921, Goldfield was involved in the Keren Hayesod — forerunner to the UJA." He credits the early Canadian community's involvement in Zionist activities to Archibald Jacob Freiman, who served as president of the Zionist Organization of Canada from the early 1920s until his death in 1944.
"I would accompany Goldfield to meetings and one day we met Meyer Vechesler, a parttime writer with a local paper. He was covering the Zionist Organization's 1921 fundraising campaign, which was held in Ottawa because the president lived there," he says.
Lieff recalls that he went along with Vechesler for an interview with Lt.-Col. John Henry Patterson, who was the guest speaker at the fundraiser.
Patterson fought under Gen. George Allenby and was a well-known Zionist supporter. "When we got to Patterson's room at the Chateau Laurier, where I had worked as a bellhop, Patterson found out that we were both novice reporters.
"He told us that he had just spoken in Montreal and he could give us some of the clippings from the Montreal papers. Those clippings helped us a lot to write the story. Later, I handled the newspaper publicity for the first Keren Hayesod campaigns in Ottawa. That was my first job with the Zionist Organization," Lieff says.
As he became more involved with the Zionist Organization, he was sent to speak at synagogues to raise money for Israel. "I met many important Zionists when they came to speak in Ottawa and to raise funds [Ze'ev] Jabotinski, [Chaim] Weizmann, Menachem Mendel Ussishkin, and many others."
In the late 1920s, he became involved with the Liberal Party of Canada. In 1929, Prime Minister Mackenzie King was asked to speak to a group of young people in Ottawa for the Liberal Party. King stipulated that he would come only if the committee announced the formation of a national Young Liberal Association, which later became the Twentieth Century Liberal Association.
In those days, Lieff says, men and women had separate groups. Both he and his wife became active and many times, despite tradition, they worked together. Soon, Lieff was organizing speakers. He became the national secretary of the Young Liberals. Before long, there were 600 individual Liberal clubs across the country.
But most of his efforts were devoted to his West Ottawa riding. His wife unsuccessfully ran for office, but they both remained active in the Liberal Party until 1963, when he was appointed a judge in Toronto. "I wasn't involved in any politics after that."
After World War II began in 1939, many brilliant young Jewish men came to Ottawa, he notes.
Charles Gavsie, a lawyer on the staff of the C.D. Howe Institute, became the president of the St. Lawrence Seaway and was later appointed deputy minister of the Income Tax Division.
Carl Goldenberg was a brilliant labour negotiator.
David Golden came from Winnipeg and reached a high position in the civil service.
Bert Migicofsky, a scientist, was assistant deputy minister of agriculture in charge of agricultural research.
Wilfred Gallay was a world authority on the quality of paper and rose to the position of vice-president of research of the E.B. Eddy Paper company.
"There were lots of powerful Jews in the civil service and many in the sciences in Ottawa," Lieff said.
And the Jewish community had strong leaders in Jewish communal work. Along with heading the Zionist Organization, A .J. Freiman was also the president of Adath Jeshurun (King Edward Avenue Shul) from 1904 to 1944 and  president of the Va'ad Ha'ir of Ottawa from 1934 to 1944. Lieff served as president of the Va'ad Ha'ir for 1952 and 1953.
"There were many others, like Elias Pullan, a community leader and an early president of my parents' Orthodox Agudath Achim Synagogue in Ottawa. He later moved to Toronto, where he became a leader," Lieff says.
"It was a brilliant community and it still is. Along with their many achievements, many of these men are shul-goers and some are members of my Ottawa shul."
He notes that many things have changed in the synagogues. "Until the end of World War I, all aliyot and other Torah honours during the High Holy Days were auctioned. The two items that brought in the most money were the Maftir Yonah, read at the minchah service on Yom Kippur, and at the opening of the Ark for Neilah, the concluding Yom Kippur service.
"I was 10 years old when I attended the dedication of my parent's Agudath Achim Synagogue on Rideau Street when they held a chanukat habayit at their shul on January 19, 1913."
In the early 1940s, Lieff led the movement to establish Ottawa's first Conservative congregation, the Agudath Israel Synagogue. He served as president for 17 years and presided at the dedication and gala dinner, which marked the opening of the new building in 1949.
"Our synagogue hired Rabbi Morris Margolis, the first fulltime rabbi to serve in Ottawa. He was an outstanding rabbi. Before that, each rabbi would serve several congregations," Lieff says..
"In Toronto, we also have outstanding community leaders and a fine combination of synagogues and able rabbis.
"We have a Board of Jewish Education headed by Seymour Epstein that has maintained very high standards. Our Hebrew day schools of various shadings Reform, Orthodox, Conservative and yeshivot are of the highest calibre — and the Toronto Jewish community generously subsidizes day schools and education.
"Although I came from a fine Jewish community in Ottawa, it has not reached the level of Toronto, as they do not have a good Jewish high school but steps have been taken."
Although Lieff has lived in Toronto for more than four decades, it is obvious that he still has deep roots in the Ottawa community.
When he was appointed to the Supreme Court of Ontario, the appointment required that the Lieffs move from Ottawa to Toronto. He left his private practice and his earnings were reduced. He retired at the mandatory age of 75 and became a family law commissioner for 13 years.
He was responsible for establishing pre-trial conferences, as well as other ways to minimize conflicts and the cost of divorce.
When a new Canadian appeared before Lieff, he would ask them where they came from and regardless of where they came from, he would say, "That's quite close to where I was born." This would ease a tense situation. He became known for having a movable birthplace.
Looking back, Lieff says that the things that stand out most in his mind are "the establishment of the State of Israel — that's our peoplehood. And personally, marrying Sadie Lazarovitz (who died in 1999) and having a wonderful life with her for 70 years, short a couple of months."
Lieff believes that education is the prime requisite for Jewish survival. He strongly advocates community support for all Hebrew schools in cases of proven need.
"We used to go to cheder six days a week, including the summer months. In my youth," he recalls, "it was before bar mitzvah parties in Ottawa. The whole adult approach then was, 30 days before the bar mitzvah, we went to shul to learn how to put on tfillin, a practice which would continue throughout a Jew's life. No one made much of a deal of the bar mitzvah day," he says.
After the davening on the day of the bar mitzvah, occasionally, a family might serve herring and Geneva gin "which was not very good. Our family couldn't afford the kiddush.
"After the service, we children walked home with mother and father and had our regular superb lunch — just our family. There was no such thing as a Jewish caterer."
As a child, he says, there were no summer camps for Jewish children. "Young children worked in the summer. My first personal experience with camp was with my daughters, Miriam Tova and Lois Elizabeth. It had a great influence on them and to this day they are at shul every Shabbos. I am very happy the way my daughters practise their Yiddishkeit."
He reflects that one of the biggest developments in Toronto is the growth of the Hebrew day schools and high schools. "In my view, compared to New York and other American cities, it may even be better."
Lieff has seen many amazing changes in the Jewish community. "The peddlers' sons are building skyscrapers and new communities in many major centres. And we are blessed that our young leadership is generous and they support local and Israeli facilities.
"Without our Hebrew schools, camps and community organizations, we wouldn't have all of this."
Above all, he says, "I am proud of the young leadership coming up throughout Canada. Until five years ago, I took courses at the University of Toronto. Some of the students from the Community Hebrew Academy of Toronto would participate in discussions with the professors. They were of a very high calibre, intelligent and very polite.
"They were a delight to me and will undoubtedly form the rising leadership of the community of Toronto and Canada."
"For all this, dayeinu." ♦
This article originally appeared in the Canadian Jewish News and appears here courtesy of the author. © 2005 by Cynthia Gasner.
* * *
101-year-old gets aliyah at camp on his birthday
Rarely, if ever, will you see a 101-year-old man have an aliyah at a children's camp.
Abraham (Abe) Lieff, a former justice of the Ontario Supreme Court, the first Jew to hold this position, was a special guest at Camp Ramah recently to celebrate his 101st birthday. He was given an aliyah during the reading of a Torah that was dedicated in his honour at the Beth Tzedec Synagogue on his 100th birthday.
A stipulation was that in addition to the Torah being read at the synagogue, where Lieff is a member, it would be taken to Camp Ramah in Utterson, Ont., each summer to be read by the children there.
At a Shacharit service at the camp, Lieff was joined at the Torah by Ryan Stern of Toronto, a 13-year-old camper whose bar mitzvah will be celebrated this fall. Some 130 campers, 40 staff members and several visitors participated in the service in the large recreation hall.
The camp's Rabbi Matthew Futterman said the power and beauty of our tradition were symbolized by Ryan and Lieff standing together, reciting the same blessing, separated by 88 years of life, but joined by the same dedication and commitment to Torah.
This is the second year Lieff has attended a service at the camp, and he told The CJN he hopes to be there again next summer. He says he is dedicated to teaching Torah to children.
"That is the charter of rights for all mankind," he says. He adds that when he was in court, "I never sat there alone, God was always there with me."
Lieff's love affair with Camp Ramah began about 50 years ago, and "my grandchildren went to camp Ramah more than 30 years ago and I would visit them. I was very impressed with the camp."
Lieff was one of seven children born to Esther and Bernard Lifshitz in the shtetl of Antopol in the province of Grodno in White Russia (now Belarus). The family fled the anti-Semitic pogroms there in 1905 and came to Ottawa when Lieff was one year old.
He was called to the bar at Osgoode Hall in 1926 and ultimately became a well-known lawyer and assistant Crown attorney. He moved to Toronto in 1963 when he was appointed a justice of the Supreme Court of Ontario. He was the first lawyer to take his oath of office holding a Jerusalem Bible and the first to wear a kippah during the ceremony.
Lieff served for 17 years as president of the first Conservative synagogue in Ottawa, Agudath Israel Congregation, which he helped found. His first contact with Camp Ramah came during a visit to Ottawa by Rabbi Max Arzt, provost of the Jewish Theological Seminary in New York, who came to speak to the congregation.
Lieff was embarrassed at the poor showing at a lecture. "When I apologized on behalf of our community," Lieff says, "Rabbi Arzt said his trip to Ottawa would be worthwhile if our community would send many of our children to Camp Ramah. And that began my 50-year love affair with Camp Ramah."
At the camp this year, the Torah was read by camper Eran Markose, 15, now of Jerusalem, whose father is Rabbi Howard Markose, and mother, Judy Markose, runs the Ramah Israel summer seminar.
At the conclusion of the Shacharit service, Lieff gave a dvar Torah on the word rechem (rachmones, compassion and mercy), stressing the importance of justice and compassion in law. He spoke of the 13 attributes of God and encouraged the campers to say the Shema, "which goes to the very heart of our belief."
He urged the campers to be strong Jewish leaders for the next generation.
"I felt as if I was talking to my own grandchildren. They are beautiful children in a beautiful Jewish environment," he says.
"It was wonderful to participate in a thoroughly Jewish atmosphere conducted by children who knew what they were doing and to whom Jewish living in the camping circumstances was an absolute joy."
He is proud of the young leaders Ramah produces "such as my granddaughter Sharon Cohen Barker, who lives in Massachusetts and attended Camp Ramah. She became a volunteer at the federation at a senior level and now her children are at Camp Ramah in Massachusetts."
Rabbi Mitchell Cohen, director of the National Ramah Commission, who attended the service says, "The service was incredibly inspiring, as it brought together people from many different generations, all concerned with the Jewish future.
"Judge Lieff's commitment to Ramah camping was incredible, and at 101, he expressed it to the campers, staff and visitors in a beautiful way. Camp Ramah throughout North America has been in existence since 1947 and it continues to inspire thousands of young Jews to lead committed Jewish lives."
"And this," says Lieff, "brings me much joy and hope for the future of our people." ♦
This article originally appeared in the Canadian Jewish News and appears here courtesy of the author. © 2004 by Cynthia Gasner.