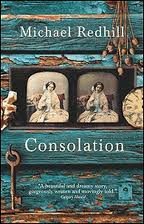 If you're a Toronto lover like me, you're bound to enjoy and marvel over Michael Redhill's novel Consolation (Anchor Canada), which delivers a gripping human story, elegantly and poetically told, and a grittily realistic literary portrait of 1850s Toronto that is so well executed that it shines.
In alternating chapters, Consolation artfully knits together two separate views of Toronto in two different time frames — the city of today and the city of 150 years ago — without a hint of artifice. The novel moves contrapuntally between two dramatic stories with characters that, like those in John Fowles's The French Lieutenant's Woman, seem to have unseen points of correspondence with each other across the gulf of time.
In the contemporary story, an urban archaeologist discovers clues that lead him to believe a cache of 1850s glass-plate photographs of Toronto may be retrieved from the harbour, where they sank in a fierce storm. The alternate story tells of a newly-arrived British immigrant who, after the failure of his chemist's shop, learns the art of photography from a dying colleague and begins capturing the rough-edged city as it emerges from the mud and miasmal bogs.
After the archaeologist dies, his wife, daughter and daughter's partner pursue his dream of retrieving the glass plates from an area of the former lake that has been topped up with landfill. A central locale in the story is a room in a lakefront hotel tower that overlooks an excavation where backhoes are feverishly uncovering the city's forgotten past — an incidental part of digging the foundation for yet another modern tower.
The human relationships at the core of both halves of Consolation are real, complex and evolving. Much more than a treasure-quest unfolds in these pages. The book is equally about the characters' inner lives and the exploration of new modes of living and loving after more traditional models fail.
Along with writers like Anne Michaels, Howard Ackler and Michael Ondaatje himself, Redhill is of the Ondaatje school of novel-writing. The prose is usually intensely poetic, relationships are always complex and dynamic, and the world is shown to be a place of infinite interwoven mystery. The narrative proceeds by way of revelations and removal of one obscuring skin after another. A New Yorker reviewer once said of Ondaatje's writing that "it is so finely wrought as to be unreadable," but Consolation is neither precious nor obscure: it is forthright and masterful as it attains a breathtaking level of realism and authenticity. With this book — his best so far — Redhill goes to the top of the class.
Consolation bears affinities to Ondaatje's In The Skin of the Lion, which also fills its canvas with icons of old Toronto, and The English Patient, which also throws together a group of unlikely people as roommates with startling results. The book likewise bears comparison to Margaret Atwood's Alias Grace, which conveyed a tale of 1840s Toronto with equal luminescence and, yes, grace.
"If Consolation provokes Torontonians to look deeper at this place, if it causes their gaze to linger longer, then I'll feel the book has burst its covers and gone out in the world to live in its readers. There's nothing else a writer could ask for," Redhill wrote in an online blog earlier this year.
Even after Consolation won last year's City of Toronto book award, I delayed reading it for personal reasons. For years I've been attempting to write a novel set in 19th century Toronto and didn't want to be unduly influenced. Well, too late now. It's a book that will stay with me.
Plucked from the ether, Consolation's wonderful portrait of mid-19th-century Toronto has emerged as magically as the sudden appearance of an image on a darkroom photographic plate. Kudos to the author for doing his homework so thoroughly and then applying his scholarship so invisibly in the service of this well-formed and gripping tale. ♦
© 2008