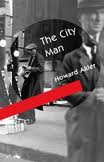 Howard Akler has made an auspicious literary debut with his first novel, The City Man (Coach House Books), a crisply written tale that conjures up the look and feel of Toronto in the '30s.
The story focuses on Toronto Star reporter Eli Morenz who, freshly returned from a convalescence in the country, writes a riveting series about a busy gang of pickpockets. His confidential source is Mona Kantor, a female Jewish pickpocket who teaches him the secrets of the trade as well as its peculiar underworld slang. Words like "prat" and "whiz" and "bates" become part of the book's core vocabulary.
Mona works with a partner named Chesler. Delicately maneuvring through the streaming crowds at Union Station, she helps get their intended victim into position so his lightning fingers can make the pinch.
Akler depicts their silent choreography as a complex dance in which they communicate by subtle gestures. Although he told me he sees pickpocketing as "a real legitimate, gentle art," it's a form of crime that doesn't always pay — as when Chesler lifts the promisingly thick wallet of a Hassidic Jew only to find it filled with photos of naked women.
Chesler's relationship with his moll is stilted except when they're working, but Eli and Mona seem to fit together like hand and glove: before long, they need each other as much as the city's dailies need crime stories to sell papers. They cling to their torrid clandestine relationship even as it is increasingly threatened by pressure from the newsroom and the police. Although it would be so easy, neither seems tempted to betray the other.
As Akler explores the minute corners of his characters' interior worlds, he offers fleeting views of the city that can be exhilarating. His spare poetic style bears affinities to the poetic prose of Michael Ondaatje as well as the hard-boiled detective fiction of '30s crime writer Dashiell Hammett.
The subtlety of the writing and the constant need to process and interpret the language remind us how subjective the act of reading actually is. Inevitably, every reader brings something different to the page. A minimalist with a healthy aversion to extraneous verbiage, the writer crafts his scenes like snapshots of a much larger world that cannot be fully realized without the reader's imagination.
Born in Toronto 37 years ago, Akler writes of his city with reverence. Three of his grandparents came here early in the century and a fourth was born here in 1908; his father grew up on the very streets and era featured in The City Man. Thus, he explains that he's "reinventing and reimagining" a setting central to his family history.
"Toronto became identifiable to me as a modern city, as the city I recognize, in the '30s," he says, citing Union Station, Maple Leaf Gardens and several Bay Street skyscrapers as among the familiar architectural monuments that rose around that period. "It was also the era when the early waves of immigrants were really starting to make their presence felt — the Jewish population, the Italian population. Toronto was starting to lose some of its British flavour."
Akler grew up in the Lawrence-Bathurst area and graduated from Ryerson's journalism program; he presently lives on the edge of the Annex. He worked as a freelance journalist for years, supplementing his income by working in a bookstore. He is co-author of a previous non-fiction book, Toronto: The Unknown City, a travel guide published by a Vancouver press in 2003.
When he began the first draft of his novel about eight years ago — "it took years to write, for such a small book" — he envisioned it as a tale of true crime about a Toronto murder from the Depression. Eventually he grew bored with his main characters and jettisoned them in favour of his secondary characters, whom he enlarged into protagonists.
"So much of the image that I had of Toronto was 'Toronto the Good' and I don't think it was all that good," he says, in explaining what attracted him to the criminal underclass. "I think there was a whole range of characters that were unexplored."
Even so, he acknowledges that pickpockets are about the most genteel sort of criminals imaginable, very different than the truly violent criminal often featured in American crime fiction. In fact, pickpockets are often sneered at in criminal circles, he contends. "Bank robbers look down on them, safecrackers look down on them, even loan sharks look down on them." For all their gentility, however, his imagined pickpockets seem suited to their urban setting, he says, because "despite some evidence to the contrary these days, Toronto has never been that violent of a city."
Not surprisingly, The City Man has been nominated for two prestigious literary awards so far — the Books in Canada/ Amazon first novel award and the Commonwealth Writers first novel award for Canada/ Caribbean region (which it didn't win). The work has also been optioned as a feature movie, and Akler's been commissioned to write a screenplay.
"I've started another novel but it's on the back burner until I finish with the script," he says. "The next novel is set in Toronto in the '70s. It's another attempt just to reimagine my city." ♦
© 2006