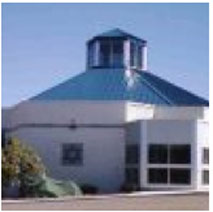 The Jewish community in Barrie, which has grown to 100 families, has already raised $100,000 from its own members to build the city's first synagogue.
"We hope it will be a rallying point and attract more Jews to Barrie so that we will have 200 to 300 families," said Eric Allen, executive member of the Simcoe County Jewish Association.
In July,200, the Canadian Jewish News reported that a Torah was donated to the Barrie community by B'nai Tikvah Congregation in Niagara Falls.
After that article was published, the Barrie community was given a beautifully treed 1.3 acre site in south Barrie by a Toronto developer.
It will be the site of the new synagogue. Construction is expected to be completed in a year or two.
The new synagogue, as yet unnamed, will be a Reform congregation. It will be 4,000 to 5,000 square feet, including a Hebrew school, a social hall and a small library, and will cost an estimated $500,000 to $600,000.
The synagogue will be designed for free by architect Cliff Korman, Toronto, who designed the new Ritz Carlton hotel.
"We are beginning our fund-raising drive in earnest in the new year and we hope Jews in Toronto and other places will respond," said Allen.
Barrie's current Hebrew school, which rents quarters in the local YMCA, has doubled in size in recent years, he said.
The High Holy Day services, which are also held in rented space, attract Jewish cottagers in the area, in addition to a significant number of Jews who work in Toronto but live in Barrie. At the last Yom Kippur services, for example, 150 people attended.
The new synagogue will serve this rapidly growing region. The Simcoe County Jewish Association also has members living in Collingwood, Gravenhurst and other towns.
Barrie itself is growing at the rate of 5,000 people a year and now has a population of 100,000, Allen said.
"Jewish people settle here for the same reasons as other people — more inexpensive housing and a better lifestyle."
The Association's most recent fund-raiser — their largest yet, attracting 1,000 people — was a night of music called Festival of Lights on November 25, 2000, at the Barrie Central High School auditorium. Among the musicians lending their talents were an all-female choir, Bravado, the Janet French jazz trio, as well as Col. Chris Hadfield, the guest of honour, Dave Hadfield and Dr. Jerry Levine, a family physician as well as a musician who headed the fundraising committee for the event. ♦
This article first appeared in the Canadian Jewish News on December 14, 2000, and appears here now courtesy of the family of the author. © 2012 by the family of the late Ben Rose. 
◊ Congregation Am Shalom is located at 767 Huronia Rd., on the corner of Huronia and Lockhart in the south end of Barrie. Its website is http://amshalom.ca