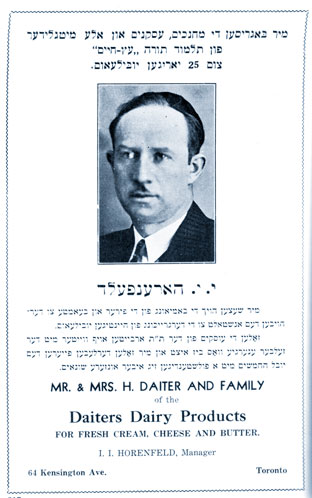 I can still remember the wonderful things I smelled, when as a child, my mother took me shopping to Kensington Market on Thursdays.
Kensington Market was the hub of activity, as storekeepers — mostly East European Jews — and bargain-seeking shoppers congregated.
You could always smell bread baking in the myriad of bakery shops.
At one time, individuals could make their own bread or buns and take them to the bakery to be baked.
There were bins and large baskets of fresh fruits and vegetables, mostly in over-sized baskets. And there was the aroma of spices that would make your mouth water.
You could stick your finger in a barrel of sour pickles or tomatoes — before the health laws were passed — or you could pick out a live chicken, which Mother would feel all over, then take down the lane to the shoichet.
You could buy a fresh carp that swam in the bathtub until . . . but we don't want to think about that.
If you went into one of the creameries such as Mandels or Daiters, you could get fresh (almost minutes old) cheese. Usually, there was a variety of about half a dozen cheeses. We bought eggs by the crate; who knew about cholesterol?
Looking back, names come popping into my mind. Who was Mollie Pearl on Augusta Avenue? Some of the bakeries included Lottman's, Perlmutter's, and not too far away, Cohen's, Louis, Gula, Markowitz, Union, and a bagel bakery on Fitzroy Terrace which was actually a laneway. That's where Gryfe's Bakery was founded. Today, Gryfe's continues to draw long lines in any kind of weather.
The Health Bread Bakery on College Street could beat anyone in a contest for their blueberry buns.
In those days, the butcher shops sold all kinds of parts that when our children hear about it, utter, "Yuch, how could you eat that?"
There was no regulated kashrut supervision and most butcher shops had an old bearded man sleeping on a rickety chair near the door; he was the store-employed mashgiach.
There were many butcher shops. The one that pops into mind is Greenspan's at the corner of Brunswick and Harbord streets.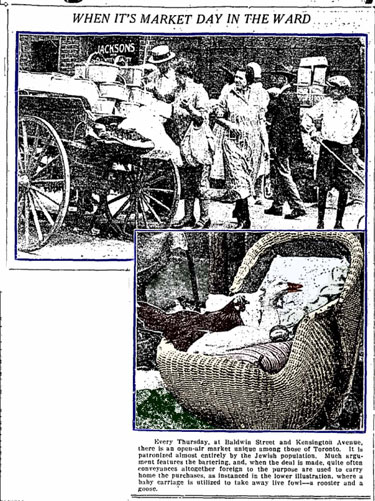 Across the road on Harbord Street was Martin's Butcher Shop. And just up a few stores, was Tenenbaum's Poultry. There, you not only got fine chickens, but you could have a conversation with one of the Tenenbaums.
Other names that pop into mind from the 1930s and 1940s include Abram's on Montrose at Dundas, Cohen the butcher on Dundas, Politsky's, Nissenbaum Wohl Poultry, Poteck and Zigelstein's; I'm told there was Ball's Butcher Shop, Wall, and Binstock, the only butcher shop run by a woman.
To further stir up memories, can you remember the grocery stores run by Orloff, Dvoreszky, Finkelstein, Edell, Schwarz, Levitts, Teichman, Brightman, Mirvish, Hurowitz and Sone? How many others can you remember?
Those days are gone forever. Today, we shop in sterile-looking supermarkets, and buy mainly packaged meats, breads, pastries and pickles. Other fun-to-buy foods come in jars or plastic containers.
Most of these things have now faded into the past but the remembrances are still delicious. ♦
© 1999 by Cynthia Gasner