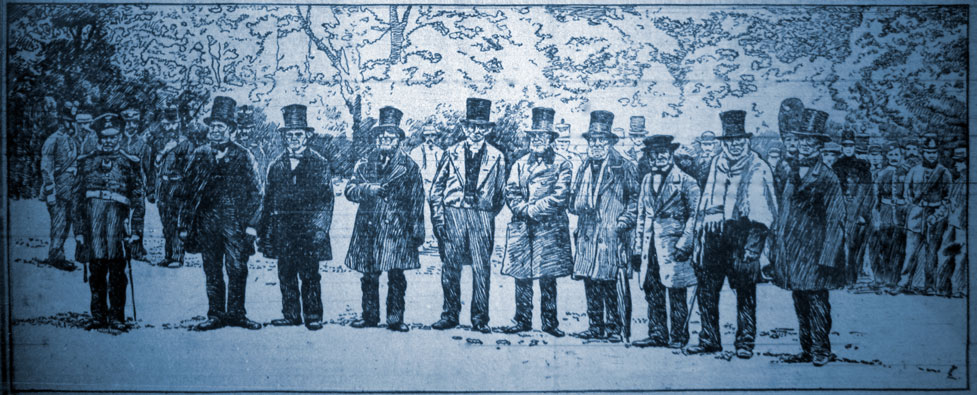 No, it isn't an actual photograph — just a sketch of a photograph of ten surviving veterans of the War of 1812 to 1814, who assembled at Rosedale some 50 years after the war, on October 23, 1861.
The photo-sketch appeared in the Toronto Evening Telegram in 1910, just more than a century ago and nearly fifty years after the original was taken. The headline was "The Last Muster of the Men Who Saved Canada in 1812-1814."
The veterans must have been young soldiers in the war and were evidently in their late 60s, 70s and 80s in 1861. They were among the earliest settlers in Toronto and Upper Canada and many of their names are familiar to those who have read histories of the city and of Canada.
The photo was taken as a "result of the happy thought that it would be interesting to have such a memento of the half-score 1812 veterans then present, but who, it was easily seen, would not much longer survive."
"Mark these aged, white-faced men who stand in line," read the accompanying story. "The burden of the years rested heavily on them, and now the last of that line has passed into the quiet slumber of the brave."
From left to right, the veterans are identified as: Colonel George Duggan; Reverend George Ryerson, William Roe, Jacob Snyder, Reverend Jas. Richardson, Jos. Dennis, John Woodall, Jas. Ross, Colonel Bridgeford, and George Ridout. ♦
© 2011