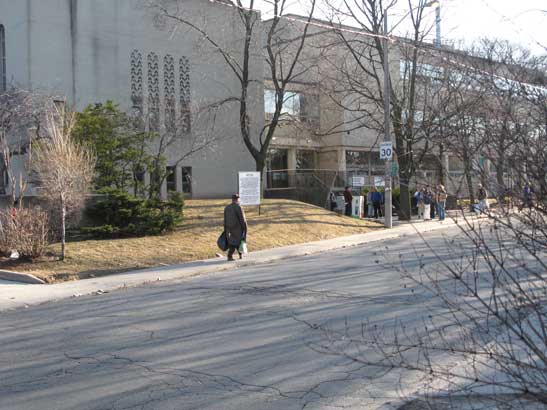 HOLY BLOSSOM's Out of the Cold program, which has been operating at the mid-Toronto synagogue since the mid-1990s, continues to be one of the most excellent programs of its kind in the city. This is an article I wrote a few years ago for the Jewish Telegraphic Agency. It was published in numerous cities across the United States and Canada. 
Born six years ago ( i.e., in 1996) amidst a flurry of heated community meetings and debates, a Toronto synagogue's weekly endeavour to feed and provide overnight shelter to the urban poor and needy is now frequently praised as one of the best such programs in the city.
Every Thursday evening throughout the winter, about 100 people come to the Holy Blossom Temple for dinner and as many as 45 sleep over on foam mats in its downstairs social hall. The Temple's Out of the Cold program, which is now wrapping up its sixth season, usually begins in early November and concludes two weeks before Passover. When it began there was only a handful of similar programs in Toronto; now more than 50 have appeared to help with the growing problems of homelessness, poverty, mental illness and social alienation.
"Even the homeless guests themselves rate it as better than any other program," says Freda Ariella Muscovitch, its founder and first chair, who has since helped to set up similar operations at other institutions, including several synagogues.
Organizers introduced local patrols and other security precautions to ease fundamental safety concerns when the Out of the Cold program began. The city's largest reform congregation, the Holy Blossom is located in the Eglinton-Bathurst neighbourhood, a relatively affluent residential area in midtown Toronto.
The organizers like to point out that the program has received almost no serious complaints since it began and that some previously worried neighbours have become dedicated volunteers.
Primarily through word of mouth, it has become vastly popular with two distinct "client" groups: those needing a meal and a place to sleep, and those needing an opportunity to perform charitable deeds.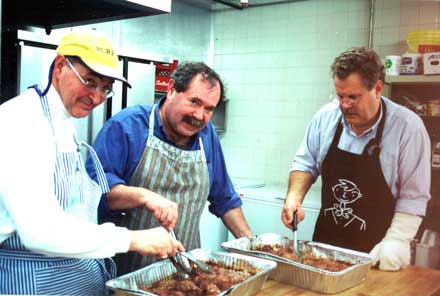 To those who know the program, it is no surprise that volunteers outnumber the guests. The volunteer roster lists more than 500 names, with at least 130 people usually active in any given week. Many say that Out of the Cold helps them as much as it does the street population it was meant to serve.
"It's an opportunity to give back in a very meaningful way," says Larry Babins, a former chair of the program.
"The Torah says the reward of a mitzvah is the mitzvah itself," notes Rabbi Gunther Plaut, the Holy Blossom's senior religious leader. "That's what it's all about. That's what gives people a great kick — to be able to do something positive."
The guests begin to arrive late Thursday afternoon, most by bus or on foot. They gather in a patio-alcove by a side entrance and partake of hot chocolate and home-made muffins until the doors open about 6:30 p.m. Soon after being admitted, they settle around banquet tables in the social hall, and are given name badges. Many return week after week.
Dinner usually consists of salad and soup; a main course of beef, chicken, salmon or shepherd's pie, with potatoes and vegetables; and dessert, fruit, coffee, tea and juice. Except for donated items, most of the food is prepared from scratch in the synagogue's kitchen. A platoon of 25 or 30 or more does the serving.
During the meal, a senior volunteer publicly reviews the house rules: no drugs, no alcohol, no smoking, no abusive language, no fights. One or two professional security guards are always on hand to handle episodes of unruliness.
As a pianist or guitarist plays, guests may browse for needed items in a clothing room, or consult with a nurse or social worker. For more extensive needs, guests are given a contact number for an appropriate social agency.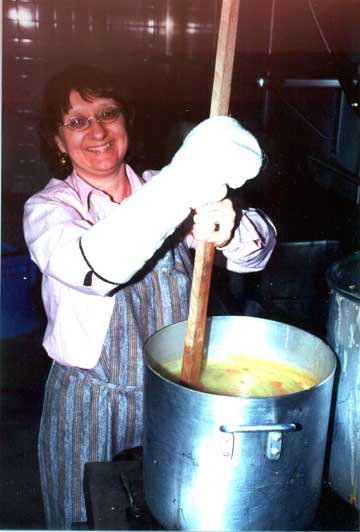 "We try to provide the basic necessities of food, clothing and shelter in a manner that respects our guests' dignity, self-respect and sense of worth, but we recognize that we're not social workers," says Babins. "We have to be careful about what we try to offer. We're not competent or capable of offering any social services or psychological support."
After dinner, the room is cleaned and cleared; donuts and coffee urns appear. People read magazines, play bingo or crazy eights, or unwind with an art class. Those who leave are given a bus token and a packed lunch. Those staying overnight set up mats on the floor; they will receive a cooked breakfast in the morning.
Rabbi Plaut often joins a table for the weekly meal. Like many volunteers, he says he gets a lot out of the experience of interacting with the Temple's guests. "I get to know the lives, the background, the worries and the hopes of people I might otherwise never meet," he says.
Again like many, he says he is grateful for the opportunity to perform tzedakah, or charitable deeds under the Out of the Cold umbrella. "Feeding the hungry, clothing the poor, and giving shelter to those who are in need — these are basic commands of Judaism," he observes.
Like invisible angels, many volunteers work entirely behind the scenes. Some come in to scrub pots, then go home. Some teenagers take on tasks that would amaze their parents, says program co-chair Abe Neufeld.
"It's a pleasure seeing these young people doing jobs like washing down tables or mopping floors, that they would never do at home," he says.
So many teenagers volunteer as servers, often with one of their parents, that they work in three or four week rotations. Along with issues of safety and hygiene, the servers are briefed on the importance of doing charitable deeds in the Jewish faith.
Although persons younger than 14 are not permitted to come into contact with guests, many become volunteers so as to perform shifts of community service for high school or meet tzedakah requirements for bar- or bat-mitzvah certification. Many set the tables beforehand or help in the kitchen.
Although not all volunteers are Jewish, the program was conceived as a "Jewish response to homelessness," recalls founder Muscovitch. "As reform Jews we are very responsive to the community, and we focus on tzedakah. But it's not just for Jewish people, it's for everyone."
Six years ago, she and the other founders were challenged repeatedly to explain why the Temple should host such a program "when all the homeless people were downtown."
At one tempestuous meeting, "a woman, one of our staunch supporters, stood up and said, 'Haven't you seen the homeless people under the bridge at Bathurst and Glen Cedar? Or outside the bank at Eglinton and Bathurst?'" she recalls.
"That caused a tremendous shift in many of our neighbors and congregants, because they realized that it wasn't just a downtown problem."
Since then at least three more Toronto synagogues have started their own Out of the Cold programs on a more limited scale. Two are located in the northern part of the city and pick up guests by van at the Finch subway station.
Besides neighborhood concerns, the founding committee at Holy Blossom came up with workable solutions for a myriad of concerns from the Temple board and from representatives and parents of the nursery and Hebrew day-schools that operate on the premises.
As a result, they agreed to make sure that guests never arrive earlier than 4:30 in the afternoon and fully vacate the premises by 7 in the morning so that the paths of nocturnal and diurnal visitors never cross. A security crew patrols the building and surrounding streets during program hours as a safeguard.
Organizers express pride that the Temple's Out of the Cold has become a paragon of such programs, and frequently receives visitors from church and synagogue groups who wish to observe and learn from it.
"A lot of people see how well our program runs at Holy Blossom and say, 'Well, you've got the perfect set-up,'" Muscovitch comments. "I tell them, 'No, it wasn't always like this. We had to make it the perfect set-up.'"
"It almost feels like what Herzl said," she says. "'If you will it, it isn't a dream.'" ♦
© 2002