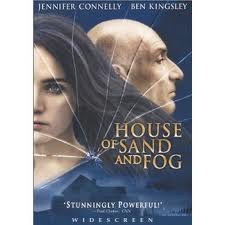 Vadim Perelman, the Hollywood commercial director who has made a remarkable debut as a feature-film director with the recently-released House of Sand and Fog, grew up in Kiev and immigrated as a teenager with his mother to Edmonton, where he finished high school and attended the University of Alberta.
In a recent interview with the Los Angeles Jewish Journal, the 40-year-old L.A.-based director recounted his early years in Kiev, where he had lived in an overcrowded tenement with 14 family members who shared a bathroom with 60 neighbours. He and his mother lived in a slum in suburban Rome for several years after leaving the Soviet Union in 1977.
Well established as a director of commercials, Perelman was in Italy on an AT&T shoot in 2001 and decided to return his former home in a rundown section of Rome. His former landlady gave him a glass of wine and he left $5,000 on the table for her as he got up to leave. At the Rome airport, he picked up a novel — Andre Dubus III's bestseller, House of Sand and Fog — and fell instantly in love with the story. "I read the novel on the plane and I wept," he said. "I immediately knew I had to turn it into a movie."
Although Dubus had already reportedly refused requests from 130 directors, he granted Perelman movie rights after hearing him tell his life story. Dubus, who like Perelman had grown up poor and had been raised by a single mother, said that he intuitively knew that Perelman wouldn't "reduce the story into a digestible, Big Mac version of the book."
While in Edmonton, Perelman joined a teenaged gang that broke into houses, but a night in jail convinced him to seek a higher ambition in life. Taking a film course at university, he viewed a documentary on the making of Norman Jewison's Fiddler On The Roof and realized he wanted to be a filmmaker. He described House of Sand and Fog as an "operatic tragedy" and, like a true Russian, seems to have an affinity for the tragic in his soul.
"I've seen death and I've seen catastrophe, so I know how such stories can help people," he said. "It's something the audience can experience vicariously so they may live through their own tragedies gracefully."
Perelman's cinematic debut, which stars Ben Kingsley and Jennifer Connelly, is so riveting that it may be hard to top — but he certainly intends to try. His next project, he told the Jewish Journal, is a cinematic adaptation of Jerzy Kosinski's Holocaust novel The Painted Bird. ♦
© 2004