From the Canadian Jewish News, 1989
Since the recent declaration of peace between Jordan and Israel, and the opening of the Arava border-crossing point between Eilat and Aqaba, it is now a simple matter for visitors to cross freely between these two spectacular Middle Eastern countries.
Until these most welcome innovations, tourists frequently faced considerable difficulties in crossing from Israel to Jordan via the only touristic link then operating, the Allenby Bridge.
Several years ago, at a time of much intifada violence, I was obliged to cross the Allenby Bridge at the end of a three-week journalistic tour of the Middle East. Alas, my first attempt at a crossing ended in dismal failure and my second attempt two days later came perilously close to a bad ending as well.
In Jordan, I had attained what I thought was the correct visa for re-entering the country via the Allenby Bridge. After touring Jordan and Egypt, I spent the last week of my trip in Israel. My return flight was to leave Amman on Sunday at 11 a.m.
Since the logistics of transferring from Jerusalem to Amman demanded advance planning, I began seeking opinions early. I discovered that Israel's government bureaucracy offered many conflicting opinions as to the operating hours of the Allenby Bridge. Nobody, it seemed, knew for sure.
The consensus was that the bridge was open daily from 9.30 a.m. to 5 p.m., with two notable exceptions. On Saturday, the Jewish Sabbath, no passage would be allowed on the Israeli side. And on Friday, the Muslim Sabbath, the Jordanians would close their half of the bridge at 1 p.m.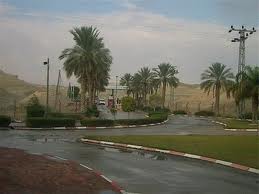 Based on this somewhat less than reliable intelligence, I decided that a Sunday crossing, however desirable, was out of the question and that, similarly, a Thursday crossing would be premature. I would cross Friday morning and stay in Amman until my flight.
Friday morning in Jerusalem, packed and ready, I wondered why the taxi I had ordered for 9 a.m. did not come. A company spokesperson told me by phone that they were having trouble finding a driver licensed to cross the bridge all the way to the Israeli customs checkpoint. At 10 a.m. they sent a non-licensed driver, advising that I could easily find a bus to take me across the bridge.
My driver stopped briefly during the hour-long descent of the Judean hills to deliver a package in Jericho. When we reached the bridge, I removed my luggage from the back seat and paid him the exorbitant sum of $50 as agreed. Then he turned around and sped back toward Jerusalem, raising a cloud of dust along the desert road.
Two Israeli soldiers manned the lonely outpost. They watched me approach in silence. They said that there was no bus to carry stranded tourists over the bridge. They also said that the bridge had closed at 11 a.m., 20 minutes earlier.
Feeling crestfallen and desperate, I attempted to persuade them to let me pass on foot, but they wisely dissuaded me. The Jordanians would only send me back, they said: the bridge was closed.
"Can't you radio them that I'm coming?" I wisecracked. They regarded me as though the sun had already gotten to me. The bridge, they repeated, was closed.
But there were still a few trucks and buses coming from the Jordanian side: what about those? I asked. These were the last few stragglers through the Jordanian and Israeli checkpoints, explained the soldiers.
I sat down with them in the heat, flies buzzing around our heads. How would I get back to Jerusalem? Not to worry, they said: I could catch a ride on a Palestinian bus that was due to come through.
The return to Jerusalem, in a bus crowded with Palestinians, cost only six shekels (about $2). Before reaching a station, the driver made an unscheduled stop to drop me off on a street-corner in East Jerusalem.
Sunday morning, a driver who was licensed to cross to the edge of the Israeli frontier picked me up just after 8 a.m. We reached the line-up of vehicles about an hour later, and finally made the Israeli customs-point, where my driver left.
After a cursory inspection and the payment of an exit tax, I joined a group of four other travellers onto an official Jordanian mini-van. This vehicle ferried us across the Jordan River, as deep and wide as a mere country creek. We paid for the ride in Jordanian dinars, and had to surrender our passports and visas to the driver as well.
In the Jordanian customs-house, all the other travellers were processed and permitted to pass before the official called my name. When I approached, he told me my visa was not valid and asked where it had been attained.
Apparently, the visa, which was written entirely in Arabic, was good for exiting and entering Jordan via the Allenby Bridge, as I had been told. One could exit and enter using this visa as many times as desired. However, one had to exit properly before attempting to return. Since I had flown from Amman to Cairo and had not left Jordan via the bridge, I had invalidated my visa privileges.
Distressed and caught off guard, I was nonetheless unwilling to give up my battle with the Allenby Bridge without a fight. I slapped my airline ticket down on the desk and showed the customs-official that my flight was due to leave in barely more than an hour.

"But you are 100 kilometres from Amman!" he exclaimed. "You'll never make it!"
"I might if you let me go," I said.
"There are other flights," he said.
"Yes, but I want to go on this one."
Inspiration struck and I slapped down a business card that had been in my wallet. It belonged to a Jordanian cabinet minister, Nasri Atalla, whom I had interviewed in Amman three weeks earlier.
"Call this man," I said. "He is my friend. I am an important person. Ask him. He will tell you to let me go to the airport immediately."
The official seemed impressed. Fortunately, the cabinet minister's line was busy; I wondered if he would even remember me. But my display of bravado had its effect. "All right, I let you go," the guard conceded. "But only because you are important person."
For the agreed-upon fee of $30, my cab driver negotiated some of the worst roads in the Kingdom at breakneck speed, at times veering around bulldozers and mounds of dirt where the road was under construction. The mountainous terrain was treacherous, with fog patches, herds of sheep, camel-riding nomads and other obstructions seemingly around every hairpin curve.
We reached the airport two minutes shy of 11. Abandoning my bags and the cab, I raced through airport security, and breathlessly announced myself to the airline attendant.
Instantly she picked up a phone. "You're not too late. They've just boarded. Go through Gate 37. But hurry!"
Since I had almost no money in my pocket, I had to cash my last traveler's cheque to pay the driver, who was standing at the curb dumbfoundedly. Grabbing my luggage and thanking him profusely, I rushed aboard the aircraft as the doors were closing, and showed the stewardess my first-class ticket.
"Would you care for a glass of wine?" she asked, showing me my seat.
"I'd love one," I said, reclining breathlessly as we taxied toward the runway. ♦
© 1989