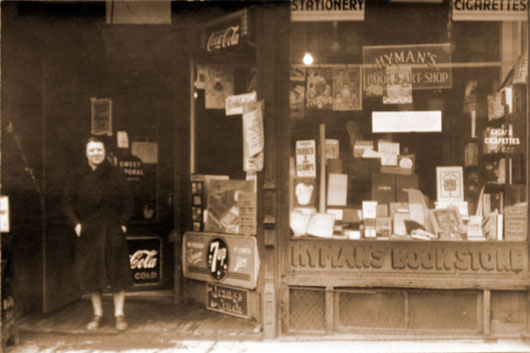 As the "people of the book," wherever Jews live, they will always find a dealer who can provide them with sforim — Hebrew, Jewish and religious books.
Before the turn of the century, rabbis and scholars brought with them numerous sacred books, and from time to time, a shipment of books would arrive here.
Barenholtz on Dundas Street just west of Spadina Avenue, was one of the first shops to deal with a large range of Hebrew and Yiddish books. Others like Rains cigar and confectionary store carried a small supply of Jewish content books, but not as their main business.
In 1925, Ben-Zion Hyman, who had come from Odessa, Russia, in 1914, opened the first modern Jewish book store in Toronto at 371 Spadina Ave.
In a recent interview, Ben-Zion's son, Gurion, who was born the year his family opened Hyman's book store, said his father had received a degree in electrical engineering in Odessa, taught himself English after his arrival in Toronto, and received a degree in electrical engineering from the University of Toronto.
But overt anti -Semitism kept Jewish engineers and other professionals in low paying jobs. To keep his family, Gurian Hyman's father had to teach Hebrew and give bar mitzvah lessons part time.
"My father, who was very scholarly, was offered a job as principal at the Brunswick Talmud Torah. At the time, he was helping with recruiting teachers for the school. But he decided to go into the book business. At that time, most Jewish publications were imported from New York."
In 1926, Hyman's Bookstore moved across the street to 412 Spadina Ave., just north of Cecil Street. It was the busier side of the street and a larger facility. The Hymans rented out a flat and some additional rooms, and they also lived above the store.
For almost half a century, Hyman's was the hub of cultural activities in the city. Struggling to remain in business during the depression, the store began to add new products and services.
Hyman's had two typewriters — English and Yiddish — and a copy machine. They began translating and creating letters and newsletters for many of the landsmanshaft organizations.
This brought in many customers and made Hyman's a landmark in the city. With the needle trade on Spadina Avenue, Human's added business ledgers and other office supplies.
When his father realized that many boys received duplicate books as bar mitzvah gifts, Hyman's initiated a bar mitzvah registry. Since both Ben-Zion and Fannie, his wife, had beautiful handwriting, they began to personally engrave the books, which became keepsakes. And they began creating their own artistic holiday cards, many with intricate cutouts.
The store became known as the Jewish parliament of Spadina, as scholars and community leaders would congregate there and carry on heated debates. In those days, in order to stay open on Sunday, the store sold cigarettes and soft drinks.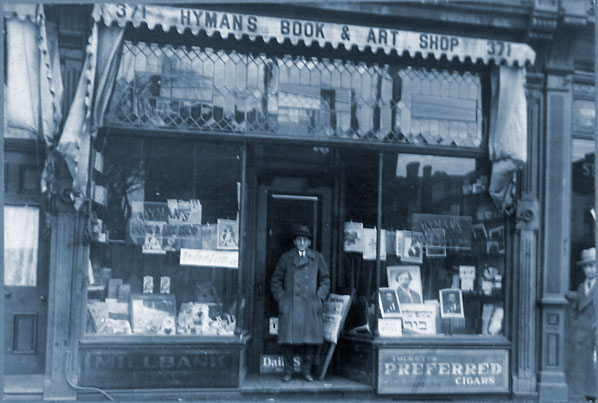 Hyman's also had a booklending operation, and Gurion recalls that his father used it to spearhead the establishment of a Jewish Public Library. He moved his book loan business five doors north to an empty store and donated many books to the library.
His mother, Gurion says, was the business head of the family and his father the gentle academic. Ben-Zion knew his wife would be angry if he gave away so many books, and Gurion recalls "that my father would steal the books from himself and hide them in his coat to take them to the library so my mother shouldn't know."
It is said that Ben-Zion would even give away books to scholars.
The library later followed the population and operated from Markham and Harbord streets, in a house owned by Archie Bennett. It later moved to Glengrove Avenue. Currently the Jewish Public Library is located in the Lipa Green Building.
In 1948, with the declaration of the State of Israel, there was an awakened pride in Jewish books expanded its stock to carry many Israeli-made items. Gurion recalls that it was a very busy period for them.
Their business began to drop in the 1950s — the Jewish population was decreasing and numerous synagogues and schools were moving northward.
As well, the synagogue sisterhoods and the schools began buying directly from publishers and suppliers. And with the shift northward, other Jewish books shops such as Negev, Israel's and Miriam's opened on Eglinton and further north.
In 1953, Gurion opened a branch book store at 1032 Eglinton Ave. with his wife Ruth. After some 10 years, the store was sold and became Pollock's Bookstore.
In 1970, after Fannie Hyman died, there were only a few shtieblach left downtown and a sparse Jewish population. Ben-Zion closed the store in 1971. It was the end of an era. ♦
Note: this article appeared originally in the Canadian Jewish News and appears here courtesy of the author. © 1999 Cynthia Gasner.