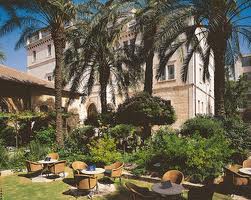 A few paces over the line between east and west, the American Colony is reputedly the finest hotel in Arab East Jerusalem, and no less steeped in legend and lore than its more famous counterpart, the King David Hotel, in the western, more prosperous section of the city.
Part of the exclusive Relais & Chateaux chain, the American Colony consists of three elegant buildings enclosed within a walled compound. The central building is the former palace of a Turkish pasha, which he built in 1860 to accommodate himself and his three wives. When the pasha took a fourth wife, he added another sumptuous room, still known as the "room of the pasha's fourth wife," and still reflecting a high Ottoman style typefied by 20-foot ceilings and ceiling fans, tall arched windows, marble floors and oriental rugs. Many of the hotel's 84 guest rooms reflect a similar Ottoman style — a pleasant surprise for a city blessed with an abundance of western-style hotels with shoebox-shaped rooms.
Founded as a Christian mission more than a century ago, the American Colony has occasionally played a significant role in Jerusalem's tumultuous history. In 1917, for instance, it was from the American Colony that the retreating Turkish governor snatched a bedsheet to use as a white flag, signalling to British troops that four sleepy centuries of Ottoman control of Jerusalem was over. (The flag is now in the Imperial War Museum in London.)
One of the first buildings constructed outside the old walls of Jerusalem, the American Colony has existed under four political jurisdictions — Ottoman from 1881 to 1917, British from 1917 to 1947, Jordanian from 1947 to 1967, and Israeli ever since. The managers only shrug at the notion that, depending on how the political winds blow, they may soon fall under the jurisdiction of an independent Palestinian state. The American Colony, they smile, will go on.
The Spaffords, a wealthy family from Chicago, established the Colony after enduring two enormous tragedies: the Chicago fire of 1867, and the sinking in 1873 of the trans-Atlantic liner S.S. Ville de Havre, in which their four young daughters were drowned. Everyone was welcome at their Christian mission, which received delegations of Christians, Jews and Muslims — including desert Bedouins, peasant-class fellaheen of the country, and mustachioed Turkish effendis.
Still owned by a descendant of the Spafford family, the American Colony prizes its self-styled reputation as a "neutral ground" where persons of all political and religious beliefs and backgrounds may feel at home. However, the hotel works hard to add Jewish employees to its pool of roughly 130 workers (about 75 of whom are Arab Muslims, the rest Arab Christians), and harder still to lure Jewish visitors across the psychological barrier of Jerusalem's east-west divide. Still, its Saturday brunch is cherished by many secular Jews who cannot find its like in the city's Jewish precincts.
The American Colony is a favorite of officials of the Palestinian Authority, whose ostensible (and controversial) Jerusalem headquarters, Orient House, is situated next door. Not surprisingly, the hotel seems steeped in political intrigue. It was in the hotel's room 16, which opens off an open-air palm-garden restaurant in the main-floor courtyard, that the top-secret Oslo peace talks between Palestinians and Israelis were conducted some five years ago.
The hotel is also a favorite of United Nations and World Bank personnel, as well as journalists and camera crews from CNN, NBC, Reuters and other news organizations. So great is the American Colony's reputation as a haven for media types that one need only utter its name to a taxi driver to reap the comment, "You must be a journalist!"
The air is often thick with smoke and intrigue in the hotel's dark and windowless Cellar Bar, whose vaulted ceilings, low brass tables and Ottoman-style seating enhance its resemblance to Rick's American Cafe from the film Casablanca. The Cellar Bar is a famously exotic space whose thick stone walls help create a mood of mystery and intimacy, of secrets being traded and intelligence exchanged.
"A barman never reveals his secrets," says the bartender, Ibrahim, who nonetheless admits early knowledge of the Oslo discussions and who, without ever drinking a drop of spirits, has expertly mixed them for the likes of "Peter Jennings, Peter Ustinov, half the BBC, and half the diplomats of the UN."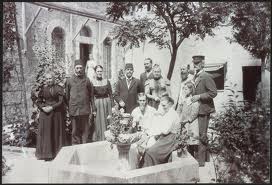 Ustinov, it turns out, has a personal connection to the hotel: his grandfather, Baron Ustinov, owned a hotel in Jaffa, and often housed his visitors in the American Colony. Other famous visitors have included General Allenby, T.E. Lawrence (Lawrence of Arabia) and his biographer, Lowell Thomas, John le Carre, Leon Uris, Alec Guinness, Marc Chagall, Peter O'Toole, Carl Bernstein, George Schultz, Ingrid Bergman and Lauren Bacall.
A ten-minute walk from Jerusalem's often-teeming Damascus Gate and the charms and fascination of the Old City beyond, the American Colony offers a variety of old-style and contemporary rooms, and the promise of a peaceful stay, with nightingales singing in the compound's orange trees at dawn, and the subdued call-to-prayer of a local muezzin at dusk. May the neighborhood always be as peaceful.
The American Colony Hotel. Pasha-style rooms (double) from US $275 per night; standard rooms from $185. Website, http://www.americancolony.com ♦
© 1996