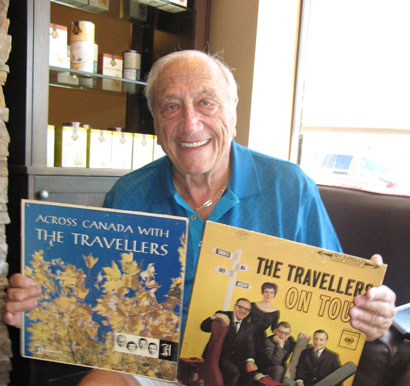 By his own telling, Jerry Gray had one of the most thrilling experiences of his life in late June (2011). In front of a sold-out house at Toronto's Roy Thomson Hall, he stood at the conductor's podium, raised a baton, and led the 385-voice Mormon Tabernacle Choir and a full orchestra in a rousing rendition of This Land Is Your Land.
It has been 57 years since Gray, a founding member of the Canadian folk group The Travellers, co-wrote the Canadian lyrics of the Woody Guthrie folk classic, then repeatedly performed it with the band on a national television show called Pick The Stars, advancing through all the preliminary rounds of a national talent contest to finish in second place.
"It was no great writing feat, but the song fulfilled a huge purpose at the time," he recalls. "Canada was emerging from the post war and Canadians embraced the song. Every time we did that program we did a medley of Canadian songs, always ending with This Land Is Your Land. People heard it about ten times that season. We beat out Rich Little in the semi-finals so it was quite a feather in our cap."
The band recorded the song in 1957 "and it got a huge response. It became a second national anthem in an emerging Canada that was trying to find its way artistically."
Gray's roots in Yiddish music run deep. His mother and sister sang with the Jewish Folk Choir and he remembers watching the choir perform at Massey Hall in the 1940s with renowned guest artists like Paul Robeson and Jan Peerce. "I've always had this love of Yiddish music. When the Travellers started we sang at Hillel House (at the University of Toronto). We always were involved in Jewish causes and Yiddish. I've always done Yiddish music."
The Travellers first came together at Camp Naivelt, the Jewish secular leftist summer camp in Brantford where cottagers enjoyed singing Yiddish songs together and where Gray first learned to play the five-string banjo from visiting folk legend Pete Seeger. In the '50s the band rode a rocket to national fame and stayed there for years, recording numerous albums and performing across Canada and internationally.
Over the years the Travellers have played on many stages and shared billing with renowned artists ranging from Harry Belafonte to Judy Collins — and of course their friend and idol, Pete Seeger, for whom they played a 90th-birthday tribute at the Leah Posluns Theatre two years ago. They have played in the Soviet Union, Japan, Britain, Cyprus, Nunavut and many other places. This summer, as in previous years, Gray is participating in KlezKanada, the annual festival of Jewish and Yiddish culture and the arts in Quebec's Laurentian Mountain region.
In 2010 Gray was awarded the annual Joe Hill Award for a lifetime of using folk songs to heighten social awareness. Seeger wrote a letter to the committee to recommend Gray for the award because of "his record of a half-century singing . . . . By himself or with The Travellers, he's sung for many hundreds of thousands of working folks all across Canada."
Today Gray, at 77, looks back on a dual career as a folk artist and as a dentist, but while he has put away his dental implements, he is still avidly strumming the banjo. Several years ago he revitalized the band, calling it Jerry Gray and the Travellers because he is the only member of the original group still active in it. (One of his four sons, James, who played keyboard with Blue Rodeo for years, also occasionally plays with the band.) Gray also gives courses and guest lectures in folk and protest music at several universities near where he winters in Florida.
On Sunday October 2 at 7:30 p.m., Jerry Gray and the Travellers perform This Land Is Your Land, a concert to celebrate the life and songs of Woody Guthrie to mark the 100th anniversary of the iconic songwriter's birth. Guest performers are to include members of the Guthrie family. The concert is at the Markham Theatre for the Performing Arts and tickets are $50 and $70, with a portion of the proceeds going to the Guthrie Family Foundation. ♦
© 2011