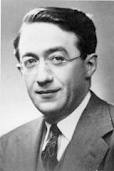 Ask any Jewish writer in Canada to name some of his or her most important influences, and before long the name of A.M. Klein is certain to arise.
In an unofficial survey of contemporary Canadian writers whose works explore Jewish themes or feature Jewish characters, this writer found that almost all of them were quick to cite Klein as a major influence. There is also a network of literary critics and scholars across Canada who specialize in the Montreal poet 26 years after his death and almost half a century after he lapsed into a prolonged literary silence into which some read a deep allegorical meaning.
Two years after Klein died in 1972, Ottawa poet and professor Seymour Mayne convened a conference on Klein, whose various papers had been donated to the Public Archives in Ottawa. At the conference, a group of professors, writers and family members of the late poet agreed to form the A.M. Klein Research and Publication Committee with the goal of producing a definitive edition of his work in about eight volumes in association with the University of Toronto Press. Besides poetry, which was Klein's forte, the envisioned series would include short stories, essays, journalistic editorials, letters, his one published novel and other material. (Klein was nothing if not eclectic, and even attempted to write a Broadway play.)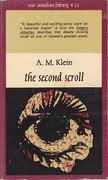 Last year the U of T published the sixth volume in the series, A.M.Klein: Selected Poems, a popularly-priced paperback edition. Klein's slim poetic novel The Second Scroll is currently in the final stages of production as the penultimate volume in the series, and the final volume, containing hitherto unpublished letters, is expected to be ready for publication about the year 2001. The committee saved Klein's letters for last, having placed notices in several international Jewish newspapers in search of more of his correspondence.
"I'm sure there are hundreds of letters we haven't found yet, because he corresponded with many people all over the world," says Zailig Pollock, professor of literature at Trent University and co-editor of the Klein project. "We've done our best to find them all, but there are probably caches of letters in Israel and New York that we haven't seen."
Ironically, although Klein is the focus of what Pollock calls "the most ambitious literary project of its kind in Canada," he never achieved the level of popular fame of some Montreal Jewish writers who rose in his shadow, namely Irving Layton, Leonard Cohen and Mordecai Richler. Further, while Klein remains an enduring icon in the sphere of Canadian-Jewish letters, it is dubious whether his literary legend looms as large in the land of Bellow, Ginsburg, Malamud, Ozick and Roth below the 49th parallel: it seems largely a Canadian phenomenon.
"Almost all the Canadian-Jewish writers have written about Klein in one way or another — that's how strong the influence was," says Michael Greenstein, a professor of literature and author of Third Solitudes, a study of Canadian-Jewish literature. "No one before Klein was writing on Jewish themes in English. He taught them the way to go. There were some Yiddish writers at the same time but Klein was definitely the first in English."
"He didn't turn his back on the Yiddish culture — he swam against the stream," says Ryerson professor Adam Fuerstenberg, editor of the Canadian-Jewish literary journal Parchment. "He refused to go with the majority of writers who wanted to jettison Yiddish culture. Mordecai Richler is a good example; Irving Layton too: his name was originally Kaganovitch. Basically, they just dropped their roots. But Klein did not. He tried to blend, to synthesize the Yiddish culture with the English language."
Whereas the typical protagonist of a Richler novel abandons his immigrant past in his quest for assimilation into the mainstream, Klein's writing celebrates Jewish values and is rich in Judaic allusions, especially relating to Torah and Talmudic lore. "Klein addressed central religious and philosophic aspects of Judaism, not just its social aspects," notes Toronto novelist Cary Fagan, who readily acknowledges that he himself, like many modern Canadian-Jewish writers, addresses Jewish themes in a far more peripheral manner.
In attempting to express his Jewish cultural identity within the parameters of the Canadian experience, Klein was ahead of his time, many say, since his work seems to prefigure the multicultural literary climate of the 1990s. "He was rooted in Jewish tradition and he wasn't ashamed of it," says Pollock. "He wanted to address a Jewish public but also a broader public as well. He was writing at a time when there weren't any Italian, Ukrainian, Spanish and other ethnic writers in Canada. In his day the literature was dominated by people of English or Scottish descent. He was the first non-French, non-British writer to make an impact in the larger scene of Canadian literature."
Seeing Klein's life as a parable, some observers draw moral conclusions from the literary silence into which he lapsed during his last two decades. "He tried to be both an artist and somebody who is acceptable to the Jewish community, and that's not always an easy tension to resolve," says Toronto poet Ken Sherman. "He wasn't comfortable with the role of being an iconoclast or a rebel, like Layton or Cohen. He tried very hard to hold a position of responsibility in the Jewish community…. He lapsed into total silence at the end but he was still writing speeches for Samuel Bronfman, so that's the tragedy of A.M. Klein. It tells us that his desire to be of service, to fit into the Jewish community, was very strong. I don't think he could reconcile that with his life as a poet, since I believe that every poet is automatically at odds with society in some way."
Alberta-born writer Norman Ravvin, who now lives in Fredericton, first discovered Klein in high school, and continues to regard him as a strong influence. "I admire his range, his interest in Jewish history and in secular matters, his willingness to take on both contemporary and traditional subjects, always from a Jewish perspective. I think his personal predicament is touching in a real way: his descent into silence or some kind of madness — I'm not actually sure what it was — which was partly brought on by his feeling as a writer that he had not reached the audience he wanted to reach. I've always found his personal life a lesson in how difficult the writing life can be."
Klein won a Governor General's Award in 1948 for The Rocking Chair And Other Poems. The title poem deals with the situation of the Quebecois as a cultural minority, which for Klein paralleled the struggle of the Jews to maintain their cultural identity. The consummate Canadian, he also wrote about the plight of the Natives. In another celebrated poem, Portrait of the Artist As Landscape, he addressed the ignominous, unappreciated role of the artist in society. His interests were diverse and modern, his sympathies broad.
Variously described as a "trailblazer," a "founding father" and a "lion in Canadian-Jewish literature," Klein's legacy endures in the halls and chambers of the grand Canadian-Jewish literary ediface whose dimensions he helped to establish. With his highly poetic sensibility and predilection for traditional Jewish values, he has done more than perhaps he could have realized to make it a very grand ediface indeed. ♦
Sidebar 
AN EXTRAORDINARY & PECULIAR NOVEL
The emininent literary critic Northrup Frye called it "one of the most passionate and intense of all Canadian novels" and it is commonly considered the greatest novel of Jewish reawakening written in Canada. In form it resembles the Pentateuch, with five main books and a patchwork of canonical appendages. Its story, which stretches from the Russian pogroms of 1917 to the emergence of the modern state of Israel, is presented as a rough metaphorical equivalent to the biblical saga that culminates with the children of Israel reaching the Promised Land. That lofty literary parallel informs even the title — The Second Scroll — and suggests that author A.M. Klein saw Israel's establishment in 1948 as the triumphant finale to an epic and horrendously costly quest.
As the U. of T. Press prepares a new edition of Klein's only published novel, which was first published in 1951, scholars are still of two minds about it. The story focuses on a Montreal journalist who wanders to Rome, Morocco and Israel in search of his uncle, Melech Davidson, a Holocaust survivor whose various peregrinations through secularism, existentialism, Bolshevism, renewed Judaism and Zionism seem in part archetypical of the Jewish people. "It's not what comes to mind when you think of a novel, although it's in novel form," says Zailig Pollock. "Klein didn't have the gifts of a novelist. There are no great characters and situations. It's a poet's novel, better seen as an allegory and a quest."
Filled with allusions and images from the earlier scroll, The Second Scroll is a thorough testament to Klein's deeply religious sensibility. It is also a relatively rare early attempt to deal with the Holocaust in fiction, says Norman Ravvin, a specialist in Holocaust fiction. "It's definitely an early breakthrough treatment of the Holocaust in North American literature. He's writing about the fallout for Jews and the Holocaust long before other writers are willing to try it. He takes a religious tack, and I can't say that it satisfies me, but it's a model that writers have continued to be influenced by — connecting the catastrophe with a declaration of the state so there's a kind of triumphant completion to the awful events of the war."
Despite its peculiarities, many Canadian-Jewish writers and readers profess a strong allegiance to The Second Scroll that borders on reverence. "If I was going to a desert island, for sure I'd take The Second Scroll with me," says Dr. Shel Krakofsky. "In fiction, it would be my number one choice." ♦
© 2000