BOOK REVIEW: Joe Salsberg: A Life of Commitment, by Gerald Tulchinsky (University of Toronto Press, June 2013)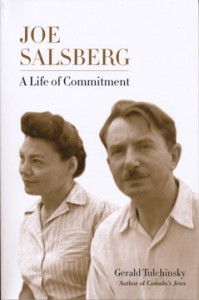 It was said that it would take Joe Salsberg three to five hours to stroll along Spadina Avenue from College to Queen because he couldn't venture more than a few steps without meeting someone and having a conversation.
The legendary Toronto union organizer and politician, who served as a city alderman for Spadina in the 1930s and then as a provincial MPP for 12 years until 1955, is the subject of a new academic work — Joe Salsberg: A Life of Commitment — by Queen's University Professor Gerald Tulchinsky.
The previous author of the excellent one-volume history Canada's Jews, Tulchinsky conveys but does not succumb to the charm and charisma of his subject, and provides a measured portrait that goes far beyond hagiography. He has seemingly left no stone unturned, his many varied archival sources including even a file from the FBI.
Because he was a fringe communist running for the tiny radical Labour Progressive Party, many Toronto Jews were aghast at Salsberg's popularity and "heaved a sigh of relief" when he was defeated upon running in his first provincial election of 1937. Many felt that the association with communism gave the Jews a bad name.
But once elected to Queen's Park, Joe usually did his constituents proud. He provided perhaps the most effective opposition in the Legislature, his untiring battle for social justice and the working class earning the respect of Premier Leslie Frost and many of his parliamentary colleagues.
Salsberg represented St. Andrew while his communist cohort A. A. MacLeod represented Bellwoods, both heavily Jewish ridings. "Those two honorable gentlemen on opposite," Frost was once heard to say, "have more brains than my entire backbench put together." The pair, according to Tulchinsky, "were in some ways really the conscience of the House."
Back in the 1930s, as the Zionist movement was gaining an unstoppable momentum, Salsberg remained a Jewish cultural nationalist and supported the Soviet plan to establish a Jewish homeland in Birobidjan. When Stalin made a pact with Hitler in 1939, many Jewish communists quit the party in disgust but Salsberg kept his thoughts to himself and remained loyal to Moscow while still declaring his opposition to the Nazis and European fascism.
Salsberg was jailed for several months in 1942 for evading Canada's National Registration of 1940 and for being a member of the Communist Party of Canada, which had been declared illegal. I've seen a photo of him from that era in army uniform, but Tulchinsky doesn't address the question of whether Salsberg joined the Canadian Armed Forces: if so, was it just to make himself more palatable to voters?
Salsberg prevailed at the ballot box in 1943, despite the best efforts of some in the Jewish community to prevent his victory. Rabbi Samuel Sachs of Goel Tzedec Synagogue urged voters not to be deceived "by the sheep's clothing of righteousness these communists don at election time." His win "was very much an ethnic phenomenon," Tulchinsky writes, "because an overwhelming concentration of working-class Jews lived in the Spadina-College nexus."
One of the high points of Salsberg's career came with his battle against anti-Negro and anti-Semitic discrimination in 1945. After a young Negro was barred from a skating rink, Salsberg took the matter to City Council and led a demonstration outside the rink; the City banned discrimination at public recreation and amusement places.
Salsberg then helped persuade Premier George Drew to introduce an "Act to Prevent the Publication of Discriminatory Matter Referring to Race or Creed." This was a human-rights breakthrough, a precursor to the Ontario Human Rights Code and the first legislation of its kind in Canada.
Perhaps his lowest point came in 1953 when he rose in the Ontario Legislature and gave a laudatory eulogy for Joseph Stalin, expressing confidence "that the calumnies which have been directed for so long against Stalin will, as time goes on, sink into oblivion and the figure of Stalin will emerge and remain in history as one of the greatest among the great of all times."
In short, as Tulchinsky notes: "Salsberg went overboard to defend the reputation of one of history's greatest criminals." Two years later Salsberg's political career was over as he suffered an electoral defeat to rising Progressive Conservative Allan Grossman, who had campaigned on the slogan, "Beat Salsberg."
Why did he sing the praises of Stalin, a ruthless dictator who would be exposed as one of history's worst murderers? "He was not stupid, naïve, blind, or uninformed," Tulchinsky concludes. "He was, like many prominent historical figures, a flawed man."
Tulchinsky asserts that Salsberg told lies to cover up the "horrible truths" about Stalinist anti-Semitism. "Was it out of blind loyalty to the 'cause'? Was it hubristic unwillingness to admit that he was wrong?"
The great "J.B.," as he was known to many, had kept silent about the Soviet Union's purges of the 1930s, the disastrous farm collectivization in Ukraine which led to millions of deaths, the repression of distinct ethnocultural groups, and the slaughter of Jews in the postwar era. Only in 1957 did he make his famous and terribly belated break with the Communist Party.
Tulchinsky fills out his portrait with descriptions of Salsberg's famous articles on the Soviet Jewish question in the Vochenblatt newspaper, which were reprinted in Jewish newspapers around the world; and his founding of the New Jewish Fraternal Order, his years as a beloved columnist for the Canadian Jewish News, and other important episodes.
Despite his flaws, Salsberg emerges as a deeply humanistic figure who was driven by the ideals of social justice rather than by ideology. A journalist once described him as "that rare bird: a communist with a sense of humour." (Once, during his days as an alderman, an adversary called him a puppet of Joseph Stalin; Salsberg replied, "You're right. I got a telegram from Joe Stalin this morning ordering me to ask for a park for Ward Four.") Even the RCMP would refer to him as "a humane, gentle, and intelligent communist."
Written in an academic style that is at turns both colourful and dry, Joe Salsberg: A Life of Commitment succeeds in providing a forthright account of a life. However, it could have been much better had the author given more dramatic shape to the narrative and enlivened it with some first-person anecdotes and tales about its celebrated subject. ♦