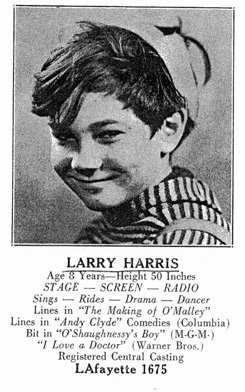 During a sightseeing visit to Los Angeles some years ago, I surprised myself by taking a cab to the Margaret Herrick Library at the Fairbanks Center for Motion Picture Study in Beverly Hills. I hadn't seen the Getty Museum, the Hollywood studios and so many other sights, so why was I going to some musty library? Blame it on the thrill of the genealogical chase.
The purpose of my visit was to trace a missing branch of my family. My father's aunt and uncle, Abe and Ethel (nee Alexander) Harris had moved from Toronto to Los Angeles in the late 1920s. How proud they must have been when, within a few years, one of their two sons became a successful child actor.
Larry Harris was no Jackie Coogan, to be sure, but his career certainly impressed his cousins in Toronto. After working as a cinematic double for the well-known child star Bobby Breen from Toronto, Larry became an occasional player in the popular children's series Our Gang, also known as The Little Rascals. He also acted in feature films of the '30s and '40s, apparently including one with James Stewart.
Over the decades there were letters and visits between the two family branches, but eventually contact was lost. What happened to our California cousins? As a genealogical gumshoe working on the Alexander family tree, I hoped my visit to the library would turn up some important clues.
Situated in an elegant and historic Spanish-Romanesque building and funded by the Academy of Motion Picture Arts and Sciences, the Margaret Herrick Library is probably the most extensive motion picture library in the world.
It holds more than 27,000 books, 1,800 periodical titles, 25,000 posters, 60,000 screenplays, 200,000 clipping files, 7 million photographs and many special collections. The affiliated Academy Film Archives offers a collection of 12,000 historic films. There had to be some trace of Larry Harris amidst such vast holdings, I reasoned, as I stepped through the Bob Hope Lobby past the Karl Malden Conference Room to the Cecil B. DeMille Reading Room.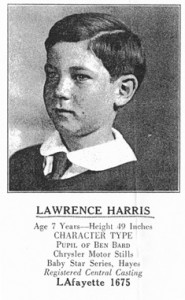 As a rule, genealogical searches take twice as long and produce only a fraction of the results that one expects. Even so, I was not disappointed. Chasing down many periodical references led to a couple of pertinent items, while a hardcover book about the Little Rascals yielded a good photographic still.
Ultimately, nothing I found in the library got me past the '40s. It was the United States Social Security death index, accessible for free over the internet, that helped me pinpoint the family's whereabouts in the 1980s. They lived in Riverside, California: the search for living descendants continues.
It's well known that the Jews "invented" Hollywood and that a wealth of Jewish actors, writers, directors and performers worked in the film industry. The Margaret Herrick Library is an ideal place for genealogists to seek information on relatives who were part of the Hollywood film industry and seemed to vanish somewhere in the Hollywood hills.
Of course, a treat awaits library visitors with a special affinity for the movies. It's only too easy to get distracted into books, periodicals and ephemera on Birth of a Nation, The Wizard of Oz, Gone With the Wind, or your favourite film by Alfred Hitchcock, Preston Sturges or Quentin Tarantino.
The library is at at 333 La Cienega Blvd. Researchers may conduct library searches through its website, www.oscars.org/library/index.html. Librarians will also endeavour to answer brief factual queries by email; private researchers are available to conduct more in-depth research for a fee. ♦
© 2004
Comment: Greetings, I enjoyed your article about your cousin, Larry Harris,even though it didn't have his birth and (if he's gone) death dates as I had hoped. What I enjoyed most was your glowing description ofthe Margaret Herrick Library, which I've visited quite often, and which has two of my books in its collection. — Best wishes,Gerald Jones, Ph.D.
* * * 
You may also wish to read:
A conversation with Great Aunt Sophie (Alexander King)
A remembrance on Remembrance Day (about Russell Gladstone)
David Vanek's Fulfilment (memoirs includes Alexander references)
The article and photo below are from the Toronto Daily Star, Saturday, February 5, 1938