The Star Weekly ran this feature profile of "Toronto's Hebrew population" in 1911, observing that some Jewish immigrants had risen, in only a few years, to the tops of their professions and that one — Jacob Singer — had become the biggest real estate owner in the city. The article also indicated that the Zion Institute had become a virtual, albeit unofficial, barter house where real estate properties were bought and sold. The author's estimate that Toronto had about 20,000 Jews was fairly accurate: the 1911 census counted more than 18,000 Jews in the city, up from about 3,000 only a decade before. 
* * * 
Above: Corner Richmond and York, ca 1916; CTA f1244_it0523
Jews of Toronto Rapidly Growing in Numbers and Adding to Material Prosperity of the City
Biggest Real Estate Owner and Taxpayer in Toronto is Jacob Singer — Twenty-Five Hebrew Rank Among Our Wealthiest Citizens — Only Ten Per Cent. of 20,000 in City are Poor — Keen Dealers in Real Estate
From The Toronto Star Weekly, April 29, 1911
Some time when you happen to be waiting for a car at the white post in front of Osgoode Hall, take a look across the street and you will see one of the most interesting business places in Toronto. It is a little old shop — number 133 Queen west — just next to the small store at the south-east corner of Queen and York streets. It differs in no particular from the other ancient little trading places of that quaint locality. Over the door is a time-worn sign: "J. Singer, watchmaker and jeweler." In the window are a few cheap, dust-covered clocks. If you belong to the younger generation of Torontonians, it's a thousand to one you never heard of J. Singer, and you wonder how on earth he makes a living in his little shop. But J. Singer is the biggest real estate owner and taxpayer in the city.
He is the most interesting figure among the 30,000 Jews of Toronto in this respect. He has won the largest success by methods absolutely characteristic of our Hebrew population. Two or three other Jewish citizens are probably as wealthy as he — one possibly wealthier — but these others are of a different type. They have adopted modern methods of business, doing things as Canadians do them. But Mr. Jacob Singer sticks to the old shop and the old ways. He has made a great fortune in exactly the same manner in which the poorer Jews here to-day are seeking to advance themselves — by saving and by investing in real estate. If one considers the story of Mr. Singer, one will understand the standards of the bulk of our Hebrew population of to-day.
Just Like the Exterior.
If you enter the little Singer shop early in the day you will not find the proprietor, but his son, Mr. I. Singer, an excellent example of the younger generation of high-class Hebrews here. The interior of the shop corresponds exactly with the exterior. The bare floor is uneven and full of slivers. The wall paper is blistering with age. There is a showcase full of cheap jewelry. The counter and the floor behind are littered with all sorts of odds and ends commonly seen in second-hand shops. At the rear is a huge old safe, and a little desk behind a faded curtain. The place is just as it was when Mr. Singer conducted a pawnbroking business — discontinued four or five years ago. Mr. Singer, Jr., is a model of composed courtesy. He is as courteous in turning away a Chinaman who wants to pawn a trinket as he is to the newspaperman who makes inquiries about the Singer interests. This is the last subject he will enter in. When spoken to by a Star Weekly man concerning the belief that his father is the city's biggest real estate owner, he merely remarked in his genial way: "There are certain impressions and rumors."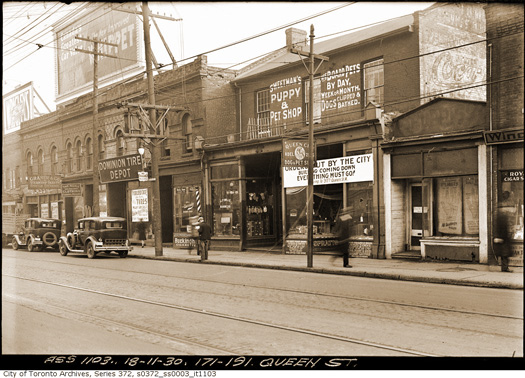 There is more than a rumor, however, that if you walk a hundred feet or so along Queen street, down York to Richmond, and another hundred feet or so along the latter street, you will be passing Mr. Jacob Singer's property all the time. Thee is also a very strong impression among those "in the know" that you can't throw a stone anywhere in the Ward without hitting a house owned by J. Singer. A man familiar with his investments says that the total number of Mr. Singer's houses will run up to about 700. He also has vacant land in all sections of the city, and owns several apartment houses. He is building a new one now on Jarvis street.
Mr. Singer himself doesn't spend all his time at the little shop. He is a stout but clean-cut man, with a face something of the Rothschild type. He is very companionable, but in all his talk hedges carefully away from the possibility of giving publicity to his affairs. He came from Austria forty years ago, and has kept his Queen street shop for thirty-five years. He first worked as a watchmaker, then started a jewelry store and pawnshop. From the first he put his savings into real estate. Now his holdings are chiefly houses and stores, which he rents, but does not seek to sell. But he does a lot of building and selling too.
Think of the bookkeeping that is done in that little shop. To take care of such a business the average Canadian would have a couple of dozen stenographers and clerks working at quarter-cut oak desks and making a great stir. Perhaps he would have such a staff for show purposes before he had any business except self-advertising to do. But Mr. Singer and his son have no help at all.
No Automobile for Him.
A Canadian will sometimes mortgage his one little house to buy an automobile. Mr. Singer, with 700 houses, never thinks of buying a car. Instead, he and his friend, "Judge" Cohen — as the genial magistrate is called quite seriously by all the Jews, rich and poor — sometimes sit in the little shop and philosophize as they gaze out on the passing show. And the other day they figured out that in order to keep an auto "in style" — with a chauffeur — a man ought to have $50,000 set aside at five per cent. for the purpose. It's all in the point of view! Mr. Singer has fun in his way, Mr. Cohen has his in other ways. So do we all.
One notable achievement of Mr. Singer's must be recalled. When the big slump in real estate struck Toronto twenty years ago he was practically the only big owner who carried all his holding past the crisis. As he expresses it he "lost all he had" at that time, but held every piece of property he was carrying. He means that every cent he had saved or could scrape up went to tide him over. But he won out completely.
Mr. Singer has not performed any sensational "stunts" in real estate. He does not believe that Jews have any special genius for money-making. He says they are more saving and sober than most people — that's all. And every prominent Hebrew who has been spoken to on the subject says there is nothing in the talk about the peculiar subtlety of the Jew.
20,000 Hebrews in City.
The recent church census gave the number of Jews in Toronto as being 10,595. As a matter of fact, there are just about twice that many. Five years ago there were 15,000 here. Now they are coming in rapidly. The emigration returns show that last year, 8,182 Jews arrived in Canada. Of these 5,463 settled in Toronto and Montreal, more than half coming here.* (
There is perhaps no more striking sign of Toronto's prosperity than this last mentioned fact. Where there is a large Hebrew population, it is pretty certain that there is money to be made and money being made. A prominent American, now a citizen of Toronto, said recently: "If you want to strike a go-ahead city, go where there is a large Jewish population. Toronto has 20,000; Hamilton a few dozen. When I came to Canada, first I tried Hamilton, but I soon found it was a dead one compared to Toronto."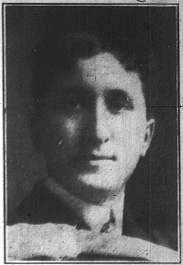 There are in Toronto to-day about twenty-five Jews who are wealthy, as wealth is now measured. Among them are several men who lead in the businesses they are engaged in. In addition to Mr. Singer, who is the largest real estate owner in the city, there are Mr. Sigmund Samuel, head of the largest wholesale hardware firm; Frankel Bros., the biggest dealers in scrap metals, and Mr. S. Frankel, the largest importer of watches. And the list of rich or prosperous Jew firms, wholesale and retail, is quite formidable. The second generation of this largely successful class are beginning to enter the professions. The first Hebrew to practice law here was Mr. Samuel King, son of Mr. Charles King, the wealthy leather manufacturer, formerly of Whitby, where his factories are now operated by his other sons. There are now two others: Mr. Arthur Cohen, son of Mr. Jacob Cohen, the popular magistrate, and Mr. M. L. Singer.
There are also three Jewish medical doctors: Dr. S. Lavine, Dr. A. I. Willinsky, and Dr. S. Singer, son of Mr. Jacob Singer. The latter also has two sons studying law.
Only 10 Per Cent. Very Poor.
Next to the very wealthy class comes a considerable number of Jews who are in "very comfortable circumstances." And it is agreed by those most familiar with conditions that ten per cent. of the entire Hebrew population is composed of very poor people, who are looked after to some extent. But the great majority take care of themselves exceedingly well, and are all trying their best. Every man-jack of them, as soon as he can, starts to dicker in real estate.
Six weeks ago, two Jews who had between them $300 put it down on the purchase of a pair of small houses. It was their first accumulated capital. They chanced it all. If things went wrong they could not make another payment. In one week they had turned over the property and cleared up $200. They invested again and again. In six weeks they have made $1,500. The lawyer who handles their business says that, of course, this isn't done all the time. But he knows positively that many of these men, starting with only a few hundreds of dollars, are making thousands yearly, trading not only among themselves, or in properties in the Ward, but with all kinds of people in various parts of the city. "The other day a Jew brought in a Gentile from New Ontario and sold him a house in the west end. How he ever got in touch with him is a mystery to me."
A Real Estate Exchange.
The poorer Jews, who buy and sell real estate, have a regular little Wall Street of their own. It is only one building, but more deals are made there than on a good many streets. This place is the Zion Institute. Some people suppose it is a religious institution. It isn't by any means. It has a membership of 500, and those who belong discuss various things and amuse themselves as other club members do. But the big topic is real estate. On Sunday evenings especially there is a tremendous lot of earnest dickering there, and the noise of it goes abroad over the whole Ward and gives everybody the property fever worse and worse all the time. The Hebrew real estate men gather there of course. But most of the deals are made by the principals themselves. Indeed, it is estimated that 250 downtown Jews make a living doing nothing more than dabbling in real estate, some of them with a very small amount of capital.
Few of the Jews work for wages. They get into business, from pushing a cart to running a store. The younger ones, who learn a trade, in most cases go in for tailoring. But, as a rule, they, too, work by the piece, so that their time is their own and they can make the most of it. Over a thousand Jewish girls work in the factories of the city.
Clear-Cut Caste Divisions.
The Jews are clannish — how could they be otherwise? But in Toronto there are very clear-cut caste divisions among them, too. There is all the difference in the world between the Cosmopolitan Club on Beverley street and the Zion Club on Simcoe street. And this brings us to the synagogues. There are big differences among them, too. Perhaps you think, for example, that all Rabbis are more or less alike. But they're not — to some Jews at least.
Rev. S. Jacobs, rabbi of Holy Blossom Synagogue, Bond street, holds a diploma from the chief rabbi of Great Britain. He represents the Jewish community in the Gentile world hereabouts. His synagogue corresponds somewhat to a cathedral. But the other rabbis, while seeking his advice, owe him no ecclesiastical allegiance.
Rev. S. Jacobs was born in Yorkshire, educated for the Jewish ministry at Aria College, and speaks German and French as well as Hebrew, Yiddish, and English. He is a gentleman who enjoys the highest respect of the whole community. TO Holy Blossom go most of the wealthy members of the faith and those who associate themselves with the larger life of the city. And Rabbi Jacobs always delivers his sermons in English. Other portions of the service he conducts partly in English and partly in Hebrew. His salary is understood to be $2,500 a year with perquisites. Holy Blossom was established sixty years ago, being the first local synagogue. At first it was situated on Richmond street. Its builders were mostly Englishmen with a few Germans and Americans. It is the only synagogue in Toronto with an organ and choir.
Other Services in Yiddish.
The rabbis at the other synagogues are "foreign rabbis." They have been sent for from Europe, or local enthusiasts elected by the congregations. They are not chosen for any definite period. Their services are all in Yiddish — just as they are hold in Russia or Poland. They also kill chickens and cattle for various religious festivals — something, of course, never done by Rabbi Jacobs — and they receive smaller salaries.
It may be interesting in this connection to explain the difference between the Hebrew and Yiddish languages. The former is the pure language of the Hebrews. Yiddish is a dialect, the backbone of which is German, but having many Russian, Polish, and Hebrew terms. It was developed long ago by uneducated Jews who flocked to Germany, and has been carried by them all over the world. There is also another Jewish dialect much used in the Orient. It is called Ladino, and is mostly Spanish, with Turkish, Assyrian, and Italian words mixed with it.
There are five other large synagogues in the city. That on McCaul street — formerly a Methodist church — seats 1,800 people, or 800 more than Holy Blossom. The one on University avenue accommodates 1,400. Two Austrian synagogues, one on Chestnut street and one on Teraulay, seat 700 each. The Russian meeting place on Centre Avenue has a capacity of 600. There are also ten other smaller ones, attended by from 25 to 150 people. And on great feast days St. George's Hall, Victoria Hall, and other places are rented for religious services.
Supported Voluntarily.
The synagogues are maintained by voluntary contributions for seats, which at Holy Blossom run from $12 to $200 a year. There is also a practice in some of them of buying seats outright, a wealthy members sometimes paying as much as $1,000, but these purchases must be supplemented to some extent by yearly contributions. Rabbi Jacobs says that the Jews are more generous, circumstances considered, in supporting their churches than Gentiles are.
A Remarkable Jew.
One of the most interesting Jews in Toronto is not looked upon as a Jew any longer by most of his people. This is Rev. S. B. Rohold, superintendent of the Presbyterian Mission to Jews on Teraulay street. He is a remarkable man in every way — clever, handsome, and energetic. He was born in Jerusalem, the son of a rabbi, and spent several years himself preparing for similar work. Thirteen years ago he went to Scotland, and was educated as a Presbyterian minister. Three years ago he was secured to organize the mission here. He has a regular staff of three men and six workmen, and fifty voluntary workers. At the mission they have reading rooms, kindergarten classes, night schools, a nursery, sewing classes, a free dispensary, and church services. Doctors and nurses give their services in examining and treating poor people, and many Jews are thus greatly benefited. Men, women, and children attend the various classes and services in large numbers, but the Christianizing of Jews is very slow. Such converts are only numbered by dozens, and some of these keep their change of faith largely to themselves. But the Presbyterian mission is going to be a great philanthropic enterprise — at the least — under the direction of such a man as MR. Rohold; and plans are now maturing for a fine new three-storey building at the north-east corner of Elm and Elizabeth streets.
The other Jewish mission in the Ward — on Center avenue, under Mr. Henry Singer — is also doing fine work in helping the poor, apart from the religious question altogether.
The Jews in Toronto, as elsewhere, have always had a reputation as law-abiding citizens. Those who bring an outside view to bear on conditions in the Ward, however, point to certain recent developments which ought to be closely watched by the higher-class Hebrews and all other interested in good citizenship. There is a whisper — and only a whisper yet — that the Canadianizing of some of the younger and poorer Jews is not altogether satisfactory.
Jew sports are now among the most enthusiastic rooters at ball games. They are flocking to the cheaper theatres and to the pool rooms. But the start thus made does not end always with innocent sport. They are learning Canadian vices as well as Canadian worldliness. It is hinted by some of those who know, but how fear by such charges to weaken their influence as voluntary workers among the Jewish poor, that illegitimate trading in liquor and other evil practices are making themselves felt in the Ward, and that Hebrews, formerly so law-abiding, are the offenders. But perhaps it is because the Hebrew standard is so high that the development causes comment.
The rising generation of Jews contains much promising material. The children are remarkably bright, more than holding their own at the Public schools, despite difficult handicaps. ♦
* Numbers were somewhat illegible, please check original source to ascertain accuracy.
* * *
News item from 1909
Real Estate Review: By the purchase of the northeast corner of Richmond and York streets, Mr. Jacob Singer now controls the whole of the property on the east side of York street from Richmond street to Queen street. The corner purchased cost $25,000, and has a frontage of 42 feet on York street to a depth of about 80 feet on Richmond street. ♦
* * *
Mr. Jacob Singer's Death
Was One of Toronto's Wealthiest Hebrew Citizens
From The Globe, November 14, 1911
Mr. J. Singer, one of the wealthiest Hebrews in Toronto, died yesterday morning at his home, 51 Kendal avenue. Mr. Singer was born in Austria and came to Toronto thirty-five years ago. For many years he had a jewellery store and pawn office at 133 Queen street west. While he was most successful in business, he amassed great wealth in real estate, holding property in every part of the city.
It was said recently that he was the owner of one thousand houses. He was a supporter of all the Jewish charitable organizations and active in connection with Holy Blossom Synagogue. Mr. Singer was sixty-three years old. Besides his widow, he is survived by a grown-up family of sons and daughters. Dr. S. Singer, one of the city coroners, is a son. The funeral takes place to-day at 3 p.m. ♦
* * *
Late Jacob Singer Was Not As Rich as Generally Supposed
Assets, Mostly in Real Estate, Total but $342,295 — After Widow's Death Twelve Children Share Estate — Daughters Get $6,000 and $1,000 for Wedding Trousseaus.
Bequests to Charity Doubled Before Death
From the Toronto Daily Star, February 29, 2012
The will of Jacob Singer, jeweler and pawnbroker, which is passing through the local Surrogate Court for probate, reveals the fact that Mr. Singer was in all probability the largest hold of real estate in small parcels in the city.
The estate as presented for probate shows the total assets to be $690,150.14, while the liabilities are placed at $344,395.96, leaving the net value of the estate $347,854.18. This is much below what even Mr. Singer's friends estimated the estate to be worth. . . .
Following is a list of the real estate held by Mr. Singer:
51 & 93 Kendall avenue; 539 Church street; 60 to 70 Dovercourt road; 133 & 135 Bathurst street; 150 Roncesvalles; 165 & 167 Sorauren avenue; 64 to 72 Fuller street; 112 St. Clarens avenue; 393 to 397 Concord avenue; 694, 699, 714 & 716 Crawford street; 300 & 302 Harbord street; 173 & 175 Claremont street; 790 to 796 College street; 635 to 543 King street west; 512 to 526 Front street west; 22 & 24 Draper street; 211, 213 & 213-1/2 Queen street east; 4-1/2, 6, 8 & 10 Draper street; 493 to 498 Adelaide street; 421 & 423 Spadina avenue, 28 & 30 Glasgow street; 1 to 12 Napanee street; 20 St. Patrick street; 139 John street; 196 to 200 John street; 46 to 48 Stephanie street; 46 to 52 Nelson street; 205 Simcoe street; 188 to 196 Simcoe street; 398 Jarvis street; 330 Richmond street west; 140, 142 Richmond street, and 187 to 209 York street, and 127 to 135 Queen west; 345 to 349 Queen west; 88 to 98 Elizabeth street, and 77 to 81 Hayter street; 202, 204 Teraulay street, and 62 Hayter street; 75, 77 Elizabeth street, and 14, 16 Tagerman street; 65, 67 Yorkville avenue, and 2 to 16 Genoa street; 47 Ann street; 133 to 137 Ontario street; 2 to 10 Milan street; 403 to 411 Parliament street; 421 to 423 Parliament street; 263 Parliament street; 1176 Bloor west; 294, 296 King street east; 168 to 184 Mill street; 1301 Queen street east; 866 to 872 Eastern avenue; 87 to 95 Queen west; 35 to 57 Brant street; 442 Adelaide street west; 146 to 156 Spadina avenue; 430 Richmond street west; 267 to 271 Parliament street; 5 to 13 St. David street; 267 Wilton avenue; 2 to 14 Regent street; 62 to 70 Sydenham street; 94 to 104 Sydenham street; 2 to 8 Currie place; 182 to 186 Sackville street; 51 and 53 St. David street; 65 King street east; plus vacant lots in various parts of the city. . . .
Widow and Twelve Children.
The will provides for the disposition of the estate as follows: The widow, Annie Singer, is to receive the income of the estate for life, it is then to be divided among nine sons and three daughters. Other provisions are set out that read as follows:
"Out of the personalty of my estate, to pay to the trustees of the Jaworow congregation of the Jewish Faith one thousand 'kronen,' to be hold by them for the purpose of loaning the same to indigent and needy persons in sums not greater than 50 kronen, on well secured notes or other securities for any term, not longer however, than twelve months, without interest.
Charity Loans to Be Secured.
The will further directs that the sum of $1,000 be given to the Jewish benevolent Society for the purpose of lending sums of not more than $20 to needy and indigent persons in Toronto on good security.
The jewelry and pawnbrokerage business on Queen street is disposed of by the following clause: "The money and stock-in-trade which shall be found employed in my business at the time of my death I direct my said trustees to allow to remain in the said business and to give the use thereof to my wife for life, or so long as she, remaining my widow, shall care to carry on said business. She to be entitled to the whole income and profits resulting therefrom. Should she, however, remarry or give up carrying on said business, then the said money and stock-in-trade as it stood at my death shall revert at once to said trustees and become part of my general estate.
$1,000 for Daughter's Trousseau.
"I direct my said trustees to secure and settle upon each of my daughters at the time any such shall marry, with their mother's consent, such consent to be signified in writing, the sum of $6,000 as her separate estate, free from the control of any husband, and to give to each such daughter so marrying the sum of $1,000 for the purpose of her wedding outfit."
The last clause reads:
"A manager for the estate is to be selected by a majority of my children and assented to by my wife: such manager is to get a reasonable salary and be one of the heirs."
None of the children are to receive anything as long as the widow lives unless they should marry. Should they marry, however, each of the following sons will receive $5,000: Max Singer, Israel Singer, Abraham Singer, Isidore Singer, E. F. Singer, and Arthur Singer. Helen Vinberg, a daughter, receives $4,000, and Fanny Singer will receive $12,000 when she marries.
Bequests to Charity.
Bequests other than those appearing above are:
Four Jewish benevolent societies (to be chosen), $200 each
Toronto General Hospital, $1000
Hospital for Sick Children, $1000
House of Providence, $400
Home for Incurable, $500
Associated Jewish Charities, $1000
Trustees of Jewish Congregations of Jaworow, Austria, $1000
Trustees of New Shule, Jaworow, Austria, $400
Selia Singer, niece of Jaworow, Austria, $500
Elias Sohnenstrahl, for his daughter, Mosciska, Austria, $250
Elias Sohnenstrahl, cousin, Mosciska, Austria, $100
Jacob Singer, nephew, Jaworow, $100
Moses Joel Singer, nephew, Jaworow, $100
Pursuant of the wish of Mr. Singer, the business is to be carried on by the Singer Trust, made up of the executors of the will, Annie Singer, widow; Moses, and Dr. S. Singer, sons.
The original will was made May 16, 1904, and a codicil doubling the bequests to charity was added on October 31, 1911, just two weeks before Mr. Singer died. ♦