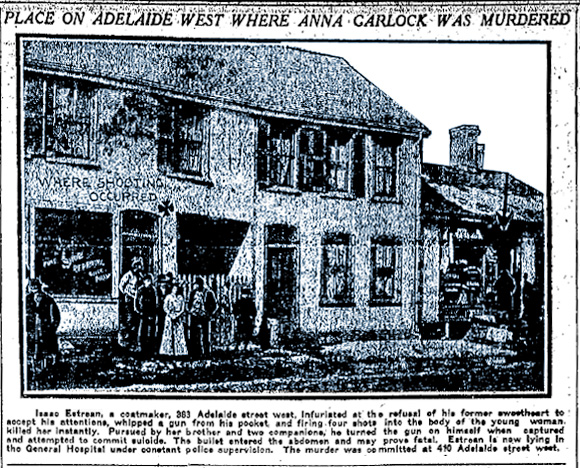 ◊ The following articles describe a tragedy that unfolded in Toronto's Jewish district on Adelaide Street West near Spadina in 1914. I was particularly riveted by the sad drama because this is where some of my relatives were living at the time — practically in these very addresses — and one of my grandfather's 'landsmen' ("shifsbruders," they used to call each other) was named Estrin (i.e., Estrean); they came from the same town in Russia and came over on the boat together.
Love in Russia Ends in Death in Toronto
Isaac Estrean, left behind and forgotten, follows his former sweetheart, pleads in vain, kills her and then shoots himself
From the Toronto Globe, March 10, 1914

A love affair which began in Russia ended tragically at a little roughcast house in Adelaide street west in broad daylight yesterday afternoon, when Isaac Estrean shot and killed Annie Garlock, his faithless sweetheart, and then shot himself, with probably fatal results.
Estrean, who is a Jewish coatmaker, living at 383 Adelaide street west, had loved Annie in his ardent way from yearly youth. Annie left Russia some months ago, according to the story Estrean told the police through an interpreter, coming first to the United States. A short time ago she came to Toronto, and here Estrean followed her, only to find she had forgotten her youthful passion for another man. This angered Estrean, who apparently brooded over it.
Tried to Revive Flame
Early yesterday afternoon the man was on his way to the woman's home, 501 Adelaide street west, to see her, when he met her and Estrean asked the woman to renew the love affairs of the past. The woman walked along Adelaide street with him, and, when she told him to leave her, Estrean drew a revolver from his pocket and shot the woman through the heart.
A brother of the woman, who was playing cards with friends in a neighbouring house, heard the shots, and, in company with his friends, ran to the scene. He found Estrean hurrying away and followed him. Before he had caught up with him the man had shot himself.
Efforts to Save Lives
The woman was carried into a store at 406 Adelaide street west, while Estrean was found by the police lying on the steps of a house two doors east.
George Treble, a driver for the T. Eaton Co., was a witness of the tragedy, and quickly drove to King street for a constable.
Dr. Yellowlees was summoned, but the woman was already dead. He turned his attentions to the man, and, after an examination, ordered his removal to the General Hospital, where he now lies in a dangerous condition.
Coughed Up a Bullet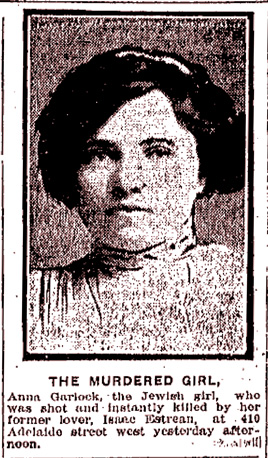 One of the two bullets which Estrean had fired into his body was found by his side on the arrival of the police. Estrean shot himself in the stomach and it is thought that in some manner he had coughed up the bullet. The revolver was also found beside him.
A search of Estrean's rooms last night revealed the fact that the action had been premeditated. Acting Detective Holmes and Plainclothesman Lillie found a package of cartridges. Of the original fifty forty-four remained.
The body of the woman was taken to the City Morgue in the police patrol wagon. ♦
◊ Note: The above story incorrectly names the gunman as Isaac Esterman; the name was corrected to Isaac Estrean.
* * *
Estrean in The Dock
From The Toronto Globe, March 24, 1914
Looking more like a frail, consumptive shoemaker or tailor out of some dark cellarway, where romance or passion never strays, than like a man charged with murder, Isaac Estrean, the Polish Jew, who is held for the shooting of Anna Garlock, leaned weakly against the prisoner's railing, and, without a word, accepted his remand for another week. It was Estrean's first appearance, as he has been lying on a hospital bed for weeks since the shooting, when he turned the pistol on himself.
The prisoner is a small, flat-chested man, not more than five feet two inches in height. He has thin hair on his head, a high forehead, and large, innocent, mild grey eyes. He has a white, sodden face, and is still ill. The dock guards had to support him as he stood to hear the remand. ♦
* * *
Raising Fund for Defence of Estrean
Man accused of murdering his sweetheart was in the dock today
From The Toronto Daily Star, April 8, 1914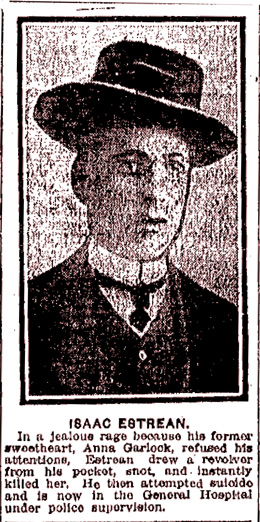 Isaac Estrean was today sent up from the Police Court to a jury for trial on a charge of murdering Anna Garelick.
Only one witness was called for the investigation, Miss Dora Sabel.
"I was walking along Adelaide near Spadina, at noon," said she. "I saw Isaac Estrean and Anna Garelick out walking, too, in the sun. They were talking. I was walking a little way behind them. They stopped. Isaac drew a revolver and fired right at her. She turned and ran, and he fired three more shots after her. I ran to meet her, and she fell in my arms. She died in the store, 406 Adelaide west."
Harry Rosenthal, the son of Rosenthal whom Gibson was tried for murdering, is raising a fund among the Hebrews for the defence of Estrean. Mr. Rosenthal, it may be remembered, was active in petitioning for Gibson's reprieve.
Note: This story spells the prisoner's surname as Estrine; it has been altered here to Estrean for the sake of consistency. Anna Garlock is here identified as Anna Garelick. ♦
* * *
Estrean Trial Again Traversed
From The Toronto Daily Star, October 14, 1914
Isaac Estrean will not stand his trial for the murder of Anna Garlock, the young woman who, once his fiancee, afterwards jilted him, until the Spring Assizes, when T. C. Robinette, K.C., will defend him, pleading insanity. This is the second time the trial has been traversed. ♦
* * *
Estrean "Not Guilty"
And young woman's slayer will go to the asylum
From The Toronto Daily Star, January 14, 1915
On trial for his life, charged with the murder of the girl, Anna Garlock, who once had promised to be his wife, but had broken faith with him, Isaac Estrean, pale and nervous, heard Mr. Justice Middleton enter a verdict of "not guilty on the ground of insanity," after only three-quarters of an hour spent in the hearing of evidence.
"There is only one possible result of the case," said the justice.
"There is no dispute as to the facts," said T. C. Robinette, Estrean's counsel. "There is only the one defence — the ground of insanity."
Dr. C. K. Clarke, of the Toronto General Hospital, and Dr. Bruce Smith, alienist, were called. "After enquiries," said Dr. Clarke, "I was satisfied that the man was insane."
"Today," said Dr. Smith, "he is a different man. He has developed wonderfully. Physically he is fit, and mentally he is bright. He answers questions intelligently and has given no signs whatever of mental disease." ♦