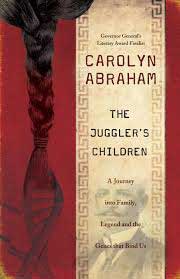 The late eminent American genealogist Rabbi Malcolm Stern once observed that there is nothing so fascinating to a person as his own genealogical research, and often, nothing so boring as being stuck at a dinner table with a family-tree enthusiast who insists upon endlessly discussing their latest research.
With her recent book The Juggler's Children: A Journey into Family, Legend and the Genes That Bind Us, Toronto writer Carolyn Abraham gives us an account of her personal genealogical explorations, fueled by scientific examination of her family's DNA, that never stops being fascinating. A former science writer for the Globe and Mail, Abraham also delivers a set of clear explanations of chromosomal markers, haploid groups, genetic mutations and other scientific terms intrinsic to understanding the huge emerging science surrounding microscopic human DNA.
Born in England of diverse and somewhat mysterious ancestry, Abraham focuses her investigations on two great-grandfathers: her father's paternal grandfather who came from China to the remote Nilgiri Hills region of south India and was known as a juggler before he disappeared from the family; and her mother's paternal grandfather, a sea-captain from Jamaica who also settled in India.
At school, her friends were curious "about a brown girl with a Jewish last name who went to the Catholic school," but Abraham couldn't answer their simple questions about her ethnicity and roots. As a young adult she paid a rare visit to her grandfather in England and had an astounding revelation: ". . . I saw something instantly familiar and yet utterly foreign in his face, in the gentle slant of his eyes. He looked Chinese. I was dumbstruck. My grandfather was Chinese? We were Chinese?"
An elderly great-aunt is discovered living in the Nilgiri Hills at age 103; potential relatives in a grandmother's old address book are telephoned; visits are paid to potential cousins in Jamaica and India; old cemeteries and church records are combed through; in these and other ways, Abraham conducts a thorough traditional genealogical investigation.
Yet she goes one giant step further by taking cheek swabs from various close family members and distant cousins in order to see what secrets their DNA — "biological mementos of the family who came before us — will reveal. Sometimes the results only confirm the obvious; but they also provide dramatic surprises such as the so-called "false paternity" or "pedigree error." (Incredibly, geneticists assert that roughly one in ten people "was not fathered by the man they believed to be Dad.")
Amidst her colourful, non-technical scientific descriptions, Abraham describes the work of Toronto researcher Karl Svorecki who discovered that Jewish men from the priestly "Kohan" tribe, regardless of geographic origin, do indeed carry a specific set of mutations on their Y chromosomes (originally reported in the British medical journal Nature in 1997).
She also introduces us to many other leading figures in the modern DNA-related scientific community. These include Houston businessman Bennett Greenspan who founded the pioneering firm, Family Tree DNA; and American geneticist Michael Hammer, who helped determine that the Lemba, a Bantu-speaking tribe in southern Africa, were descended from a small group of ancient Jews. The Lemba still practice certain Jewish customs such as circumcision, keeping Shabbat, and not eating piglike animals such as hippopotamus.
The Juggler's Children tells us as much about the author's particular and exotic family-tree saga as it does about ourselves and the unraveling modern science of DNA. It is well-written, informative, and an honest-to-goodness page-turner. ♦