From the Toronto Star Weekly, July 5, 1913
One popular fellow-singer proposed a jaunt to the Eastern States — Stopped on Yonge Street — How a pretty pianist saved herself from pursuer — jabbed him with hatpin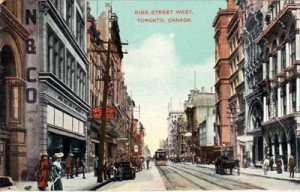 If a girl in any vocation in Toronto would be thought safe from molestation you naturally would presume that a soloist in one of Toronto's leading church choirs would be that girl.
But since I came to Toronto several years ago, I have been bothered by mashers, in and out of the church, many of them in the choir itself, to such an extent that my life has been rendered miserable for days after some of the trying experiences with these objectionable males. And I can safely say that my experience has not been an isolated one at that.
I have been accosted on the streets, in broad daylight as well as after dark, by strange men who have used insulting language such as, I am afraid, is all too commonly uttered to many a young woman in Toronto nowadays. I have been pestered by unwelcome attentions on the part of fellow-soloists; I have even been forced to eject one of them from the parlour of my own house. I am still annoyed by frequent calls from men of all sorts and ages over the telephone, who will take nothing short of absolute rudeness as a turn down.
I have stated that the church in which I sing is one of Toronto's leading churches. Also, its choir is above the average — considerably. And its members and soloists should be too, but I have found even the church choirs have villains masquerading as gentlemen, in a work which is supposed to be to the praise and glory of the Lord.
Once a Good "Mixer"
When I first joined the choir I was treated very cordially. Nature has blessed me with a good voice, and I am known as a good "mixer," if that term may be applied to our sex. After two or three Sundays I noticed that I was receiving repeated offers of escorts home, both from the morning and the evening services.
Two or three were not unwelcome during that first month, but all these men soon became too persistent. I had to run a sort of gauntlet every time I left the church. Finally, one of the male soloists, a bachelor on the shady side of forty, accosted me, smilingly remarked that he had noticed the plethora of admirers, and offered his unselfish and platonic escort — "just to help me avoid the chase." I accepted his apparently well-intentioned offer, and he used to take me as far as the car, and here leave me. But I soon saw there was a method to his politeness. Having ingratiated himself into my good books he finally asked me if he mightn't see me to my home one spring evening. It would have appeared churlish to refuse and he had a certain amount of attractiveness and I accepted his escort.
This continued for two or three weeks, and then his attentions were too noticeable altogether, and I tried to avoid him for a while. I turned him down week after week, till finally he caught me unawares, and I admitted to him that I had no engagement for the rest of the evening. This, by the way, was at a choir practice where his attentions were doubly insistent. He asked if he might escort me to my home, and I said: "Oh, I suppose so." Despite this cool remark he accepted the permission with alacrity.
Proposed a Trip
When we got to the house it was a few minutes after nine, and I simply had to be polite and ask him, very coldly, to come in. Say, do you know he nearly fell over himself getting up those steps, and was in the parlour ahead of me!
We sat down, and soon he came over on the lounge where I was, on some flimsy pretense, and started in on his campaign to win me over to his depraved ideas.
He started to talk, and gently insinuate things which surprised me, but I could hardly imagine I was reading him aright. I said to myself that I would make him come out a little more openly. "I'll just see how far you will go," I thought.
Then he got bolder and bolder, and tried to paw me around and maul my hair.
He remarked that we might take a little trip through the Eastern States and then settle down for a while in a quiet resort he named — but never any mention of a marriage ceremony! "We can start to-night, my dear," he purred. I stood it for another minute or so, and heard some more of his insulting oily talk, and then — well, I flared up and gave him a tongue drubbing that he won't forget in a hurry.
A Red-Hot "Calling"
"You low-down cur," I said. "Don't you dare touch me. Don't you dare say another word. You're one of those unspeakably vile scoundrels that would be drowned if I had my way. You know that you have a certain attractions for women, and I suppose you're well practiced in these arts. But, how do you know that I am a strong girl, with good principles, and that I am able to withstand your blandishments? Supposing I were a weak girl and believed all you say and hadn't been educated to know right from wrong as clearly as I do. If I were weak I might ere another week had passed be added to your list of unknown, quivering victims scorched and besmirched by you, a choir soloist! I suppose you will try these on some other girl when you find you can't have me! If you do I hope that the Almighty strikes you dead on the spot."
He cringed and tried to splutter an apology but I handed him his hat and cane, and pointed him out of the house with as much speed as I would to a leper.
He actually tried to speak to me again about it, and rehabilitate himself afterwards, but he left me in peace finally.
Mashers on the Street
I find that other girls are accosted by men on the street as well as myself, and so I have come to the conclusion that my early fear that something in my appearance was to blame is not true. The other day I was walking down Yonge street, and the only thing that would distinguish me from any other girl was a monster, orange-coloured Bulgarian bonnet, with a rather conspicuous plume. Perhaps I should blame what happened on the hate — or on the wearer for choosing it. But I was walking close to the stores, and passed by a cigar store within a few inches of a man (?) lounging in the doorway. I didn't see him until after I heard a voice say in most pronounced and very friendly tones:
"Why — how — do — you — do?"
It sounded for all the world like a friendly greeting, and you know how you naturally turn around in such a case. So I turned, and stopped for half a moment, and stared him right in the face. I didn't recognize him, of course, and quickly turned to hasten on my way down town. He spoke again, and said:
"You dear little girl with the curly hair . . . ."
I gave him such a look as one Toronto masher will never forget, I can tell you!
A Pianist's Experience
Several times men have said "how-d'ye-do," and "Good-evening," and "Hello, dearie," without the slightest excuse. This has happened to quite a few girls I know. We always ignore them, and hasten on, and usually they don't follow without encouragement.
But a friend of mine, prominent as a pianist, was stopped not long ago by a man on Bloor street, who came up behind her and took hold of her arm. It was late at night, and near Huntley street, where it is lonely, and she was very much frightened. She didn't faint or shriek, though, and walked along quickly after shaking off his hand. He followed her, step for step, and she started to run. He grabbed hold of her again and she drew out a hat pin and stabbed him through the fleshy part of the arm. He gave a yell and a curse, and didn't follow her any farther.
One or two other experiences that happened in the choir, or at least because of my position in the choir, may be worth writing about. One was amusing, the other gives a sidelight on what a married male soloist may do.
A gentleman for whom I still have a fairly high regard used to be very insistent on my taking lunch with him after morning service Sundays, and going motoring with him as often as possible, or out in his launch. He never treated me otherwise than respectfully, but his attentions soon became very much in earnest. He was fifteen years older than I, and very wealthy. He seemed to think he could buy a wife, though.
Offered Her His Wealth
One day, after he had proposed time and again for many months, he took me out in his motor through the western part of the city, near the Junction, and around the Humber Valley and pointed out lot after lot that he said was his. He said this house belonged to him, and there he owned a place with four hundred feet frontage. A whole block belonged to him one place.
"Now marry me," he wound up after this personally conducted tour, "and you can have your pick of these pieces of property for your very own. And you can have your own motor, and horses if you prefer . . ." But I could hardly keep from laughter, though I tried to be polite, and once again turn him down. He was a well-meaning old chap — but he didn't know how to win a wife.
Soloists come and soloists go, and a year or so ago we got one that was a very agreeable young chap, and married. We got along fairly well together, and I met his wife a few times, and I thought everything would be calm for a while. Then he surprised me greatly.
"Do you every dance, Miss G.?" he asked.
"Why, yes," I said.
"Well, I have just been longing to go to one of the dances at the __ Canoe Club. Would you like to come?"
I reminded him of his marital tie, and since then he has been very nice and polite. ♦