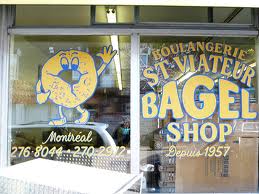 A special summer of activities highlighting Montreal's historic Jewish community kicks off June 15 (2000) when a musical version of Mordecai Richler's The Apprenticeship of Duddy Kravitz premieres at the Saidye Bronfman Centre in this famously bilingual city.
As it happens, the musical is also bilingual: it's in Yiddish, with simultaneous English translation available for those who don't farshtay the Jewish mameloshen or mother tongue. In connection with the production, which runs to July 10, a series of walking tours are being offered through Duddy's — and author Richler's — nostalgic stomping grounds, the once-predominantly Jewish neighborhood around St. Laurent north of Sherbrooke. Simultaneously, a variety of exhibitions, lectures, concerts, films and other cultural events are being offered to mark the 80th anniversary of the Federation CJA, the representative organization of the Jewish community.
Montreal's (and Canada's) first synagogue, Shearith Israel, was consecrated in 1768, but only after 1880, when boatloads of impoverished Jews began arriving from the Old Country, did the community undergo significant expansion. By 1939, it numbered about 80,000 and Yiddish had won a place as the city's third language. The Jewish population peaked at about 120,000 in 1970 — and has been shrinking ever since. Estimates vary as to its present size. Federation CJA officials pin it at about 101,000 but Janice Rosen, archivist for the Canadian Jewish Congress, suggests it may be significantly less than the 96,000 Jews counted in the 1991 census.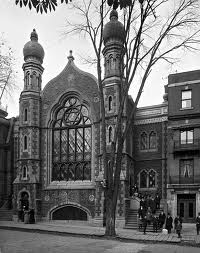 Although the downtown Jews have largely departed to suburbs like Snowdon, Hampstead and Cote St. Luc, tell-tale relics of their former presence are evident in areas now populated by a flavorful mix of Portuguese, Greeks, Italians and Asians. At St. Laurent near Sherbrooke, for instance, the Just For Laughs Museum occupies a former brewery once owned by the Jewish Ekers family, while the gray mansion at Clark and Sherbrooke is the former home of William Notman, a 19th-century Jewish photographer who was the Karsh of his day. Designated an architectural monument, the row of buildings at 3660 St. Laurent once held a Yiddish theatre, while Theatre Quatsous, at Pine and Coloniale, occupies a red-roofed, three-storey building that was once a synagogue.
St. Laurent, the central boulevard also known as The Main, still roughly divides Montreal into two solitudes, French to the east and English to the west. Should the city ever become permanently divided along linguistic lines — as Premier Lucien Bouchard recently quipped — "Checkpoint Charlie is going to be at Schwartz's" (3895 St. Laurent). A mound of briskets adorns the window of this legendary albeit unfancy deli, which has set the standard for Montreal smoked meat for generations.
A few doors north (at 3961), a uniformed doorman stands outside another trademark establishment, Moishe's Steakhouse. Here the specialty is charbroiled steaks complemented with a variety of traditional Jewish side dishes; dinner for two, with wine, runs about $85. "This neighborhood is traditionally where immigrants first settled in Montreal," says Moishe's co-owner, Leonard Lighter, whose father founded the restaurant 60 years ago. "This is where the Jewish immigrants arrived in the early part of the century. Then they moved uptown. Years ago, hardly any children of Jewish families thought of leaving the city where they were born. Now all that's changed because of the politics."
In this neck of the woods, it's pretty hard not to notice the forest of Jewish landmarks. The Colonial Turkish Steambaths at Coloniale and Napoleon and the Schubert Baths at St. Laurent and Bagg are two surviving local bathhouses that were once mainstays of Jewish communal life, hearkening back to an unmourned era of weekly public baths. Beth Shlomo, a small orthodox synagogue at Clark and Bagg, dates from the 1920s and is the last operational "shul" in the neighborhood; religious services are still performed here on Saturday mornings. Distinguished by paintings of the zodiac on its upper gallery, Beth Shlomo was featured in the film Enemies: A Love Story.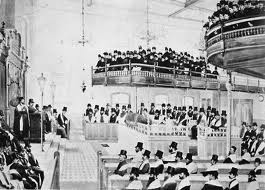 Walking into Pharmacie M. Labow, the 60-year-old drug store at St. Laurent and Rachel, is like entering a time capsule filled with antiques: an old telephone booth, an antediluvian scale, and so on. At 4251 St. Urbain is Baron Byng, the former high school whose alumnae include David Lewis, A.M. Klein, Irving Layton and Mordecai Richler. Also on St. Urbain, the Portuguese Association is housed in a former synagogue, Beth Emmanuel, as suggested by the large round stained glass window and twin tablet-shaped arches. Readers and film-goers will recognize Wilensky's, the unreconstructed restaurant at 34 Fairmount Ave. featured in The Apprenticeship of Duddy Kravitz.
A remnant of the shmata trade, Schreter Inc. at 4350 St. Laurent still offers good bargains on everything from Harris tweed jackets to running shoes. Nearby, at 4423 St. Laurent, Ida Steinberg and her sons opened the grocery store in 1917 that eventually grew into the large national supermarket chain.
Famed for their distinctive taste, Montreal's bagels owe their renown largely to the ovens of two modest bagel bakeries, the Bagel Shop at 263 St. Viateur W. and Fairmount Bagels at 74 Fairmount W. Either is a "must" stop on a tour of Jewish Montreal. "We use the old style of baking to produce about 25 dozen an hour, up to 1,000 dozen a day," says Fairmount proprietor Irwin Shlafman, whose grandfather started baking bagels in 1919 using a handed-down Old World recipe that is still followed loyally.
An extraordinary community of Hasidic Jews — orthodox followers of the 18th-century Baal Shem Tov and his spiritual heirs — reside in the Fairmount area and neighboring Outremont. The men wear long dark coats and black hats, the women modest dresses (and, if they are married, wigs). The largest groups are the Satmar and the Belz; the Lubavitchers are centred in Snowdon. All told, there are some 12,000 Yiddish-speaking Hasidic Jews in the area — including a group of well over 100 families, followers of the Tosher Rebbe, who live in outlying Boisbriand, near St. Jerome.
The Cummings Building at 5151 Cote-Ste-Catherine, across from the Saidye Bronfman Theatre, houses several important organizations and institutions of the present-day community. These include the Jewish Public Library, whose 100,000-volume Judaic collection is one of the best of its kind in Canada, and the Montreal Holocaust Memorial Centre.
Those in search of good kosher-style eats should try Beauty at 93 Mount Royal W. or the Brown Derby in the Van Horne Shopping Centre; for a taste of kosher cuisine from North Africa, try El Morocco II (3450 Drummond), one of the city's best kosher eateries. On request, the Jewish Information Referral Service (514-737-2221) provides a free list of synagogues, kosher restaurants, Jewish bookshops and other points of Jewish interest. ♦
© 2000