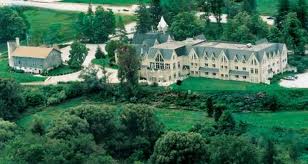 James Harris, a 19th-century dairy farmer, brought renown to the southwestern Ontario town of Ingersoll by exhibiting a mammoth piece of locally-produced cheese at world's fairs in the United States and England. Today, the elegant house that Harris built in 1867 still brings a modest renown to Ingersoll, in its modern incarnation at the heart of the 49-room Elm Hurst Inn.
A town of some 10,000 inhabitants, Ingersoll seems simple and understated at first glance. Townsfolk seem proud of their automotive plant, limestone quarries, curling rink, volunteer fire department, the old Legion Hall, the new library, and a rainbow of church groups and service clubs. Town clerk Ted Hunt happily proclaims this historic village in Oxford County to be a fiscally responsible community without a penny of debt.
The Elm Hurst Inn likewise seems initially simple and understated. At its center is the old Harris farmhouse, whose peaked roofs, pointed gothic windows, four-story tower and decorative gingerbread trim seem as generically familiar around southern Ontario as the cluster of century-old maples out front.
The original house is now the Victorian Mansion Restaurant, offering an array of cozy high-ceilinged rooms of varying dimensions. Most are named after members of the British royal family; one holds a portrait of Queen Victoria. The upstairs rooms are especially intimate. One, just big enough for a table for two, is a favorite of newlyweds and couples on the brink of betrothal.
The inn's 43 rooms, six suites, various meeting rooms and its country spa occupy a modern wing which reflects the high Victorian gothic style of the original building. When ground was broken for the Harris homestead the territory was still known as Canada West. The bucolic landscape around the inn, when viewed from certain windows, still seems almost magically untouched by time.
A few Victorian-era antiques grace the rooms, halls and lobby, and more such pieces would help to make the establishment a true celebration of Victoriana. To its credit, however, the Elm Hurst does not neglect the most colorful and redolent moments of its past, through the display of various documents and photographs.
An antiquated photo in the James Harris Lounge shows the famed Mammoth Cheese sitting on a wagon in Saratoga, N.Y. in 1866. According to legend, 35 tons of milk went into the manufacture of the cheese, which was at least 6'10" in diameter and weighed more than 7,000 pounds. At the time Ingersoll dairy farmers were producing much more milk than could be consumed locally, and so were looking for viable export markets.
The story goes that, while the cheese was sailing home from England, its odor so offended the ship's crew that much of it had to be dumped overboard to avoid a mutiny. In one version of the tale, only part of the Big Cheese became food for fish; the remainder supposedly made it home to Ingersoll and was divvied up among the workers of the five cheese factories that had jointly manufactured it. From then on, southern Ontario was said to rank as a near-equal to Derbyshire as a producer of fine cheese.
Much of this history is pungently recalled in documents and artifacts in the Ingersoll Cheese Factory Museum, part of a complex of heritage buildings that includes a Blacksmith Shop, Farm Museum, Community Museum and Hockey Hall of Fame. Various displays in the Community Museum recapture the flavor of life of a bygone era. Numerous items pertain to Major Thomas Ingersoll, the former Massachusetts resident who founded the town in 1793, and his more famous daughter, Laura Ingersoll Secord, who heroically warned the British of a pending attack by American soldiers during the War of 1812.
Also on display are a foot-powered drill and other implements resembling instruments of torture; they belonged to the late Dr. Kennedy, a local dentist. Edgar Dunlop, who operated a barbershop in Ingersoll from 1909 into the 1980s, left the museum his antiquated barber chairs and shop fittings. The museum also has a display on Aimee Semple McPherson, the charismatic bible-thumping evangelist who was born in nearby Salford in 1890. The museum is open weekends only in June (1 to 5 p.m.); and daily throughout July and August (10 to 5 p.m.). For details, phone 519-485-5510.
More local history may be found along King Street, which once formed part of the main stagecoach route between Hamilton and London. At the corner of Hall Street is a building with covered porches that, in the last century, was an inn that serviced the stagecoaches. Many more elegant century homes may be seen along Ann, Albert and Oxford streets.
Half an hour by car to London and roughly 40 minutes to Stratford, Ingersoll is a feasible stopover point for those attending productions at London's Grand Theatre or the drama festival in Stratford.
Located beside Highway 401 (exit 218) at the junction with Highway 19, the Elm Hurst Inn offers day and overnight spa packages. The Wellness Package includes a one-night stay, spa treatment, dinner in the Victorian Mansion and light country breakfast for $150 per person (double occupancy, not including taxes and gratuity). The Romance Package includes a one-night stay, dinner in the Victorian Mansion and buffet breakfast for $92.50 per person (double occupancy, not including taxes and gratuity). ♦
© 2000