"Jewish gravestones are fairer than royal palaces." — Talmud (Sanh. 96b).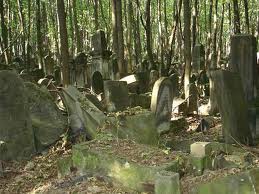 When the Nazis marched into Staszow, Poland, in 1939, not even the Jewish dead could rest in peace any more. Highly utilitarian, the Germans removed the tombstones from the cemetery for use as paving blocks in the streets.
After the war, the town repaved the streets and put the tombstones into storage, but eventually sold them to a construction company. The tombstones disappeared.
There were no Jews left in Staszow to protest. But sometimes the dead refuse to enter oblivion so easily.
Several years ago workmen laying a gas line in a courtyard uncovered a tombstone, four feet high and made of granite. Jack Goldfarb, a Holocaust survivor visiting from America, came to read the Hebrew inscription. It read "Itzcha Josef ben Yehudah Leibush Ha-Cohen, died in 1933." Goldfarb, a Staszow native, realized at once that it memorialized his paternal grandfather.
Since then the courtyard has yielded another 10 gravestones, and Goldfarb has returned to Staszow many times on a self-appointed mission to restore the cemetery and erect a Holocaust memorial.
As such, he is part of a growing grass-roots movement among North American Jews, particularly Holocaust survivors and their families, to make repairs at dozens of long-neglected cemeteries across Poland. At many sites, memorials have been erected, fences and gates added, overgrowth cleared away, and gravestones painstakingly cleaned, repaired and resurrected.
Two elderly sisters in Maryland raised $10,000 to restore the cemetery in Dabrowa Bialostocka, where their family are buried. At Opatow, about 20 monuments were retrieved from the river and replaced in the cemetery. At Oswiecim (Auschwitz), survivors and local officials gathered many pieces of broken stones and used them to build a memorial wall. Similar walls have risen at Lodz, Lukow, Myslenice, Siedlce and Sandomierz.
On a proportional basis, the destruction of Poland's Jewish cemeteries seems to match or exceed the annihilation of 90 percent of Poland's prewar Jewish population of 3.3 million.
In 1939, an official Polish survey listed 1,415 Jewish communities with populations of 100 or more: most presumably had cemeteries. Forty years later, in 1979, another survey listed 434 Jewish cemeteries, only 22 of which were noted to be in good condition. The majority had no visible gravestones, and many had been overbuilt with schools, stadiums, warehouses, bus stations and offices towers.
According to a 1995 survey by the World Monuments Fund, cemeteries in large cities such as Warsaw, Lodz, Bialystok and Krakow generally fared better than their secluded rural counterparts. Even so, only one of six cemeteries in the city of Bialystok has survived — and that one was partially destroyed.
Individuals have intervened to restore cemeteries in Bielsko-Biala, Bilgoraj, Bransk, Chrzanow, Cieszyn, Dabrowa Tarnowska, Dzialoszyce, Gora Kalwaria, Kazimierza Wielka, Kety, Kolbuszowa, Laskarzew, Lomza, Lubaczow, Makow Mazowiecki, Nidzica, Przasnysz, Sanok, Sicdlce, Sochaczew, Tarnogrod, Tarnow, Trzebinia, Tyszowce, Wisnicz, Wodzislaw, Zabrze and other places.
As well, private foundations have assisted restorations in Buk, Czestochowa, Kielce, Krosno, Lublin, Sanok and Slubice. Professional conservators have restored monuments in cemeteries in Warsaw, Krakow, Wroclaw, Radom and Lodz.
Numerous similar efforts are continuing or were recently completed.
* * *
Cemetery Notebook: Born in Kalisz in 1863, Samuel Zvi Weltsman travelled through Eastern Europe prior to WWI and recorded the epitaphs of some 921 prominent Jewish personalities, buried in 51 communities. Today almost none of the cemeteries he visited survive.
A key authority on rabbinical genealogy, Dr. Neil Rosenstein, working with R. Dov Weber, retrieved and annotated Weltsman's notebook from the Jewish National Library in Jerusalem, and republished it as Avnei Zikaron ("Stones of Remembrance").
The book and accompanying CD provide much information on many important rabbinic families. It is available from the Computer Center for Jewish Genealogy, 654 Westfield Ave., Elizabeth NJ 07208. ♦
© 2000