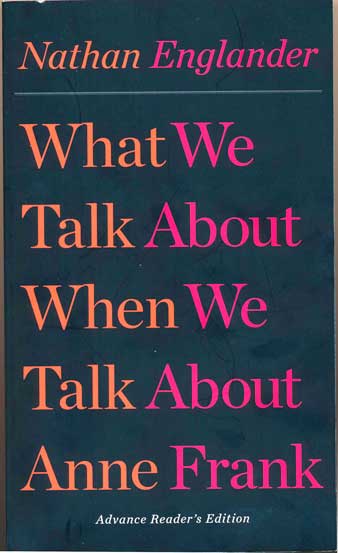 You remember Nathan Englander. He's the former yeshiva bocher turned short story writer who dazzled the critics about a dozen years ago with For the Relief of Unbearable Urges, a debut collection of stories that inspired raves and comparisons to Babel, Malamud and Singer. Not even his subsequent novel, The Ministry of Special Cases, could elicit such high praise.
Besides his shining, irony-laden prose, what set Englander apart was his deep knowledge of Jewish religious law, lore and literature; he grew up immersed in the ultra-orthodox world of Crown Heights, Brooklyn, which he disguised as "Royal Hills" in his stories. One story dealt with a Stalinist purge of Yiddishists, another with a Nazi-infested Chelm, several with the ultra-frum world of Royal Hills. Unforgettable characters included the rabbi-cum-charlatan in The Gilgul of Park Avenue and the equally impish rabbi of the title story who writes a rabbinical dispensation allowing a sex-starved husband to visit a prostitute.
As signalled by the publication of the title piece in the New Yorker last month, Englander has a new collection of stories, What We Talk About When We Talk About Anne Frank. The title is an allusion to a famous story by Raymond Carver (What We Talk About When We Talk About Love).
The title story, like Carver's, involves two couples socializing over drinks: the American narrator and his wife Deb, and Deb's old friend Lauren and her husband Mark — who, having become ultra-Orthodox and moved to Jerusalem, now call themselves Yerucham and Shoshana.
The foursome grow closer after smoking some pot together, feeling brave enough to explore some uncomfortable truths; the barriers between them seem to just fall away. Englander is at his best here as he illuminates the various prisms such as religion and culture through which Jews filter their Judaism. He also seems to expose a raw nerve of the Jewish psyche by laying bare a range of deep-seated fears and subliminal thoughts in his characters related to the Holocaust.
As before, Englander extends his range of characters from secular to ultra-orthodox, and his range of settings from a summer camp in the Berkshires to an outpost beyond Jerusalem.
Everything I Know About My Family on My Mother's Side is a surprisingly good deconstructionalized tale that presents a numbered list of 67 observations about family members, through which character and meaning are slowly and artfully revealed.
In other stories, we see Jews variously seeking out justice, revenge, and their epic national dream. In Camp Sundown, a group of retirees at a Jewish seniors' camp dispense their own brand of justice upon an old Nazi, while in How We Avenged the Blums, a group of students wreak revenge upon a bully.
In Sister Hills, a historic tale set on the outskirts of Jerusalem, Jewish settlers struggle heroically for the good of the nation, to the utter indifference of later generations. My least favourite tale in the bunch is Peep Show, a weird, sexually explicit moral allegory that may be deemed one of Englander's experimental failures. There was at least one such story in the previous collection too.
Not all of these stories are compelling. But much can be forgiven the author of a lovely and iridescent piece like What We Talk About When We Talk About Anne Frank. ♦
© 2012