From the Jewish Standard, January 1937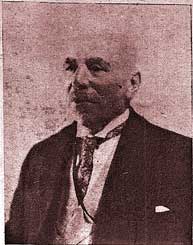 With the passing of Nathan Smith, Toronto was bereaved of one of the most interesting and one of the most remarkable Jews in its city. The late Nathan Smith was like an oak transplanted from the old Jewish forest of Eastern Europe, a sturdy young oak which has taken root and grown strong and mighty in its new soil, spreading its branches and wings in all directions. He was essentially a strong man, strong of will, strong in his affections, in his loyalties and even in his sentimentalities.
He brought with him from his native Lithuania a strong love and reverence for the Torah, the old Jewish learning, and he cherished the good old Jewish custom of charity giving — anonymously.
"The grand old man," as Rabbi Ashinsky of Pittsburg, a life-long friend of the deceased, called Mr. Smith in his tribute, used to support yeshivahs, talmud torahs and Hebrew schools in all parts of the globe and he used to help out poor Jews in Toronto without informing anyone about it. It is only when the week of mourning was observed in the house that the family of the deceased discovered from the hitherto unknown beneficiaries of Nathan Smith what the deceased had been to them. They came to pay tribute to a man that had helped them and befriended them for many years.
There was a tradition in the family for that sort of thing. Oldtimers of Jewish Toronto still recalled the late Sarah Smith (Mrs. Nathan Smith), who died in 1916. She was the traditional Jewish housewife who observed both in letter and in spirit the injunction of "giving bread to the poor and candles for havdalah," in helping both the physical and the spiritual needs of the poor with a generous hand and a sympathetic heart. She was of the pioneer charitable workers in Toronto, having founded the Ladies' Aid Charities (which later developed into the Board of Philanthropies) and one of the leading founders of the Jewish Children's Home. During the period of large Jewish immigration she helped to establish a large number of families in gainful occupations.
Mr. Smith's activities included all the gamut of general and Jewish philanthropic endeavour. But as hinted at the beginning, his chief interest lay in Jewish educational institutions. The old Simcoe Street Talmud Torah (the Toronto Hebrew Free School of the pre-Brunswick Avenue days) had Nathan Smith as its president for many years. Every yeshivah in Eastern Europe, in Palestine and in the leading centres in the United States and Canada, commanded his interest and attention. In many of these institutions special prayers and services are being held now in memory of the deceased.
Thus, a chapter of Mishnah is expounded daily in the famous yeshivah of Telz in memory of the deceased. Perhaps no more fitting testimonial could be found to his memory. When the new Hebrew Free School was opened on Brunswick Avenue, Nathan Smith became one of its leading trustees and endowed a chapel for children's services in the building. When he spent some time in Miami Beach, he helped to found a synagogue and a Hebrew school, becoming a life trustee of the latter.
Survived by two sons, Dr. I. R. Smith and H. M. Smith, and four daughters, Mrs. Rapp, Mrs. Friedman, Mrs. Pullan and Miss L. Smith. ♦
* * *
From the Toronto Star, December 9, 1936
Funeral Conducted for Nathan Smith
Last Respects are paid to pioneer industrialist, philanthropist 
The funeral of Nathan Smith, one of Toronto's pioneer industrialists and philanthropists, took place yesterday from his late residence, 124 St. George Street.
The funeral service was attended by a very large number of friends from all walks of life from this city and many points in the United States and Canada who came to pay their last respects to a beloved friend, noted for his many philanthropies.
A great number of floral offerings came from institutions and business associates. Numerous messages of sympathy arrived, sent by friends, and from hospitals, colleges and charitable institutions to which he generously contributed. Messages of condolence came from Government House and municipal officials, and many from abroad.
Funeral services were conducted at the residence by Rev. Samuel Sachs, Rev. Maurice Eisendrath, Rev. Jack Freedman of Niagara Falls, N.Y., Cantor Akiba and Cantor Borentstein. Special services were held by Rabbi Weinreb and Cantor Borensein at the Toronto Hebrew Free School, of which Mr. Smith was a founder.
The funeral cortege halted in its progress for a short prayer before the University Avenue synagogue, of which he was also one of the founders. Interment took place at the Jones Avenue cemetery. The pallbearers were: Eli Pullan, Edmund Scheuer, Gerschen Soloway, David Levine, I. Brodie, Harry Pullan, Jacob Freedman and Michael Freedman, Ottawa, and Abe Rapp, Montreal. ♦