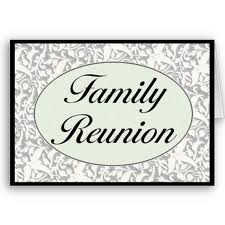 Davida Noyek Handler, who lives in Cedar Rapids, Iowa, once owned a translation company, but gave it up in the early 1980s to concentrate on researching her family tree. Thanks largely to her research skills and perseverance, some 175 Noyek family members from six countries attended a first-ever family gathering at the Holiday Inn Yorkdale in Toronto this summer.
"We took a print-out of the family tree, which has about 1,500 names on it, and stretched it across three walls of the conference room," Handler recalled. "It was just enormous. It took about six and a half hours for a group of us to mount this thing on the walls. When people came in, they went directly to the tree, found their branch of the family, and saw how it related to the other branches. It was a really good icebreaker."
The gathering was held during the Canada Day-July 4th weekend; Toronto was chosen as the site because several branches of the family are located here. Each spells its surname differently, however, so until Handler did her research, not even they were sure they were related.
"We always thought we came from a small family," said David Noik, the 48-year-old owner of a lumber company in Toronto. "All of a sudden, we realized the family was much larger."
The weekend opened with an Oneg Shabbat, and on Saturday Handler explained to her relatives how she had fit all the pieces of the vast international genealogical puzzle together. She used such diverse sources as U.S. passenger lists and naturalization records, Irish civil registration records, and 19th-century Jewish records for various towns in Lithuania, which she found in the Mormon's Family History Library.
Afterwards, a representative of each branch of the family gave a short presentation, explaining how their ancestors had left Lithuania for their respective countries, and how they had survived there. But as in most Jewish families, there had been many relatives who had not survived. A poem was read in dedication to family members killed by the Cossacks, or in the Russian-Japanese war, or in the Holocaust, or during the harsh Stalinist era. As well, a group photograph was taken.
Handler has determined that the surname Noyek was invented by Joseph, the son of the earliest known patriarch, Shmuel Simolovitch (born about 1798). Joseph purportedly took the name for himself and his family because he urgently needed a non-Jewish-sounding surname to outsmart the dreaded "khappers." Yiddish for "grabbers," the "khappers" were Russian soldiers who nabbed Jewish boys for an obligatory 25- or 35-year term in the Russian army.
For Handler, one of the best moments of the gathering was when she met a relative from South Africa, Leonard Israelsohn, who represented a branch of the tree that she had been seeking for years. Israelsohn had heard of the gathering and dropped by to see what it was all about while in Toronto visiting his son.
"He added 46 names, addresses and telephone numbers to our list of relatives," Handler recalled. "We had no idea these people existed — we were writing names on the wall until 1 a.m. I get very emotional thinking about this because it was the end of a 10-year search, looking for that particular branch of the family."
Toronto relatives who attended the gathering were unanimous in saying that it exceeded their most optimistic expectations. Dr. Minna Noik Stein, a Toronto dentist who is the deputy registrar of the Royal College of Dental Surgeons of Ontario, said that it was very exciting to meet representatives of the family from Canada, the United States, Israel, England, South Africa and Ireland. "My kids are normally blase about most things — my daughter is going to be 19 and my son is going to be 21 — but even they were blown away by this," she said.
"Everyone had wonderful stories to tell," said Rose Noyek Farber, who still speaks with a faint Irish lilt almost four decades after coming to Toronto from her native Dublin. Although she tripped and broke her leg on a speed-bump outside the hotel, she has happy memories of the occasion, and hopes there will be another in a couple of years.
That would probably suit Dr. Arnold Noyek, the chief of the ear, nose and throat surgery at Toronto's Mount Sinai Hospital. Along with Handler, Noik, Stein and Farber, Dr. Noyek was on the planning committee, and also served as emcee.
"This family's history is a microcosm of Jewish survival," he mused. "The migrations, the persecutions… we've had to contend with the Cossacks, the Nazis, the right-wing elements in the liberation of Lithuania, the Stalinists …. We're looking at just a little piece of human history, and it's so reflective of the human will to survive. I find it very moving."
He continued: "The pride I take in this family is that this is a family that doesn't slow down. It's a tenacious family; look at the individuals. They're high-energy people who aren't about to get derailed."
For Handler, whose genealogical research made the family gathering possible, the work is far from over. Although she has published the family history in two impressive volumes, material keeps flowing in, and there are many corrections and additions to be made. "I feel that other than raising my children, it's probably the most important thing I've ever down in my life," she said. ♦
© 1994