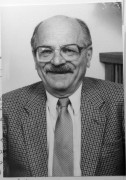 Forty years ago, Ben Kayfetz, the longtime director of community relations for the Canadian Jewish Congress, flew to Cuba to oversee distribution of a shipment of kosher food to Havana's isolated Jewish community of 2,500.
Benjamin Gershon Kayfetz, former community relations director of the Canadian Jewish Congress, born Toronto, December 24, 1916; died Toronto, February 15, 2002.
A salami from Toronto's Spadina Ave. won him instant friends among Cuba's Jews, but he had no such prize to give out to help smooth his departure days later when he found himself stranded and caught in the midst of the most serious global standoff of the Cold War era, the Cuban missile crisis of October 1962.
The adventure is one of many memorable episodes in Kayfetz's varied career of nearly four decades at the Congress, from 1947 to 1985, during which he challenged prevailing social attitudes and put Canada's Jews visibly at the forefront of a national battle for legal reforms to protect minority rights. It was "for fighting against bigotry and for human rights for all Canadians" that he was recognized as a member of the Order of Canada in 1986. He died in Toronto on February 15 at the age of 85.
"He was the architect and spirit and guiding light of the campaign in the 1940s and 1950s to rid this country of discrimination through legislation," said Irving Abella, Shiff professor of Canadian Jewish history at York University. "He was part of a group that lobbied for and got, through the Ontario government, a fair employment act, a fair housing act and a human rights code. That's his major achievement."
Historians Carmela Patrias and Ruth Frager described him as "one of the earliest and most committed human rights activists in the province" in a paper on Ontario human rights movements for the Canadian Historical Review last March.
A lover of history and the Yiddish language, Kayfetz was a correspondent of the New York-based Jewish Telegraphic Agency and the London Jewish Chronicle for years. He penned a monthly column for the Canadian Jewish Standard, contributed a five-minute segment to a weekly radio Jewish Hour, and was a president of the Canadian Jewish Historical Society.
His death "closes a significant chapter of Canadian Jewish history," said Keith Landy, national president of the Canadian Jewish Congress.
The youngest of four children (a fifth died in a car accident), he sold newspapers with his brother David in Toronto's Queen and Roncesvalles neighbourhood in the days when papers cost two cents apiece. He went to Parkdale Collegiate and entered the University of Toronto in 1934, paying $100 for tuition and extras.
Graduating with a degree in modern languages in 1939, he earned a teaching diploma in 1940 but couldn't get a teaching job in Toronto because he was Jewish. He taught for a while in Niagara Falls, then in Huntsville at an annual salary of $1,600. "While not princely, it was considered adequate," he observed of the wage in some notes he made for his grandchildren.
Exempted from military service for medical reasons, Kayfetz began working in Ottawa about 1943 as a censor of letters to German prisoners of war. Late in 1945 he went to Germany to work for the Control Commission of the British Army. Learning that a position would become available at Congress, he returned to Toronto and was hired in April 1947.
"He loved his job," said his wife, Eva. "He loved the briefs he had to write, the commissions he had to appear before, the people who walked in off the street to talk to him for hours in Yiddish about their experiences. His door at 150 Beverley St. [the former headquarters of Congress] was always open."
Kayfetz was co-founder of a Yiddish luncheon club that met monthly in Toronto for more than 20 years. An avid walker, he knew downtown Toronto intimately and gave several very popular walking tours of the Spadina Jewish neighbourhood in the early 1990s.
"He told me that he once wrote down the name of every store on Dundas St. between about Shaw St. and Bathurst," said Jack Jacobson, his friend of 50 years. "He had an excellent memory and he was a fountain of knowledge as far as Toronto was concerned and as far as the Jewish community was concerned."
Friends and colleagues describe him as a kind and unassuming man "without ego" who was a voracious reader of non-fiction works on history, languages and other subjects, but never novels. He was reading a book on the etymology of the English language the day before he died.
"We were married for 47 years and four months, and I don't think I ever heard him utter an angry word about anybody," said Eva. "Even if he didn't like them he didn't say a thing. He was just a very sweet human being."
Besides his wife Eva (nee Silver), Kayfetz is survived by three daughters, Zena (and Michael) Tenenbaum, Tamara (and Tim) Kingston, and Rebecca Hamill, and a sister, Rose Zail of Los Angeles; his brother David Kayfetz died Feb. 22, 2002. He was predeceased by a sister Ann and a brother Archie. ♦
© 2002