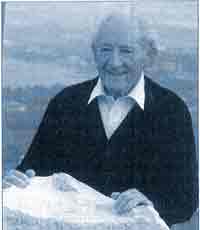 Builder, philanthropist and community leader Max Sharp died at home, surrounded by his family. He was just short of his 103rd birthday.
He was eulogized at the Shaarei Shomayim Congregation, where he was actively involved in the building of both the synagogue's former location on St. Clair Avenue and its present location on Glencairn Avenue.
Rabbi Moshe Shulman, Shaarei Shomayim's senior rabbi, said, "Certainly, we all know of his professional life as a builder where he was a pioneer in so many ways, including a pioneer in the building of the land of Israel, from his days in his youth on Israel's first kibbutz, to major hotels.
"But perhaps more importantly, he was a builder of character, a builder of his people, his community and his family. These were the pillars of his life. He built a world of peace and love."
Speaking of the tumultuous events that paralleled Sharp's life — world wars, the Communist and Islamic revolutions, "a world in turmoil and conflict" — Rabbi Shulman said Sharp's world, "the world he built for himself, his community and his family, was a world filled with love, creativity, energy and Jewish spirit.
"But his most important contribution was reserved for his family, whose lives he filled with genuine love, devotion and affection."
Sharp's son Isadore — Issy to everyone — speaking on behalf of his sisters Edie, Bea and Neddy, paid tribute to "not only our father, but a father figure to many." He spoke of his father's family and the values handed down for 220 years "and now from Max to all of us."
In 1989, Issy, who is the founder, owner, president and CEO of Four Seasons Hotels and Resorts, and his dad were the first father and son Negev Dinner honorees in the Jewish National Fund's history to receive JNF's highest tribute to community leadership and service to others.
Speaking about his parents at the Negev Dinner, Issy said, "They never talked about ethics. We learned by example, by honesty that was self-evident. Their inheritance to us is the real idealism and ethics they instilled in us as children by the way they lived their lives, [their] values and that we in turn have tried to hand down to our children."
At the JNF dinner, Max said, "The Negev Dinner brings together the two great loves of my life, my family and the State of Israel."
Sharp was born in the Polish town of Oswiecim (Auschwitz in German). He was one of 11 children. At age 18, he went to Palestine as a chalutznik (pioneer) and banayi (builder) and helped establish the first kibbutz, Deganya.
Sharp worked by day planting eucalyptus trees, to dry up the swamps and marshes to prepare for agriculture, and helped defend against Arab raids at night.
In 1925, he immigrated to Canada with a dollar in his pocket, a knapsack on his back and little English. He met Lena (Lil Godfrey) and they were married on June 12,1927.
He worked as a plasterer for $15 a week, and after asking for a raise, which he didn't get, he began, in 1938, to build houses.
He would move his family into a house, decorate it with the help of his wife and then sell it. His business prospered, his family grew and they established a life of tzedakah, of charitable involvement.
About his parents, Issy said, 'Their honeymoon never stopped. Indeed, it was a bond for life — mutual love and respect."
He described his father as a man of "great inner strength. He had a remarkable faculty of understanding and tolerance. He truly bridged the generation gap — to his children, grandchildren and even great-grandchildren."
Sharp was also fondly remembered by his grandchildren Joy Shepherd, Karen Landsberg, Susanne Gottlieb, Tony Sharp, Simone Creed and Wendy Creed. They recalled their "beautiful memories" of their grandmother and grandfather. Shepherd noted that they all learned from "Papa Max that it's nice to be important, but more important to be nice."
Sam Sable, a community leader and a past president of Shaarei Shomayim Congregation, where he and Sharp worked together for more than half a century, recited K'el Maleh Rachamin, the memorial prayer.
"I was privileged to have Max as a friend for more than half a century," Sable said. "He was a mild-mannered person, a gentleman who had the spirit of his convictions. He was cultured and a person of high morals and integrity.
"He was a man highly respected in the business world and especially in our own community. He generously supported many worthwhile causes in the Jewish community, globally and of course Israel."
He added that his friend enjoyed his hobbies. "He loved walking, playing golf and was a master at needlepoint." Sharp was renowned for hitting a hole in one at age 90.
"He loved to sing and on the dance floor, he could have danced all night," Sable said. "He has left a wonderful legacy to his children, grandchildren, greatgrandchildren and to klal Yisrael. We will all miss him."
Sharp is survived by 77 family members, including four children and their spouses — Edie and Eddie Creed, Bea and Fred Eisen, Isadore and Rosalie Sharp, and Nancy and Siggy Levy — 30 grandchildren and 39 great-grandchildren. ♦
Appeared originally in The Canadian Jewish News. © 2004 by Cynthia Gasner