From the Globe and Mail, 2003
As a great-grandson of American slaves, Dr. Daniel Hill carried the lessons of universal equality and civil rights in his blood.
Founding director of the Ontario Human Rights Commission and a former Ontario ombudsman, Dr. Hill is being remembered as a pioneer of the human rights movement in Canada and a man of great dignified bearing who accomplished much by the force of his personality alone. He died in Toronto on June 26 at the age of 79.
A towering presence in the field of Canadian black history, Dr. Hill wrote a trailblazing PhD thesis, Negroes in Toronto, at the University of Toronto in 1960, and later penned The Freedom Seekers: Blacks in Early Canada (1981), a groundbreaking popular work that has rarely been out of print.
He was an officer of the Order of Canada and had received many other honours, including the Order of Ontario, an award of merit from the City of Toronto, and a human rights award from the Canadian Labour Congress.
He died less than three weeks after the 50th anniversary of his marriage to Donna Bender, a white civil rights activist who had been working for a Democratic senator in Washington DC. Knowing that an interracial couple could not live in tranquillity in the American south, the Hills moved permanently to Toronto within days of their wedding in June 1953.
"Every aspect of my father's personality was focused on a quest for equality, not just for blacks in Canada and the United States but for all people of all backgrounds," said novelist Larry Hill, the second of the couple's three children.
"His slave ancestry gave him a good sense of oppression and helped him develop a very strong sense of social justice."
Eleanor Meslin, who worked with Dr. Hill when he was ombudsman and succeeded him when he retired in 1989, said she regarded him "as the father of human rights" in Canada.
"But for him, it would have taken a lot longer to get the human rights code and to get the human rights commission up and running," she said. "We were the first province to have a human rights code and it was because of him, truly. It was his dynamism and his determined effort that got it done."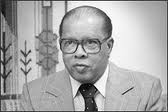 Daniel Grafton Hill, III, was born in Independence Missouri in 1923, the son of an African Methodist Episcopal preacher who became dean of theology at Howard University in Washington DC. Serving in the American Army during World War Two, his experience with segregation left him disgusted.
"He often recalled with bitterness that black men were deemed good enough to die for their country but not to live on an equal footing with other Americans," said Larry.
He earned a BA from Howard University in 1948 and spent a year studying in Oslo, Norway, where he found he could live freely as a black man.
Returning to the United States, he applied to both the University of Toronto and the University of Mexico, vowing to move to the first country that accepted him. He eventually attained an MA and a PhD in sociology from the University of Toronto, which also gave him an honourary doctorate in 2000.
He was appointed director of the Ontario Human Rights Commission in 1962, as the American civil rights movement was gaining immense new powers, and served in a more senior position as chairman from 1971 to 1973. Working with a handful of employees, he opened storefront offices in strategic locations and crisscrossed the province in a Volkswagen Beetle as he attempted to educate the public about their rights and to help them seek legal redress for racial, religious and other forms of discrimination.
"He was very much an outreach kind of person," said Jim Walker, a history professor at the University of Waterloo. "He tried to carry an awareness of rights and dignity to the people whom he thought were vulnerable."
These included aboriginal Canadians whom he regarded as "the most victimized constituency in the country," said Alan Borovoy, general counsel for the Canadian Civil Liberties Association.
"He had one of his staff people go by jeep from reserve community to reserve community to bring the program to where they were. It was an innovative way to address some of the problems of the native communities that otherwise were subject to widespread neglect."
Once, drawn to a small town near Windsor by a report of a Ku Klux Klan cross-burning that ultimately proved false, Dr. Hill "used the occasion to advance his human-rights agenda," Borovoy said. "He sat down with the mayor to work out a program for funding jobs for young black kids who had never worked before."
As a historian "Dan emphasized achievement rather than victimization," Prof. Walker said. "What he stressed in his writing was agency — people doing things. His book The Freedom Seekers tells what black people did, not what was done to them. He stressed their dignity as human beings."
According to Prof. Walker, Dr. Hill "left a profound mark on both the history and the historiography of human rights in Canada." Many of his private and working papers are preserved in the Ontario Archives and the National Archives of Canada.
Dr. Hill worked privately as a human-rights consultant for numerous clients, including the city and provincial governments, for more than a decade. In a study of alternate religious sects and mind-control cults that he authored about 1980, he urged the province not to enact new legislation but to use existing laws to combat abuses.
Provincial ombudsman from 1984, his role was to investigate complaints of government unfairness and, if warranted, prod or embarrass the concerned ministries to change their errant ways, partly by tabling annual reports in the legislature.
"I was particularly disturbed during my visit to the Barrie Jail to see inmates still being housed in cells that have been unchanged since the 1840s," he noted in his 1986 report, which spurred Queen's Park to improve conditions in provincial jails.
A year later he urged the health ministry to offer non-traditional families the same health insurance rates as heterosexual couples. "It seems reasonable that if a homosexual couple can be penalized for their 'dependent' relationship insofar as one government service is concerned, they should also be able to benefit from another government service offered to 'dependents,'" he observed.
"The fascinating thing about him is that I never ever saw him raise his voice in anger with anyone," Ms. Meslin recalled. "His approach was very conciliatory. He got a lot of things done just by the strength of his personality . . . . He took the job very seriously and I think elevated it to a position it hadn't attained before."
Dr. Hill founded the Ontario Black History Society in 1978 and was its president until 1983. He served as race relations advisor to the Canadian Civil Liberties Association, contributed articles to the Multicultural Society of Ontario journal Polyphony, and was involved with many other organizations.
A diabetic since his early forties, he was eventually rendered almost functionally blind by the disease; he remained an avid gardener and, with his wife, an exuberant world traveler.
Ever conscious of his slave ancestry, he instilled in his children the importance of higher education, and was initially dismayed that they didn't pursue professional careers in fields like medicine and law. But the kids turned out all right. Son Dan Hill soared to international success in the music business in 1977 with the hit single Sometimes When We Touch; Larry Hill is a professional writer who based much of his acclaimed 1997 novel Any Known Blood on his family's history; and daughter Karen is an aspiring poet.
"At first it was difficult for him," Larry said. "My brother was his first son and he dropped out of high school to become a singer-songwriter. That was hard for him. But Dad changed throughout his life, and he saw that his children had their own dreams. So he grew in that way, and he was very proud of us for pursuing our own dreams."
Dr. Hill leaves his wife Donna, who worked closely with him to advance civil rights and racial equality in Canada; their three children and five grandchildren; daughter-in-law Beverly Chapin-Hill; and sisters Jeanne Flateau and Doris Cochran: he was predeceased by sister Margaret Martin. Arrangements are being made for a private funeral and a public memorial service at a later date. ♦
© 2003