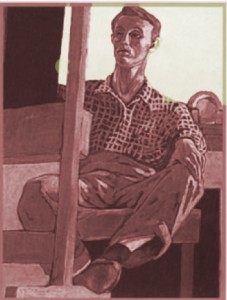 Canada's art world is lamenting the end of an era with the demise of Ken Saltmarche, founding director of the Art Gallery of Windsor, who died in Toronto on July 3, 2003, at the age of 82.
An accomplished artist, Saltmarche ultimately made his greatest mark as an arts administrator and is being remembered as one of the last of a dying generation of artists-turned-gallery directors who revitalized the art scene across the country.
Hired in 1946 to oversee operations of what was then known as the Willistead Art Gallery, he transformed the facility from a room on the second floor of the municipal library into a leading regional institution that possessed an astute collection of nearly 3,000 works of art by the time of his retirement in 1985.
"The gallery really had a very simple and rather primitive beginning and he built it from absolute scratch, from zero," said Bill Withrow, former longtime director of the Art Gallery of Ontario. "I was always impressed with that fact."
As a collector, Saltmarche is remembered for having "a good eye" and for acquiring many works by artists initially considered out of the mainstream, such as Harold Town and Prudence Heward. Over time his judgement was inevitably proven sound as a favoured artist's reputation would soar, along with the market value of his or her works.
He concentrated on attaining both historical and contemporary Canadian works, including numerous canvases of the Group of Seven, thus laying the foundation of the gallery's present collection of about 6,000 pieces.
"He often collected against the current, which means you can make a dollar go a lot further," said David Silcox, managing director of Sotheby's Canada. "He bought people when they weren't popular — he was very intelligent that way."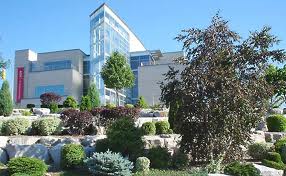 The collection Saltmarche assembled is a "magnificent accomplishment" that reflects "the beautiful story of the development of Canadian painting, as represented by the earliest formal portraiture by British and French artists right through to the contemporary period of the '70s," said Alf Bogufsky, director of the Kitchener-Waterloo Art Gallery.
Known for his energetic vision, Saltmarche had a knack for drumming up community involvement through innovative programs such as Art in the Park, now a long-established annual city event. Aided by his wife Judy, he made the gallery a vibrant centre of cultural life and charmed volunteers and patrons alike to new heights of involvement and philanthropy.
Aware of the advantages of being situated at Canada's southernmost border-point, Saltmarche cultivated friendly relations with the Detroit Institute of Arts, situated across the river and a few city blocks away, even sent them exhibitions of Canadian art. In the mid-'50s, he scored a major coup by persuading his Detroit counterparts that a key work languishing there would have a much more appreciative home in Canada.
As a result, the Detroit Institute of Arts donated the canvas — A Side Street, Lawren Harris's celebrated 1919 painting of a snow-laden Toronto street — to the Willistead Art Gallery in 1956 as a gift in commemoration of Windsor's 100th birthday. (Tom Thomson's 1914 painting Algonquin Park came into the gallery's possession in the same era.)
When nine previously unknown early 19th-century watercolours by George Heriot appeared on the market in 1967, Saltmarche was determined to acquire them despite what he saw as their "distinctly 'old master' price tag" exceeding $45,000. He quickly raise three-quarters of the sum from Windsor residents, then convinced the Canada Council into making an exceptional grant of $10,000 to complete the purchase.
Saltmarche left the gallery briefly in 1959 as part of his long struggle with the library board to make it an autonomous institution. His eventual success with that challenge was seen as a milestone by directors of other regional galleries. He moved the gallery into a historic renovated brewery building in the early '70s. (After ceding those premises in the '90s to a provincial casino, the Art Gallery of Windsor moved into a prominent new downtown building in 2001.)
Born Sept. 29, 1920 in Cardiff, Wales, Kenneth Charles Saltmarche arrived in Windsor with his family at the age of four, and moved with them to the village of Vienna, Ont. during the Depression. It was in Vienna's one-room schoolhouse that he encountered the traveling exhibition of Group of Seven reproductions that inspired him to become an artist. "He always told me that seeing that show was the pivotal point in his passion for art," said his son Noel.
A graduate of the Ontario College of Art, he began programming at the Willistead Art Gallery about 1946; he also began writing art and music criticism for the Windsor Daily Star and painting landscapes, still lifes and family portraits. Marrying Judith Davies in 1947, who gave him twin boys two years later, he often took his family on painting expeditions around the world, some of which resulted in solo exhibitions of art.
He was a member of the Order of Canada and held an honourary law degree from the University of Windsor. He was the founding president of the Ontario Association of Art Galleries and a founding member and past president of the Canadian Art Museum Directors Organization.
Soon after his wife died in 1992, he painted a series of watercolours "and that was the last work he did," Noel said. Afflicted with senile dementia, he spent his last years in several retirement homes and then Castleview Wychwood, a nursing home, in Toronto.
Saltmarche was also predeceased by brothers Ronald and Leslie. He leaves sons Noel and David, daughters-in-law Deb and Anita, and four grandchildren, all of Toronto. ♦
© 2003