Mandel Sprachman, the Toronto architect who restored the city's legendary Elgin-Winter Garden vaudeville house to its original splendour, has died at the age of 77.
Like his father before him, Sprachman specialized in old movie palaces and theatres; he renovated and restored many such edifices in Toronto, Montreal and other Canadian cities. He was also a pioneer of the multiplex cinema and designed the precedent-setting 18-screen Cineplex that opened in Toronto's Eaton Centre in 1979.
Mandel Sprachman, architect; born Toronto, Jan. 15, 1925; died Toronto, Feb.11, 2002.
Destined to live in an era of shrinking movie-houses, he was often called upon to partition mammoth theatres into smaller and more viable venues, but always took care to ensure they could later be restored with minimal difficulty. He subdivided the Imperial, for instance, transforming it into the Imperial Six; the downtown landmark was later restored as the Pantages (now the Canon) Theatre.
Other theatres that he worked on include the Uptown 5, Backstage, Plaza and Hollywood theatres in Toronto, the Capital in Windsor, and the Loew's, Chateau and Rivoli in Montreal. "If there's a theatre in Toronto, he probably worked on it in one way or another," said his son, artist Robert Sprachman.
"No one knew old movie palaces in Canada better than Mandel," said Janis Barlow, a freelance theatre consultant who was project manager of the Elgin-Winter Garden restoration for the Ontario government.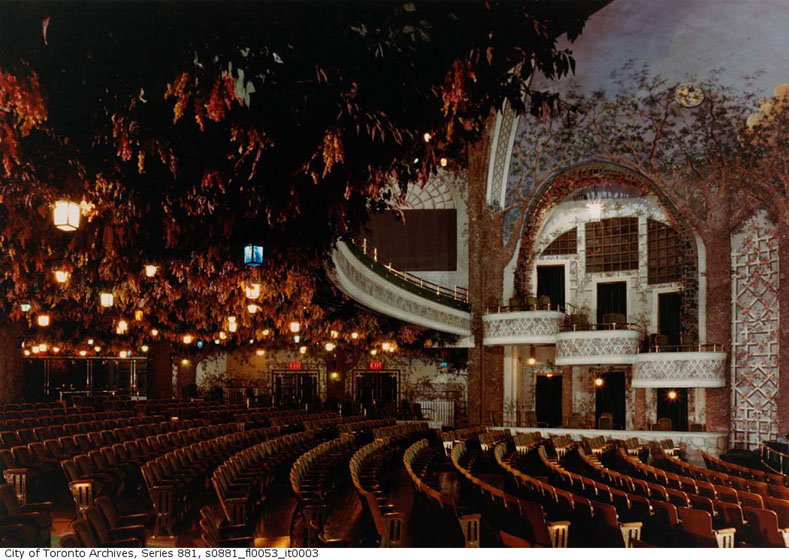 Besides theatres, he also designed homes, summer camps and other projects for clients as far afield as France and Japan, and was one of three semi-finalists shortlisted to restore the Ontario Legislature. He won second prize in a design competition for the Fathers of Confederation Building in Charlottetown.
He is also being remembered as a dedicated architectural conservationist who campaigned on behalf of Old City Hall, the Toronto Brick Works and other once-endangered heritage treasures. Shortly before retiring in 1996, he won a prize for preserving a block of historical buildings in a newly-designed housing project on Toronto's Queen Street W.
"He had an encyclopedic knowledge of Toronto," said Ernesto Bianco, an architect who worked for the firm Mandel Sprachman Architect for 24 years. "He knew every building in Toronto — who designed it, who built it. He was very passionate about conservation."
Born in 1925, he was the son of Abraham Sprachman, one of the first practising Jewish architects in Toronto, whose firm Sprachman and Kaplan erected fabulous art-deco palaces across the country. As a boy, he once watched in fascination as his father tested two bricks by clanging them together. "They were supposed to ring like fine crystal, otherwise back to the brick plant they would go," he recounted in a 1986 article in the Globe. Other early memories included helping the workmen who were constructing the Eglinton Theatre according to his father's blueprints.
Earning an architectural degree from the University of Toronto in 1949, he worked as a draftsman in Stockholm for a year, then returned home and joined his father's firm. One of his first assignments was to take some measurements of the Loew's Yonge Street, otherwise known as the Elgin; the palatial 1,600-seat theatre was the lower half of a stunning double-decker theatre that had been designed by U.S. architect Thomas Lamb and had opened in 1913. Climbing upstairs to the more exclusive Winter Garden, which had been closed for decades, Sprachman would not soon forget the sylvan vision of a 1,000-seat theatre whose pillars were fashioned into tree-trunks, and whose ceiling was covered with leafy bowers. "My father dreamed of getting the whole thing back in shape" for years, Robert recalled.
Establishing his own firm about 1958, Sprachman raised many buildings even as he and his wife, Carol, raised four sons in their Rosedale home. An avid watercolourist and outdoorsman, he purchased a 300-acre farm near Uxbridge, Ont. in 1966, and grew squash and wildflowers.
"He was kind of a Jekyll and Hyde," Robert said. "In town, he was always very social and loved to meet people and was a figure about the city. People really knew who he was. But at the farm he discouraged anyone from coming to see him. He like the privacy and isolation."
In town, Sprachman often dressed dapperly in a black suit, a trademark bow tie, and a fresh pansie in his lapel. "He was a meticulous dresser in the city, and he was the gentleman farmer in the country," said his friend, architect Jerome Markson.
The opportunity to restore the Elgin and Winter Garden arose about 1984. Sprachman was originally commissioned for the job by a private owner who then backed away from the project. He was subsequently retained by the Ontario government, which purchased the theatres in order to save them.
The restoration, which lasted about five years, must have seemed at times like a major romantic adventure. Desperate to find the original architectural drawings, he went to Manhattan to visit an aged draftsman, well into his nineties, who had once worked for Thomas Lamb. The draftsman took him up into the flytower of an old theatre, where the drawings — beautifully rendered on silk — turned up after a two-day search.
More of the theatres' specifications were found in some old files at Toronto City Hall, including — to Sprachman's delight — Lamb's stipulation that all bricks "shall be of a quality that when struck with metal will give a clear ringing sound."
The restoration was unveiled in 1989 amidst great hoopla and hyperbole; one Globe writer called it "one of the most scrupulous feats of preservation this town has ever hosted" and said the reopening "may not be as dramatic as the unsealing of King Tut's tomb, but it comes a close second." According to his son Robert, the restoration was "the crowning glory" of his father's career.
Mandel Sprachman was predeceased by his wife, Carol, who died two years ago. He leaves sons Ben (and Joan), Robert and Marie-Josee), Andrew, and Barney (and Sandra); sister Sheila (and Martin) Wolfish; and sister-in-law Nancy Draper. ♦
Originally published in Globe and Mail, © 2002