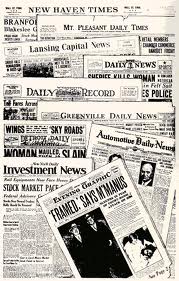 At some point in their lives, nearly everyone in our modern world gets into the newspaper, even if only for a birth, marriage or death announcement. That's why the newly-emerging searchable electronic archives of publications like the New York Times, the Toronto Star and the Globe and Mail constitute a giant leap forward for genealogists, historians and other researchers.
Locating a family-related obituary or news story used to require a time-consuming hunt through many reels of microfilm, with no guarantee of success. But thanks to a sophisticated process developed by the Ottawa-based company Cold North Wind, noteworthy items from the past may be pinpointed and retrieved in just seconds.
All of the back issues of The Toronto Star and the Globe and Mail are available online 
The Toronto Star data base, called Pages of the Past, runs from 1892 to the present and is searchable in increments of up to five years. It is accessible for free through the Toronto Public Library and other library systems, mostly in southern Ontario. I recently spent several hours mining it for family references, and came away amazed at this powerful genealogical tool.
Keying in various names and search terms led me to dozens of references to my large extended family in Toronto from about 1910 forward. Perhaps my most exciting discovery was a 1929 obituary and photograph of my great-grandfather, listing the names of his 13 children. Seeking a branch in our family tree that had seemingly disappeared, I typed in the relatively rare surname: up came several items from the 1930s through the 1970s.
I also found many relevant family names in birth, marriage and death notices, WWII casualty lists, and stories about traffic accidents, court cases, sports competitions, musical performances, high school graduations and charity bake sales. The search engine smartly labels each reference as a news story, birth or death notice, social notice, real estate notice, business story, advertisement and so on.
Since genealogy is about much more than simply documenting names and dates, such items may add colour and detail to a family history. It's up to the genealogist to weigh the ethical and privacy considerations to decide which stories are best left in the past.
Cold North Wind scans each newspaper page from microfilm, then uses an optical character recognition (OCR) program to read every word of text. It has devised new systems of digitization and image quality enhancement to make images much clearer than they had been on microfilm. Human beings, not machines, pin a content label to each story.
The Toronto Star Pages of the Past contains more than two million pages in 30,000 editions, according to Stephen Abram, the Toronto-based vice-president of corporate development for Micromedia ProQuest, the large international library reference publisher that handles Cold North Wind products. The archive "takes up two terabytes — it's quite huge," Abram told me.
Micromedia ProQuest also offers a bundling of some 35 Canadian heritage newspapers called the Paper of Record, as well as the New York Times, Chicago Tribune, Wall Street Journal, Washington Post, Wall Street Journal and many other titles. According to Abram, the Globe and Mail will soon be on-line from 1844 to the present. Primary historical materials such as the diaries of Prime Minister William Lyon Mackenzie King are also being readied to go on-line, as are more newspapers from the United States, Mexico, England and Australia.
For serious researchers, home subscriptions are available. For details and a demonstration, visit the website www.paperofrecord.com.
Tip: Both the Toronto Star Pages of the Past and the Globe and Mail databases are available to card holders of the Toronto Public Library. Go onto the library website and click on "Articles and Online Resources." ♦
© 2004