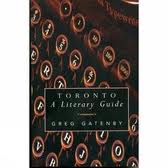 A year after Isaac Bashevis Singer came to the United States, he was required to renew his visa from outside the United States. Rather than return to Europe, he snuck into Canada and came to Toronto. In case you missed reading details of Singer's 1936 visit here in his reminiscence Lost in America, the episode is recounted at length in Toronto: A Literary Guide, the extremely well-researched and highly readable work by Greg Gatenby, longtime director of Toronto's International Festival of Authors.
While in Toronto, Singer visited the Spadina garment district, finding in it myriad reflections of his beloved Krochmalna Street in Warsaw. "It was odd," he wrote, "that having crossed the Atlantic and smuggled myself over the border I found myself in a copy of Yiddish Poland." He even contemplated staying in Toronto.
Gatenby, an amazingly thorough researcher, leaves hardly any stones unturned in his quest for details about the literary history of Toronto. His book is large — more than 600 pages, crammed with intriguing information and rare photographs — and contains items of interest on nearly every page.
One doesn't read a book like this for details about Jewish writers in particular, of course. But the marvel is that there's so much here about the local Jewish literary scene.
Each of the chapters focuses on a street and neighborhood and is structured as a walking tour. The chapter on Marlee Avenue mentions the anecdote about Singer in connection with his later appearance (1962) at the old Jewish Public Library on Glen Park Avenue.
The Marlee chapter also points out the places where Peretz Miransky lived, describing him as "the man many consider the finest Yiddish poet ever to have lived in Toronto," and offers a photo of Miransky with Miriam Schneid-Ofseyer and Sam Simcovitch.
The chapter focusing on Kensington Market tells us that the distinguished Yiddish novelist Joseph Opatoshu spoke in 1934 at the Labour Lyceum, 346 Spadina Avenue, on "Palestine and Soviet Russia." Three years later, American expatriate author Emma Goldman lectured at the Labour Lyceum on "Youth in Revolt." (In 1945, Opatoshu spoke again at the Labour League Mutual Benefit Society, 7 Brunswick Avenue, to officers of the Canadian Jewish Congress.)
Typical of most chapters, the Vaughan Road "tour" points out residences and points of interest related to a spectrum of writers from the well-known to the obscure, the contemporary to the historic. This chapter alone mentions such scribes as Nathan Cohen, David Lewis Stein, Lawrence Garber, Anne Michaels, Janis Rapoport, Charles Israel, Cary Fagan and Joe Rosenblatt.
Gatenby chronicles the visits of many great writers, including Dickens, Twain, Emerson, Whitman, Faulkner, Ferlinghetti, Nabokov and Hemingway (who lived briefly on Bathurst Street north of St. Clair, in an apartment building now known as "the Hemingway").
This exceedingly well-written encyclopedic compilation also informs us that Israel Zangwill, Sylvia Plath, Ilya Ehrenburg, Scholem Asch and many other fine Jewish writers visited and spoke in Toronto.
I found only a couple of what I would regard as significant omissions. First, the book ignores Emma Goldman's extensive history here, making mention neither of her apartment on Spadina Avenue nor the house on Vaughan Road in which she took sick and died in 1940.
Second, it elaborately chronicles the career of the Oxford-educated intellectual Goldwin Smith (1823-1910), detailing his strong influence on the cultural scene of Victorian Toronto and noting that he brought "an air of sophistication" to the city and helped raise the level of its intellectual discourse. However, it fails to mention that Goldwin Smith moonlighted as a promulgator of the anti-Semite tract, Protocols of the Elders of Zion.
Toronto: A Literary Guide, by Greg Gatenby, is published by McArthur & Company, and comes highly recommended. It's available in bookstores for $19.95. ♦
© 1999