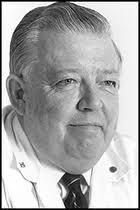 Dr. E. Bruce Hendrick, a renowned pediatric neurosurgeon who headed the neurosurgical division at Toronto's Hospital for Sick Children for more than two decades, has died in Toronto after complications from abdominal surgery. He was 77.
As Canada's first full-time pediatric neurosurgeon, Dr. Hendrick operated on tens of thousands of children with head injuries, brain tumours and illnesses such as epilepsy, hydrocephalus, spina bifida and other surgical diseases of the nervous system.
Under Dr. Hendrick's tenure as head of the neurosurgical unit from 1964 to 1986, the Hospital for Sick Children developed an international reputation for innovation and excellence in children's surgery. Dr. Hendrick trained hundreds of visiting doctors from other countries, thus exporting his expertise to pediatric neurosurgical units around the globe.
Edward Bruce Hendrick January 20, 1924 – August 17, 2001
"This man was a heroic figure in medicine in Canada. He was not just another doctor," said Dr. Keith Meloff, a neurosurgeon at Toronto Western Hospital. "He had a huge reputation internationally, and patients came to him literally from all over the world for treatment."
Dr. Hendrick developed new surgical treatments and designed new shunts and other pieces of surgical equipment, but he is perhaps best remembered for the extraordinary rapport he developed with his young patients.
"He was the best that I have seen with relating to children of all ages," said Dr. James Rutka, professor and chairman of neurosurgery at the University of Toronto. "I've never seen his equal. He could reach a child at his or her own level and instantaneously reach a special relationship with them. It's hard to put a thing like this into words but it was his most strong attribute, if you ask me."
Often on Friday afternoons, he would visit the ward, dressed in operation-room garb and brandishing water pistols. Recuperating children would await him with water pistols, syringe barrels and other squirting implements at the ready. Their gleeful water fights would help the youngsters forget their illnesses for a while.
Dr. Hendrick was known for his ready smile, quick wit and ability to turn a phrase. Once, eager to know if a young patient felt tingling in her legs, he asked her, "Do your legs feel like ginger ale looks?"
At parties, he was just as happy doing magic tricks for children as he was socializing with the adults. He was considered a great raconteur who never let truth get in the way of telling a good story.
His capacity for friendship and his interpersonal relations with his colleagues and trainees were also regarded as extraordinary. "His management style just brought everyone on-side and served as a model for so many who were to train under him and go back to their countries of origin," said Dr. Robin Humphreys, who replaced him as the Hospital's head of neurosurgery.
"His teaching techniques did not follow the typical model. His knowledge and experience came out in informal conversations such as around the coffee table or around the operating room table, or in telephone conversations."
Along with Dr. Humphreys and Dr. Harold Hoffman, he was one of the Hospital's trio of neurosurgeons known as "the three Hs." However, one of the ladies of the Women's Auxilliary joked that the initials stood for "Hee, Hum and Ho."
"Someone asked Bruce what the three Hs really stood for, and he said, 'the Helping Hands of Heaven,'" Dr. Humphreys recounted.
Roughly 45 years after Dr. Hendrick trained under two pioneering pediatric neurosurgeons in Boston, he won an award named after one of them. The American Association of Neurological Surgeons gave him the inaugural Franc D. Ingraham Lifetime Achievement Award in 1998.
After his official retirement, Dr. Hendrick continued to treat children with spina bifida at a clinic at the Bloorview-MacMillan Hospital for another decade. He was a founding member of the International and American Societies of Pediatric Neurosurgery and a past president of the Canadian Neurosurgical Society.
He leaves Gloria, his wife of 54 years, and their two children, Sheelagh and Michael. ♦
© 2001