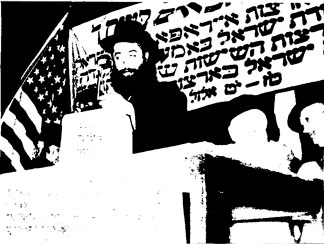 Horav David Ochs who died recently (1985) in Toronto after a prolonged illness, will be remembered for his unfaltering dedication to halacha and his commitment to outreach in the community.
Rabbi Ochs was active in the Canadian Jewish Congress, the Jewish Vocational Service and many other organizations but believed in the separate integrity of Kashruth and education — the two priorities in his life.
In 1946, Ochs, who had a pulpit in Manchester, England, attended an Agudah conference in New York. He came to Toronto for a brief visit with his wife's parents, Mr. and Mrs. Samuel Reich.
He was invited to speak at the Torah Emeth Congregation on D'Arcy Street, where the pulpit had become vacant when Rabbi Jacob Kaminecki left to become the dean of a yeshiva in New York.
The late Itche Meyer Korolnek convinced Ochs to accept the vacant pulpit, and it is said that he paid the travel agent not to find transportation back to England for the rabbi as he feared he would not return to Canada. Mrs. Ochs was left to sell their possessions in England and travel alone to Canada with their three small children.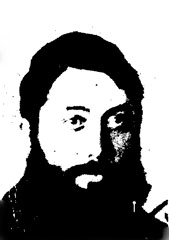 Ochs was born in a small town near Tarnopol, Poland, about 1905. His family moved to Vienna where he entered a yeshiva and received smicha (ordination) at the age of 17.
Ochs met his wife in Vienna after her family fled from Poland. The rabbi had not received any secular education before his ordination.
He began to study privately and after passing the entrance examinations, he entered the University of Vienna where he received a doctorate in history. He was recognized as an outstanding scholar and described by his colleagues as a "great orator."
In 1939, Rabbi Ochs left his pulpit in Vienna and escaped to England with his family.
Nachman Shemen, the executive director of the Orthodox Division of Canadian Jewish Congress, remembers the day Ochs arrived in Toronto. "He was an extremely fine person," said Shemen, "and he was an ardent member of the Rabbinical Vaad Hakashruth since its inception, more than 35 years ago."
After ten active years in Toronto on D'Arcy Street, and guiding the way for observant Jews to participate in a modern society, the respected rabbi had the first of a series of strokes he would suffer over the next 29 years.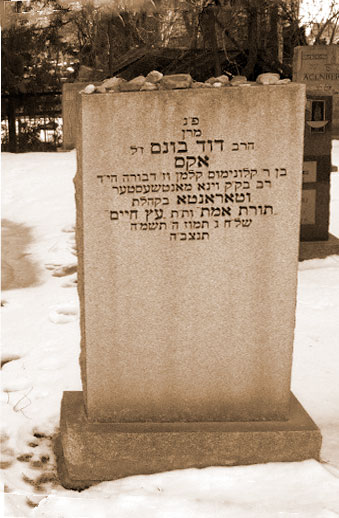 Despite his debilitating illness, the rabbi provided the initiative and assisted with raising the funds for his day schools as they moved northward to Burnside Drive and Viewmount Avenue.
His family speaks proudly of the spirit of the patriarch. "My grandfather, to his credit, hung on as long as he could," says one of the rabbi's 17 grandchildren.
The Ochs' children are Susie Lowenthal, a teacher in New York, Rabbi Mordecai Ochs, the spiritual leader of Torah Emeth Congregation and Judy Bleich, who teaches Judaic studies and history at Touro College in New York.
In an interview, Judy Bleich said that even before Israel became a state, her father had a concern for the land and he was a staunch supporter of Agudah Israel. She also noted her father's ongoing attempt to communicate with younger people, often dropping his Yiddish to speak to them in English.
Among the many local and international community leaders and rabbis who spoke of the loss to the Toronto community, Rabbi Joseph Kelman of the Beth Emeth Bais Yehuda said that Rabbi Ochs led the way in demonstrating that prewar Orthodoxy was compatible with modern society.
Rabbi Moshe Stern of the Shaarei Tefillah Congregation said that during the years of Ochs' active rabbinate, "he brought profound changes that influenced the direction of Jewish life of which so many benefit today. He left an indelible mark upon every facet of Jewish communal life and we are indeed a blessed community to have had him as one of our leaders." ♦
This article first appeared in the Canadian Jewish News and appears here courtesy of the author. © 2012 by Cynthia Gasner.